The final Harry Potter movie comes out this week! Who is excited?
I have to admit I was late to the Harry Potter bandwagon. I don't know why I resisted it so long. In fact, I still haven't read the books, but Eric started reading them around Christmas time and quickly finished all seven. Since then, we've been watching all the movies together and finally watched the most recent movie this weekend. I've been enjoying them, and we'll definitely get out to see the new movie very soon!
Last night was the
Harry Potter and the Deathly Hallows, Part 2
New York City premiere at Lincoln Center's Avery Fisher Hall. You know how Eric and I love a good red carpet, so we had this bad boy written on our calendar for weeks. Of course, although we enjoy Harry Potter, we are certainly not the kind of hard-core fans that would camp out on the streets of New York City for days prior to the premiere - and there were definitely those types in attendance. So, when Eric arrived at Lincoln Center at 2:00 p.m. (three hours before the cast was scheduled to start arriving), he ended up fairly far back in the crowd of fans across the street. I joined him about an hour later.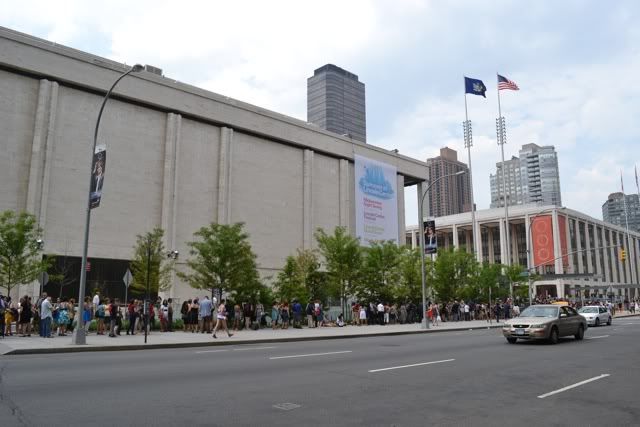 That line of people leading up to Lincoln Center is the lucky ones with tickets to the premiere!
Fans lined up across the street - Eric is in there somewhere!
Really, though, Lincoln Center was a fabulous setup for a premiere. The red carpet went up the steps, which elevated the celebrities above the crowd. Across the street, the sidewalk slopes upward, which meant that even the fans in the back (that's us!) could see over the crowds in front of them, thanks to the incline. Although we were back in the crowd a bit, we were also lined up right with the red carpet and ended up with a great view.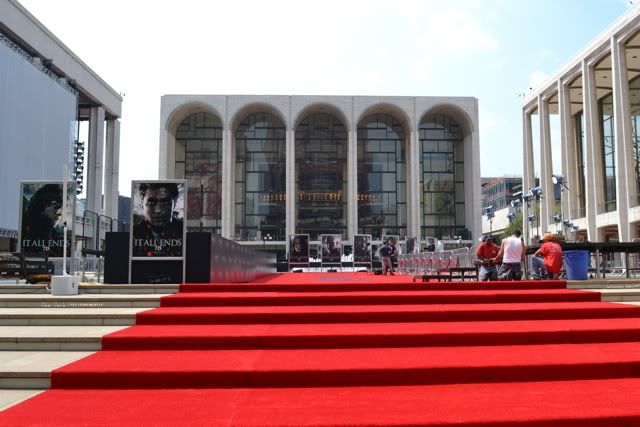 Thanks to both the great setup and our fancy camera, we were able to get a lot of good pictures! We saw some not-so-easily-recognizable VIPs, including producer David Heyman, director David Yates and Steve Kloves, the screenwriter who adapted the books into the movies...
...we also saw some non-Harry Potter celebrities who came out to join in the fun, including Sarah Jessica Parker, Matthew Broderick and Joey Fatone (Sarah Hyland of
Modern Family
was also there, but we couldn't find her in the crowd)...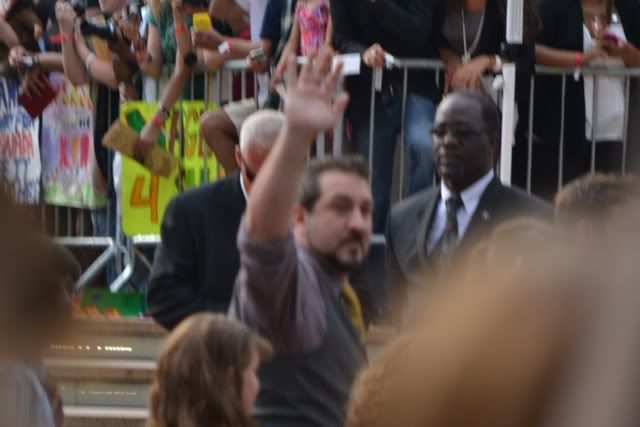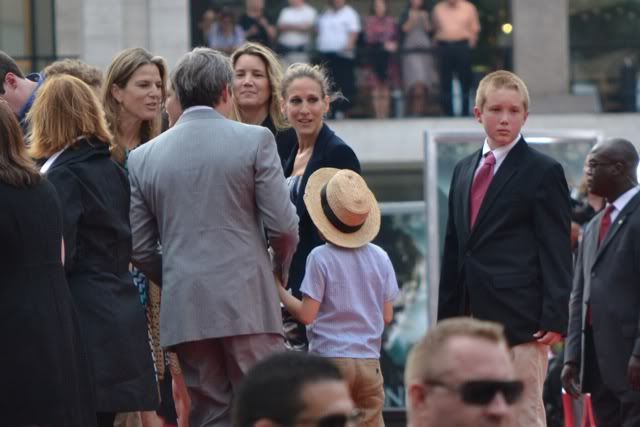 Sarah Jessica Parker and Matthew Broderick (with his back to us)
...and of course, we saw some Harry Potter stars! Rupert Grint ("Ron Weasley") was the first to arrive, followed soon by Tom Felton ("Draco Malfoy"). Tom was very friendly, and spent a very long time going around and greeting fans. (Many of the others also came across the street to sign autographs, but Tom spent the longest time doing so!)
Rupert Grint and Tom Felton
Next to arrive were Matthew Lewis ("Neville Longbottom") and Alan Rickman ("Professor Snape").
Matthew Lewis and Alan Rickman
Finally, Emma Watson ("Hermione Granger") and Daniel Radcliffe ("Harry Potter" - do I even need to say that?) arrived.
Emma Watson and Daniel Radcliffe
They interviewed everyone in front of that microphone, so each person had the opportunity to say a little something to the fans. They were all most gracious and thanked everyone so much for their support and marveled at how awesome it all was. (If you like, I found a nice video with brief cast interviews from the red carpet
here
.)
By that point, we were rather spent (standing for hours in a crowd in the sweltering heat takes a lot out of you), so we called it quits and went to find water and Gatorade from a nearby hot dog cart, which we promptly consumed in about 15 seconds. The die-hards hung out for quite some time longer, possibly hoping for more autographs. However, we were fully satisfied with our red carpet experience and made our way home.
Now all that's left to do is wait for the movie to officially come out!