I hope that none of you are even reading this post today because you are all out at BBQs or watching fireworks or enjoying other good, wholesome, American summer fun. But in case I caught you between slices of apple pie or some such thing, Happy Fourth of July from the W. family!
All dressed up in our patriotic best for Saturday night's "Star Spangled Celebration" at Lincoln Center - more on that to come!
We are very excited about the prospect of watching the NYC fireworks from this side of the Hudson River this year. The past
two
years
, we watched from the West Side Highway in Manhattan, just two blocks from our apartment. This year, our "commute" to the fireworks will be even shorter: just a half block to the river. Hopefully, our view from Jersey will be less obstructed than our view in Manhattan, and we'll be able to see more (if not all) of the barges setting off fireworks along the Hudson.
We're going to be out and about in our Mile Square City all day, as they are going to be having a street festival along the waterfront starting at noon. We'll partake of all that fun, and when the time is right, set up camp for a great fireworks-viewing spot along the water. We plan to stick close to home so we can run back and forth to our apartment for food, water, dog control and other necessities, and there should be live music nearby to keep us entertained until the big show at 9:00. Hopefully we can take lots of great photos of this beautiful fireworks display to share with you! We did get some practice with last weekend's Pride Week fireworks at Pier 54, also along the Hudson: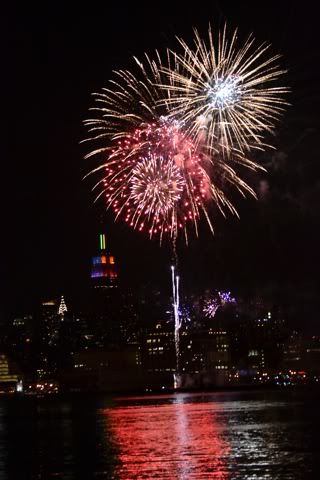 Last weekend's Pride Week fireworks
So festive! A July 4th preview!
If your Fourth of July evening finds you at home watching the fireworks on TV, I invite you to tune into NBC's coverage of the New York City fireworks display to watch along with us. Be sure to watch the entire show, especially Brad Paisley's performance - if you recall,
we were there
when that taped back in May! We were in the back of the crowd, so you probably won't see us on TV, but you can watch for us and pretend you see us anyway, because that's more fun.
No matter what your plans are, I hope you have a wonderful day celebrating our great country. And Achilles approves this message: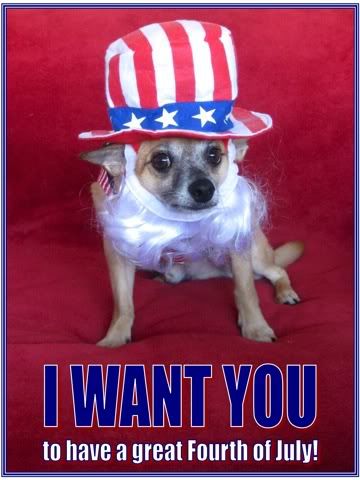 I recommend you do what the poor, tortured dog says! Don't let his suffering be all for naught.
Happy Fourth, everyone!