Ah, back to regular life after a glorious long weekend. That's always a sad day, isn't it? We had a great holiday, and I hope you all did, too!
We had a wonderful time at the fireworks last night, and took far more pictures than I know what to do with. So, while I get that sorted out, I will tell you about the beginnings of our patriotic celebration.
Our Fourth of July weekend really got underway on Saturday night, when we attended "A Star-Spangled Celebration" at Lincoln Center, featuring the New York Philharmonic and the United States Marine Drum and Bugle Corps. It was a great show!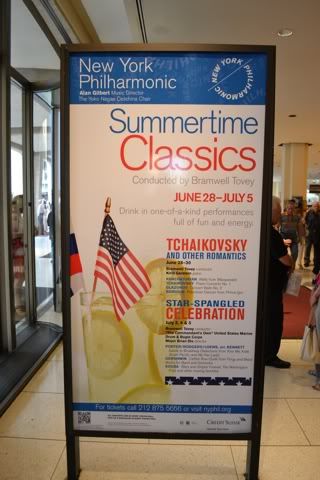 This show was a part of the New York Philharmonic's Summertime Classic Series
We got all dressed up in our patriotic best and went into the city Saturday night, at which point we could not help but lament how much more of a hassle it is to get to Lincoln Center now than when we lived in NYC and were just a few minutes' walk away. Two trains is much less convenient, but it still wasn't bad. And, as I have said, Lincoln Center is one of my favorite NYC spots, so I didn't mind the trip one bit. I couldn't help but think back to
when we first moved to NYC
nearly three years ago, and sat on the steps of Lincoln Center to use their free WiFi to let people know we had arrived. It seems like a lifetime ago.
Looking down at the plaza from Avery Fisher Hall
It's hard to see, but I do have a red clutch, never fear. I am fully patriotic!
We were pretty early, so we spent some time taking photos and watching the fountain, which was putting on quite a show. I have never seen it spray so high into the air! It was like an episode of "Fountains Gone Wild." Ha!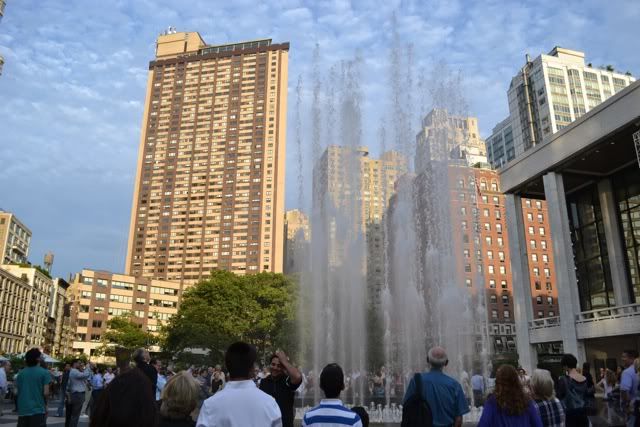 It looks like it's spraying as high as the NYC buildings!
We had orchestra-level seats for the show, and it was a fabulous show indeed. The first half was performed by the NY Philharmonic alone, and included a "Salute to Broadway" (featuring selections from
Kiss Me, Kate, South Pacific
and
My Fair Lady
) and Gershwin's "Catfish Row" (suite from
Porgy and Bess
). After intermission, the Marine Drum and Bugle Corps performed, which was exhilarating. They played "Tour of Duty" (written by Brian Dix, the conductor), selections from "Appalachian Spring," a great percussion feature entitled "Fiddle-Faddle," "Don't Rain on my Parade," "Reveille," and "Semper Fidelis" (of course). They were then joined on stage by the NY Philharmonic, and played the remaining pieces together: "The Washington Post," "Birth of a Drum Corps" (also by Brian Dix, and my favorite of the evening), and "Armed Forces Medley."
As an encore, the NY Philharmonic conductor Bramwell Tovey led the combined group in a rousing rendition of "The Stars and Stripes Forever." (I have decided I might actually have to add playing that piccolo part to my bucket list, I love it so!) Not to be outdone, Drum and Bugle Corps director Brian Dix came out right after and said, "now let's do this correctly!" and led the group in a second version of "The Stars and Stripes Forever!" It was a great end to a great show.
Happy concert-goers, feeling rather festive
What a wonderful way to kick off our patriotic weekend!