And after church both days, Eric and I went out to dinner together. It's not like us to eat out two nights in a row, but we were just enjoying being out of the house together so much we didn't want to go right back home after church. We tried two new local places, one Italian and one Mexican, and both were tasty. We almost had a disaster at the Mexican restaurant though - the paper lining the basket for our chips (and salsa) caught fire in the little candle on the table! It went up in flames and I dumped my whole glass of water on it to put it out. We ended up needing Eric's water on it too. Then we had a soggy table. Embarrassing and messy! Such adventures.
Anyway, I digress. Our Easter celebration continued on Saturday night. We watched a good bit of "The Ten Commandments" on TV, and then put in "Jesus Christ Superstar," one of my favorites. We dyed our Easter eggs while we watched that. They turned out beautifully, if I do say so myself!
For Easter Sunday, we had a very average Easter day planned: church in the morning, then dinner together. Nothing out of the ordinary. So, we got up and went to church. I was grumbling the whole time I was getting ready about the weather. It was finally sunny, but the temperature was still in the low 40s and it was VERY windy, so it felt like it was in the 30s. That meant no cute little Easter dress for me, and I LOVE Easter dresses. So, bummer.
The church service was lovely, and the church was decorated beautifully. I love the celebration of the Easter Sunday service - the lillies, horns, the hymns, the "He is Risen! Christ is Risen, indeed!" exchanges. I know I've
discussed this before
, but that always makes me think of my Pastor grandfather getting the congregation all fired up on Easter Sunday. He was great at it!
After church we decided to walk over towards the East side. When Eric was walking to work last week, he saw that they were planting all kinds of spring flowers on the Promenade at Rockefeller Center, and we wanted to make our way over there to take some pictures. We decided to cut through Central Park on our way to see some of the blossoming trees. I wouldn't have minded if the weather was a little warmer for our walk, but it was still beautiful!
When we made it out of the Park and onto Fifth Avenue, we realized that we had stumbled upon a long-standing New York Easter tradition that we had not known about: the New York Easter Parade and Easter Bonnet Festival. Now, we tend to try to stay on top of the NY goings-on, and it's not often that something like this slips by under our radar. I'm not sure how it happened this time, but needless to say I'm so glad we decided to walk over to Rockefeller Center because otherwise we would have missed some Easter bonnet craziness.
Apparently the Easter Parade dates back to the 1800s, when the New York City social elite would attend church at one Fifth Avenue churches, then parade down Fifth afterwards to show off their Easter finery. The less well-to-do folks would come to see what the latest fashions were. This tradition even inspired a song by Irving Berlin entitled "Easter Pardade," the lyrics of which provided me with my post title today. If you are interested in watching Judy Garland and Fred Astaire sing this song, click
here
.
These days, the parade isn't so much a chance to show off your legitimate fashion sense as much as it is a springtime Halloween. The parade isn't really much of a parade at all - rather, they just block off about 8 blocks along Fifth Avenue and people mill about during the day. Some people wear outrageous hats and outfits, and others (like us!) just stop by to gawk and take photos. The hats were so amazing! I can't even describe them. I just kept thinking to myself, "Wow! Even EASTER is New Yorky in New York!" Hopefully the pictures below will give you an idea of the madness.
You might wonder, which crazy Easter person was my favorite? Well, let me show you. It was Bunny Shrub Man: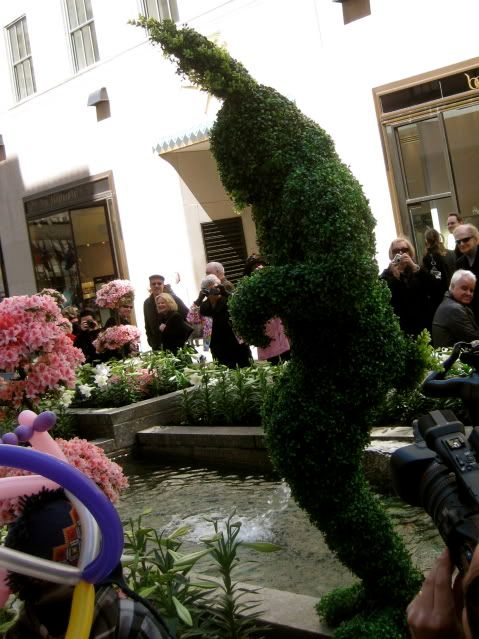 Yes, that's a real person in there, under all that leafy bunny-ness. See? Here is walking down the street with his flower pot friend: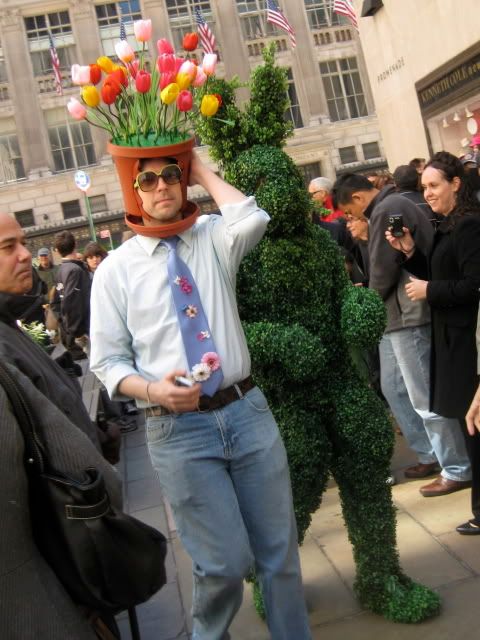 I know I posted a photo of a bunny shrub from Tavern on the Green earlier, and I was afraid all these bunny bushes might get confusing. So I made this handy diagram so there's no confusion:
And yes, next year I do plan to have a hat. I think I will make it myself and it will be throwing up spring all over itself. I can hardly wait. And I plan to bring Achilles with me, in his Easter bunny ears. It will be a sensation!
We did finally make it over to Rockefeller Center, which was beautiful, although very crowded, as one might expect. We took a few pictures then made our way home. Our nice Easter morning walk had been so much more than we had expected!
When we got home we started the afternoon off by torturing the dog. You all saw last year's picture of him in his bunny ears, but we decided to take a 2009 version. HE HATED IT. Poor thing, it really was torture. Don't feel too bad for him, though. He was treated to an Einstein Brothers doggie bagel (his favorite treat) afterwards, so life was good in his eyes.
We spent the rest of the afternoon making phone calls to family, relaxing, and watching a movie together. A nice, quiet end to a wonderful weekend!
I hope you all had a wonderful Easter as well!