Today my husband turns 32 years old. He has doubled his age since the first birthday of his we celebrated together! The next time he does that, we may very well be celebrating his birthday with the grandchildren. CRAZY TALK.
This year I thought I would return to the tried-and-true "List of Things I Love About Eric" birthday post. I strayed from this
last year
, citing Thanksgiving travel as the reason, but let's be honest: it was really because I was trying to survive first-trimester nausea and fatigue and blogging at all was low on my list of priorities. Sorry, Eric!
But this year, my nausea has subsided and both kids are napping (or at least, that's what I'm telling myself as I tune out Ellie's singing from her room), so I can more appropriately reflect on the man I married. He is one awesome man, and if you don't want to take my word for it, perhaps this list will convince you. If you need further proof, please refer to previous lists:
30
,
29
,
28
,
27
, and
26
years old.
32 Things I Love About My 32-Year-Old Husband
(in no particular order)
1. I love that he apparently does the dance to "Uptown Funk" when nobody is watching. Like, practices in the mirror. ADORABLE.
2. I love that he never gives up on the important people in his life. He always wants his family members to feel included, and works hard to help foster good relationships between our kids and his loved ones.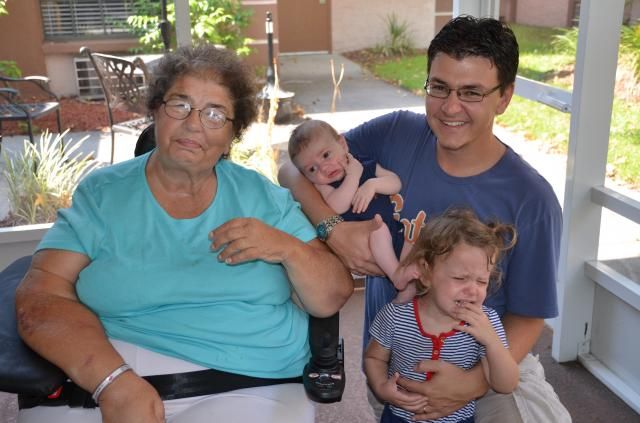 Taking the kids to visit his mom
3. I love that he is trying to teach his students good, valuable life lessons in addition to graphing and equations.
4. I love when I catch him making the same face as E.J.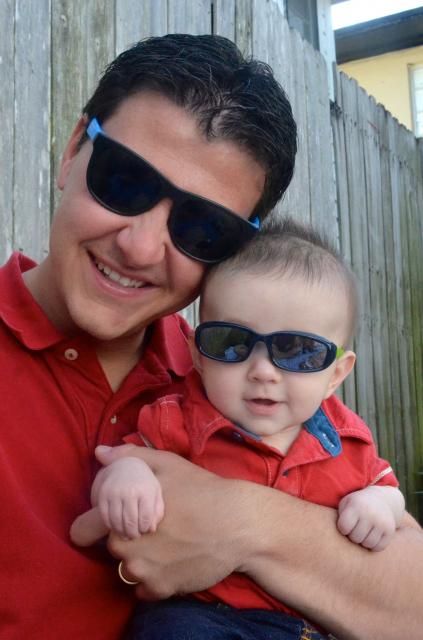 5. I love how patient he can be with Ellie. Admittedly, he and I kind of take turns with this. But that means that when I've about reached my limits, he steps in and takes over with the patience of Job. It melts my heart to watch him calm Ellie's tantrums or hear her giggles while they play.
6. I love that he added a list of "things to discuss" to my to-do list and it looked like this:
Look! I took a screenshot of EXACTLY WHAT IT IS LIKE to be married to Eric.
"Vis a vis" in to-do lists. This is my life, people.
7. I love that not only does he tolerate the constant emails I send him while he works all day (hey, I have stuff to share and don't want to forget!), but he claims to even enjoy them and always responds to each one.
8. I love that he cares passionately about the issues his students face that contribute to the disparity in educational achievement.
9. I love that he is constantly evaluating and re-evaluating his skillset and current occupation to make sure he is using his strengths in the most meaningful way.
10. I love that he regularly shows me how much he appreciates me. At times, he says such nice things about my parenting that it embarrasses me. Perhaps he's exaggerating my parenting prowess a bit, but it feels really good to know that he appreciates the work that I do and thinks that I'm successfully raising our children to be good people.
11. I love how supportive he was during the labor and birth of both of his children. I can't imagine having endured either for as long as I did without him by my side.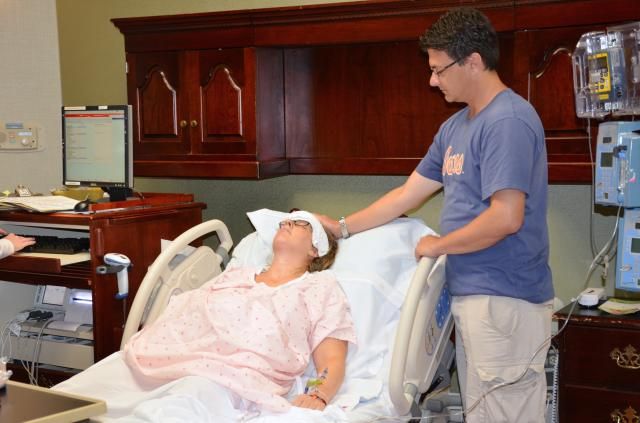 Honestly. Couldn't have done it without him.
12. I love that he "reads" presidential biographies via audiobook while he runs.
13. I love the way he looks when he holds Ellie on his shoulders.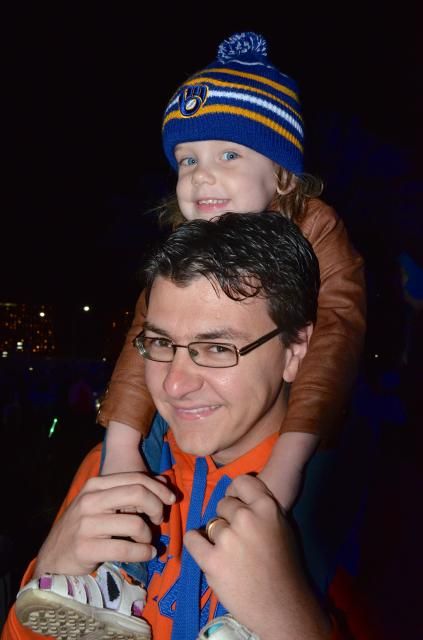 14. I love his back rubs.
15. I love how he stepped in and took such great care of Ellie while I was in the hospital with E.J., even making sure she had matching outfits and bows in her hair. Knowing that Ellie was well-cared for allowed me to focus on our sick newborn and my own recovery without worrying about what was going on at home.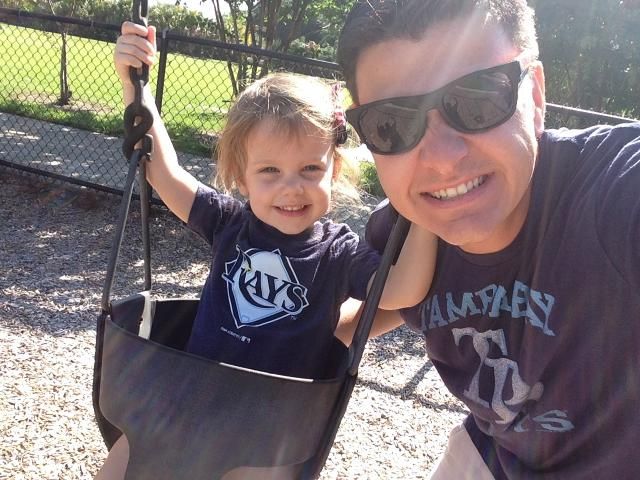 Eric and Ellie at the playground while E.J. and I were in the hospital
16. I love that he worked so hard yet again to find us a great home this year.
17. I love the way he looks in his blue cargo shorts.
18. I love that he has been dedicated to his training and will finally run a marathon in January.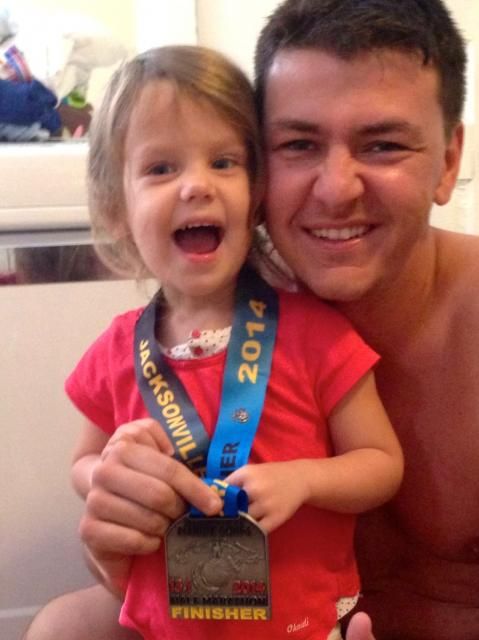 We're all excited to cheer Eric on for 26.2 miles!
19. I love that when I told him I wanted a particular wrap for wearing E.J., not only did he buy it for me as a surprise gift, but beforehand he did all sorts of research into types of fabrics, sizes, etc. of woven wraps. That is love.
20. I love that he is willing to wear E.J., and he looks so very good doing so.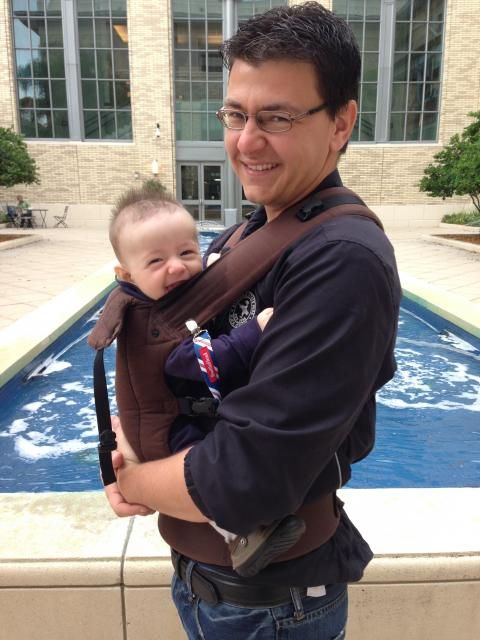 21. I love that when he does golf, he works hard to find a time to do so that won't take away from our family time. I practically had to throw him out the door to golf yesterday (in honor of his birthday) while the kids and I entertained ourselves.
22. I love how excited he gets about our family fun - Halloween, Christmas, vacations. It's so much more fun to me to have a partner who is also really excited about making these great family memories for our kids.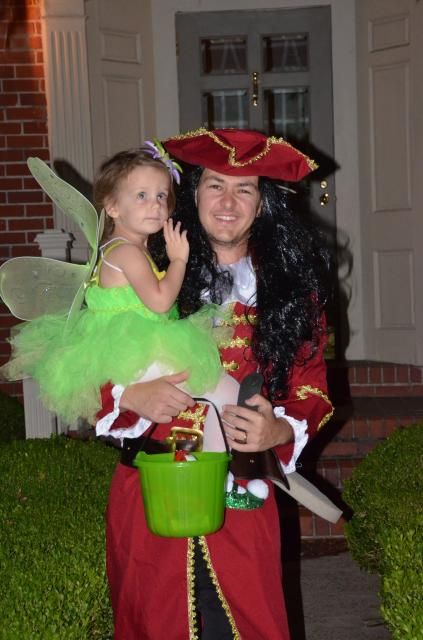 Eric and Ellie (err...excuse me: Captain Hook and Tinkerbell) on Halloween this year
23. I love that he says the prayers before dinner each night.
24. I love that he fills my car with gas for me whenever he drives it and my tank is anywhere near empty.
25. I love that he tells me he loves me when I get back in bed after getting up with E.J. during the night.
26. I love the way his eyes sometimes look like they have a touch of green in them.
27. I love that not only does he prioritize his own family, but mine as well. He understands how important things like my family reunions are and always does whatever he can to help get me there.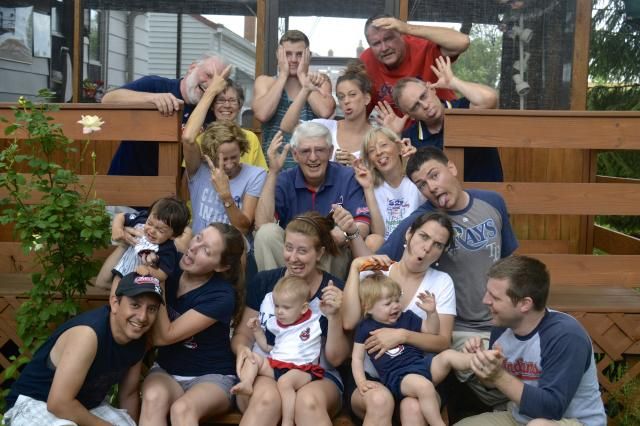 Not only does he try to make sure we can go to these reunions, he even poses and takes the family photos!
28. I love when he does voices. His Batman voice is spot-on (and Ellie recognizes it as such), and you just can't beat hearing the man you love rocking some Grover, Ernie and Mickey Mouse.
29. I love the way he just wants everything to make sense and be logical. I get that, although it is sort of a lesson in futility when you live with a toddler. That doesn't stop him from trying to reason with our two-year-old, though!
30. I love that when the sunset is particularly beautiful, he does whatever he can to make sure I see it.
31. I love his fluffy, un-gelled hair.
32. I love his appetite for knowledge and debate, and that he is constantly seeking to learn and understand new points of view.

And there you have it, friends - just a small sampling of the many things I love about Eric. He sure is a catch and I'm lucky to have him as my partner in life.

Happy birthday, my dear. You're my favorite.