I realize I just posted about recent premieres at the Ziegfeld Theater, but Eric briefly caught another one on Monday night that can't go without mention. This was the biggest premiere we've ever seen at the Ziegfeld (the
Sex and the City 2 premiere
was huge too, but that was held at Radio City, and the
Harry Potter premiere
was epic, but held at Lincoln Center). The movie?
Mission: Impossible - Ghost Protocol
. Tom Cruise! Apparently they held the red carpet all along the block, even out into the street. Media crews from all the various entertainment channels were there. There were huge video screens set up and just a sheer sheet of plastic separating the fans from the action, so it was easy to see in and check things out.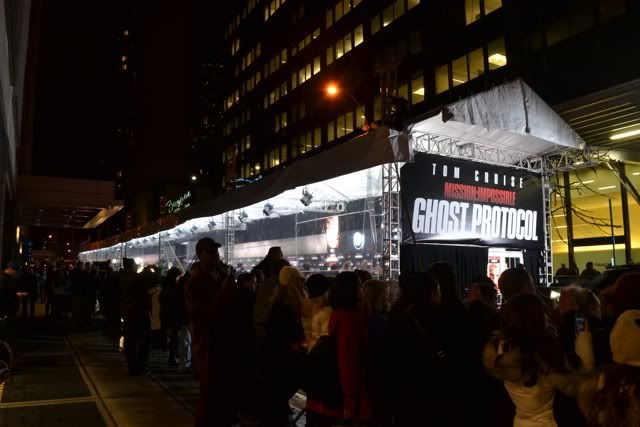 Mission Impossible red carpet set up in the street
I had a doctor's appointment Monday night that Eric was trying to hurry to get to (what a nice dad-to-be), so he only had a few moments to spend celebrity-watching at the premiere. But, he was successful! Right away, he spotted Tom himself!
Oh, hello to you, too, Tom.
Eric mentioned that Tom is very good-looking in person, which is, you know, shocking.
Eric also caught sight of a few other stars, including Paula Patton, Alan Thicke, Josh Holloway, J.J. Abrams, Jennifer Morrison and Jeremy Renner.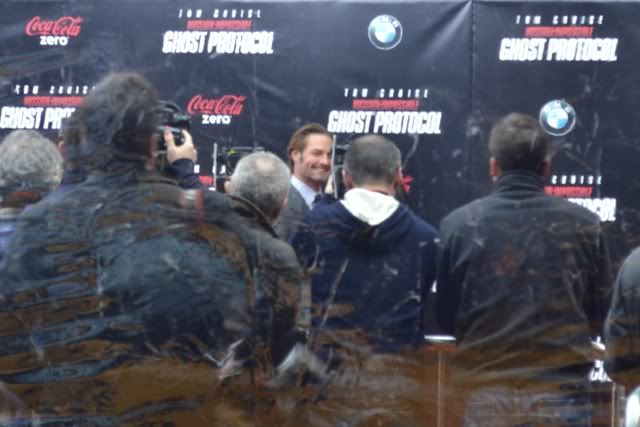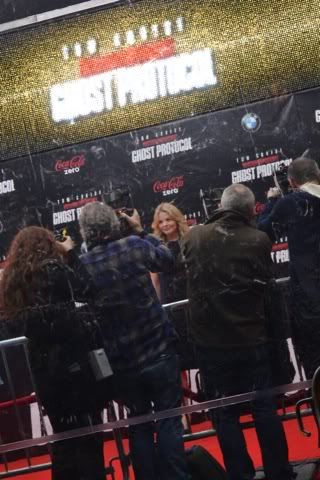 The only disappointing part of Eric's brief red carpet stop was that we actually could have gotten free tickets to this premiere. There was a guy handing them out outside the red carpet, and Eric and I have been waiting for just that opportunity. I mean, how cool would it be to sit and watch a premiere of a movie alongside all the stars of said movie? That's pretty awesome. But, alas, I was already sitting in my doctor's office waiting room, expecting Eric to join me shortly, so rather than grab a ticket for himself and spend the night with Mr. Cruise, Eric passed and came to meet me at the doctor. Good dad-to-be, right? But hey! At least he got to see Tom Cruise!