First of all, I completely forgot to mention that my previous post was Post #600 on this blog.
Six hundred posts!
Have I really been going on and on for that long? Wow.
Anyway, back to business. I want to tell you about my mom's visit last weekend. I don't usually split up visitor posts into multiple installments, but we had three very distinct days of sightseeing while she was here, so we're dividing things up by day. Just roll with it.
Mom arrived around 2:00 on Friday, and I met her at JFK and brought her back to Hoboken. We spent some time relaxing at my apartment, ordered in Chinese food for dinner, and then got ready for a Christmas-y night on the town. We got dressed up then made our way into the city for our evening of classic NYC Christmas sights.
Our first stop was the Time Warner Center at Columbus Circle, to see those dancing stars that I love so much. They were just as beautiful as they have been every year.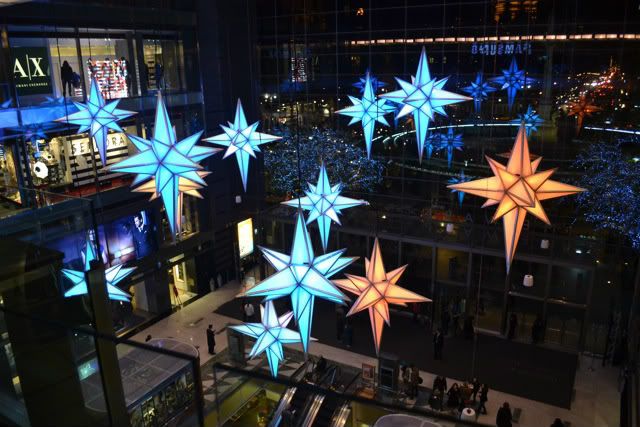 Stars suspended from the ceiling of the Time Warner Center - their lights change in time to music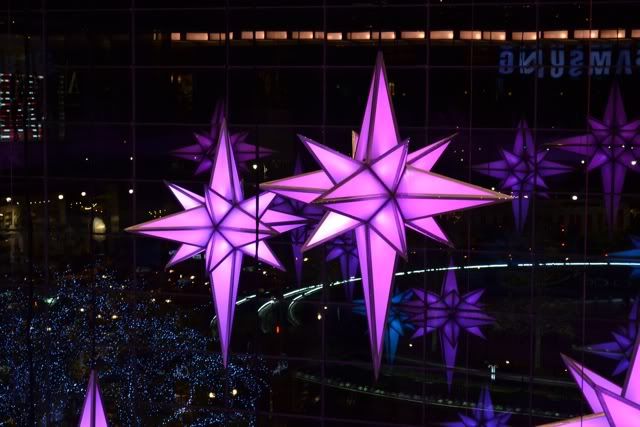 After admiring the stars for a bit, we hopped back on the subway and went over to Rockefeller Center, where Eric joined us. I figured, what better way to kick off a Christmas visit than with a stop by the tree? The crowds were terrible, of course. (I actually work right by Radio City Music Hall/Rockefeller Center, and I must say, I am not loving the crowds each night as I try to get home from work.) But, the tree was gorgeous. We also checked out the angels on the Promenade and the light show on the facade of Saks. (I must admit, I still miss
the snowflakes
they had our first two years in NYC, and am still not sold on this "snowflakes and bubbles" thing they have going on now.)
I think my mom loved seeing all these famous decorations, and really, they never lose their magic!
The Rockefeller Center Tree, with the angels along the Promenade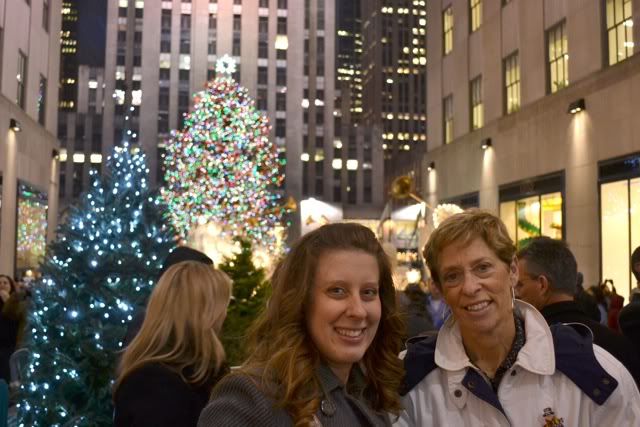 Enjoying the sights with my mom
When we had our fill of the tree we walked back over to Radio City Music Hall to catch the 9:30 p.m. performance of The Radio City Christmas Spectacular, featuring the Rockettes! Our seats were way up high but we had a good view of the stage. They made a few changes to the show this year, and I have to say, I didn't love them. (How grumpy do I sound about all these changes lately? Sheesh!) They changed the storyline of the two little boys looking for a gift for their sister and ending up at Santa's workshop (a number that I loved), and now they have a "Santa's Video Game" 3D thing in its place. Not a fan. But, the rest of the show was just as wonderful as ever. My favorites remained the same: The Living Nativity, the Wooden Soldiers, and the 12 Days of Christmas tap number. Great show!
My mom and me testing out our 3D glasses before the show! (Also, a creeper staring at us on the right.)
Okay, so just FYI, the Rockettes were not headless. There's a curtain going up in this picture and it hasn't quite cleared their heads yet. Hey, it's the feet of the Rockettes that are the important part anyway, right?
The Living Nativity - my favorite! It's always so beautiful. Baby Girl was kicking during this one, so I assume she likes it too.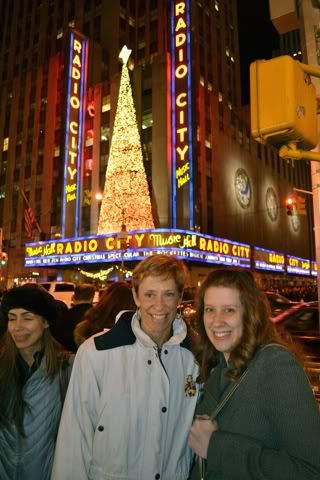 Outside Radio City after the show
After the show we walked a little ways along Sixth Avenue to see some more of my favorite holiday decorations: the giant ornaments, and the giant light bulbs.
Giant ornaments in a fountain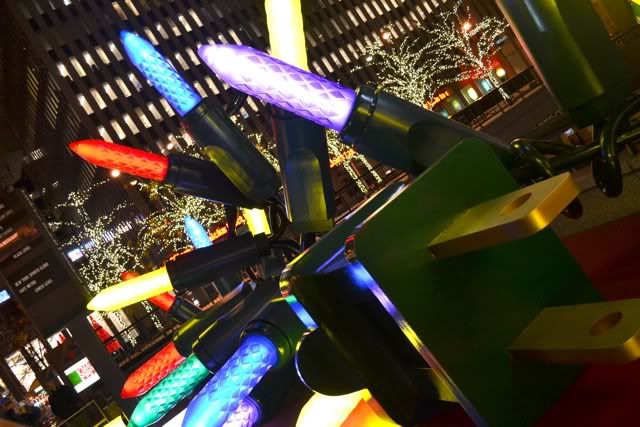 Giant Christmas lights along Sixth Avenue
We then made our way home where we relaxed and warmed up a bit before heading off to bed. We had a busy day of sightseeing ahead of us!
Coming up next: Holiday store windows! Stay tuned!