Yeah, sure, we're getting a little ahead of ourselves, as it is not quite Christmas yet (although it will be very soon!). But, on Tuesday night Eric and I went to our first New Year's Eve celebration. Hey, let's get this 2012 show on the road, am I right?
Remember back when we celebrated our
Fourth of July in May
for the sake of filming a segment with Brad Paisley for the July 4th television special? Well, this is the same sort of thing. We went to a taping of a Jimmy Fallon/The Roots concert that will air on NBC's New Year's Eve Special this year, so we got to celebrate our New Year's Eve a little early.
Once again, we got free tickets to this event through
1iota.com
, and showed up dutifully by 8:00 p.m. (in the rain) on Tuesday night. Luckily, the rain died down before the event began, and we were soon ushered in to the Today Show Plaza at Rockefeller Center and decked out in New Year's garb. Jimmy, The Roots & Co. were still rehearsing, so we had to wait in a long line for a bit.
People lined up, waiting to get up to the stage. See the Rockefeller Center tree in the distance there?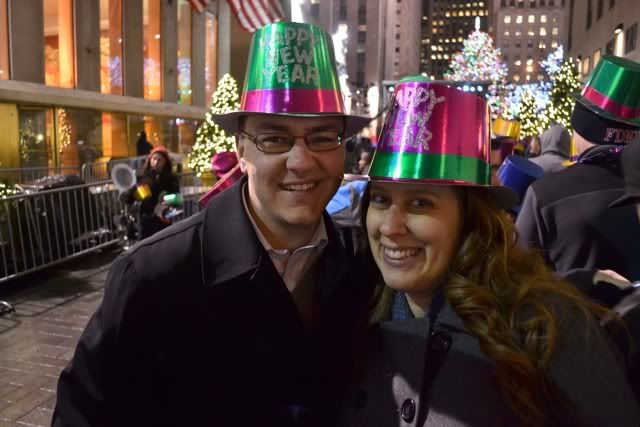 We were then moved into the main spectator area. Eric and I were on the far left side (facing the stage), just a few people back from the stage. The first performance was Jimmy Fallon, The Roots and others singing a recap of what happened in 2011 to the tune of "The Twelve Days of Christmas." They rehearsed a couple more times, then filmed several takes of the song. We (the audience) were instructed to cheer and sing along, which we did: "And Charlie Sheen lost his freakin' mind!"
"Carolers," including The Roots and Jimmy Fallon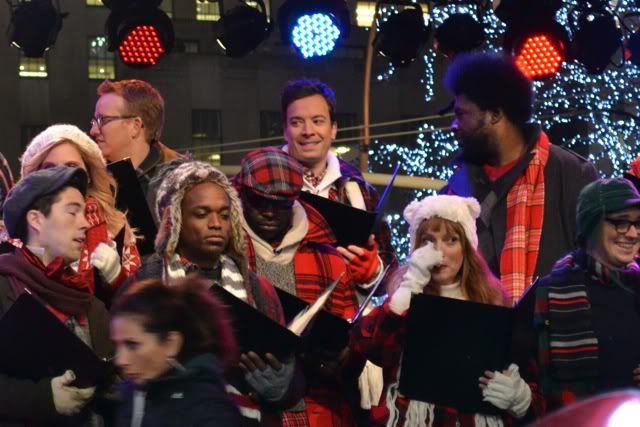 When they were satisfied with that song, we had a loooooooong wait while they changed the set over for The Roots. I guess they had some technical difficulties, but it took FOREVER. Finally, The Roots took the stage and recorded a few takes of two different songs.
The Roots, with a pretty tree backdrop
Unfortunately, pictures/videos weren't allowed during any of the performances, so you'll just have to take my word for it that they were awesome. And if you happen to be ringing in the New Year with your TV tuned to NBC, and aren't too drunk to remember by that point, keep an eye out for us in the audience during these performances!