I want to take a break in between my Florida trip recaps to shamelessly plug my sister's newest show, as I have been known to do from time to time. FAMILY AND FRIENDS IN THE ST. PETERSBURG/TAMPA AREA: This post is for you!
This holiday season my sister is in a production of
A Christmas Carol
at the FreeFall Theater in St. Pete (6099 Central Avenue). This show opens this Friday (yes, tomorrow!) and runs until January 1st. Show times are as follows: Thursdays at 7:00 p.m., Fridays at 8:00 p.m., Saturdays at 2:00 p.m. and 8:00 p.m. and Sundays at 2:00 p.m. Tickets are $37 (plus a $2 handling fee online). You can get them here:
freefalltheater.com
.
Come on, folks, who doesn't love
A Christmas Carol
? And live theater? And this girl:?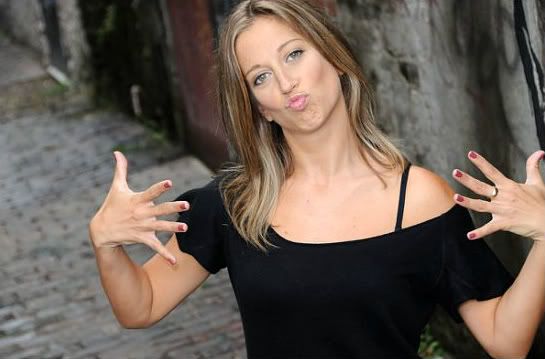 Talented, pretty AND funny! The total package.
Put all three together and you've got a winning combination, I say.
In case you still need more convincing, check out the trailer for the show below:
VIDEO: FreeFall Theater's Christmas Trailer
Personally, I'm quite bummed that I won't be able to make it down to Florida to see this show. I really try to see all of Heather's shows (hey, I even sacrificed and went on a
two-week Caribbean cruise
so I could see all her shows on the Grand Princess, because that's just the kind of sister I am), so I'm really disappointed to have to miss out on this one. So please, go see it on my behalf!
Break a leg, Heather!
(Note: I was in no way compensated for this post. The FreeFall Theater does not know I exist and I am in no way being rewarded for plugging this show. My sister also does not benefit in any way, except by having all you awesome people that will GO SEE THE SHOW cheering for her in the audience. I just think my sister rocks and wanted to make sure the world knows it!)