You all know by now that I am a big
Glee
fan. We went to the
Glee concert
, we
stalked the cast
all over NYC, etc. Two of my favorite
Glee
people have been Jonathan Groff ("Jesse St. James"), who
I was thrilled to meet
in October, and Darren Criss ("Blaine"). Darren is coming to Broadway's
How to Succeed in Business Without Really Trying
in January (taking over for Daniel Radcliffe), and ever since I learned of that fact I have been saying that I hope he's ready to get accosted by a pregnant lady looking for a hug while he's in NYC. I want him to come to dinner at my house. I adore him.
So when I saw on Twitter last Friday that Darren Criss would be doing a pop-up concert somewhere in NYC on Sunday, I was beside myself. I made sure we cleared our Sunday schedule so we could be ready to run out to a concert at a moment's notice, as soon as details were released. On Saturday, Twitter told me that details would be released at 9:00 a.m. Sunday morning. You better believe I set my alarm - this was no time to take chances.
At 9:10 details came out: tickets would be sold at 11:00 a.m. to the first 100 people who showed up to Joe's Pub with $10 and a toy to donate to Toys for Tots. I wasn't sure we'd make it, but I woke Eric up and told him the story. And this is where you get proof that my husband is an
all-star.
He jumped out of bed, hopped in the shower and ran out the door, instructing me to meet him there later. Each person was allowed to buy two tickets, so he figured he was faster than me (and rightly so - I'm pretty slow-moving these days) and he went to get the tickets for both of us.
And...he was successful! He was probably one of the last 10 people to get tickets, but he made it. Two tickets to see Darren Criss!!!!!!
I met Eric at Union Square at about 11:30 a.m., and we killed some time until the concert at 2:00. Joe's Pub is a rather cool venue - very intimate and more of, well, a pub/restaurant than a concert hall, if that makes sense. It was assigned seating at tables, and we were way in the back, but hey, we were in there.
A look at the stage in Joe's Pub
The first performer was Theo Katzman, followed by Charlene Kaye. Both were very good! We really enjoyed both performers.
Charlene Kaye and Theo Katzman
Theo and Charlene performed for about an hour, and then it was Darren's turn. Oh man, I love him. Love, love, love. He was wonderful! The whole show was very casual, and Darren was just as adorable in person as I expected him to be. (Brace yourselves for some photos and videos!)
Darren Criss at Joe's Pub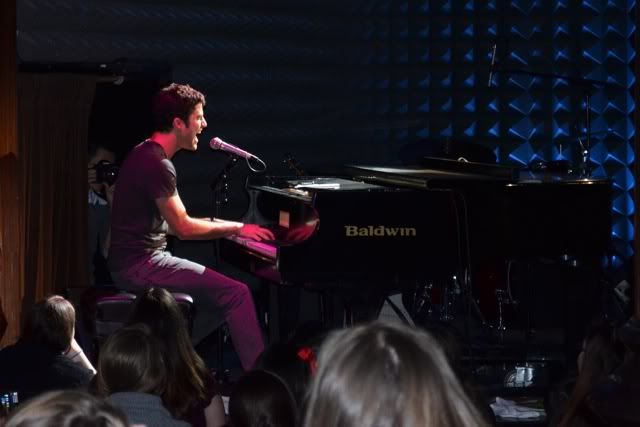 Towards the end, he traded in his guitar for the piano
One of my favorite songs he sang was "Part of Your World" from
The Little Mermaid.
I was a HUGE
Little Mermaid
fan when I was a kid, so I loved it.
VIDEO: My iPhone video of Darren singing "Part of Your World"
I mentioned that things were very casual, and at one point (during the song "Jealousy") Darren messed up the lyrics and asked everyone to please restart their cameras for YouTube. Ha! No one did, of course, but he was still quite charming:
VIDEO: This video isn't one we took (our seats were not nearly this good), but this is Darren's "Jealousy."
I was so hoping for an acoustic version of "Teenage Dream," and Darren was so kind as to oblige on the piano:
VIDEO: Our video of "Teenage Dream"
Darren's final number (before the encore, of course) was "Not Alone," accompanied by all the other performers from the show. I have loved Darren's version of this song ever since I saw
this video
on YouTube many moons ago.
VIDEO: My iPhone video of "Not Alone"
It was really a wonderful show!
After the show, Darren, Theo and Charlene were signing show posters, so we got in line for that. It was a long wait, but so worth it, because this happened: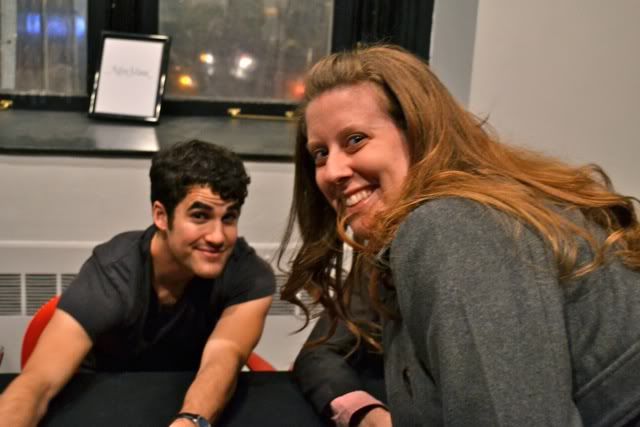 LOVE! We also got their autographs, but I don't have a picture of that. Darren signed his with a smiley face!
Thanks to my awesome husband for being so decisive and speedy and making this happen for me. It was a wonderful show at a great venue - a perfect NYC Sunday afternoon!