In addition to Thanksgiving itself, another big event at the core of our holiday trip to Florida was Eric's 10-year high school reunion on Saturday night. It was held in an upstairs room at Ferg's, a local sports bar owned by a Lakewood High alum.
I had planned to get a whole "Eric in high school" post together at some point before the reunion, but I have been crazy busy and when I'm not crazy busy, I'm crazy lazy. So it never happened. But, in a nutshell: Eric went to the Center for Advanced Technologies (CAT) program at his high school, which was largely math/science focused. In addition to being a big ol' nerd (ha!), he was also an athlete. He played golf (shocker), ran cross-country and track (hurdles, long jump and was part of a 2-mile relay team that broke a school record), played football (yeah that's right, I totally dated the quarterback in high school, be impressed). He was on homecoming court his senior year (yes, he was cooler than me). He was a skinny little thing (about 130 lbs when we met, I think), but he was fast, athletic and oh-so-cute. He was quite a catch back then in our high school days, and he's still quite a catch now!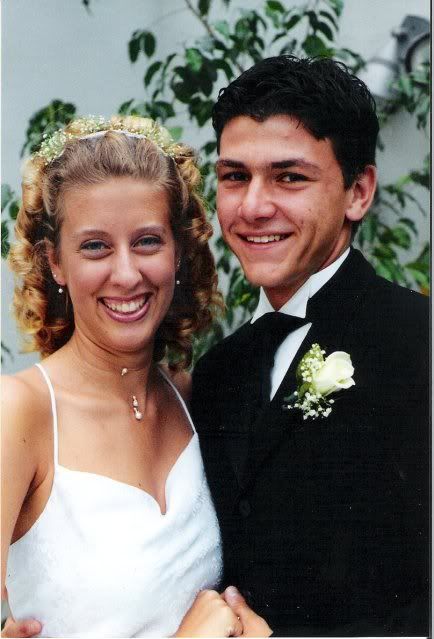 Us before Eric's senior prom, May 2001
I was actually really looking forward to Eric's reunion, because over the years, I got to know a lot of his high school friends. Naturally I met many of his friends during high school, and then when Eric came to college at UF (I had already been there a year), many of his friends came with him and they quickly became my friends, too. My sophomore year of college, Eric, his friend Jeff, my roommate Kristina and I were always hanging out together. The following year, Eric lived with Jeff and two other Lakewood alums and I got to know them pretty well, too. Our last year in Gainesville, Eric and I lived with another (different, and female!) pair of Lakewood people, and then when both Eric and Jeff got into law schools in D.C., the three of us became roommates there. Needless to say, I was excited to see a lot of these people again.
And we really did have a nice time at the reunion. There were lots of people to catch up with, and I even got to meet some I had heard about but never actually met before. All of our former roommates were there, and it was great fun reliving old college memories. Good times!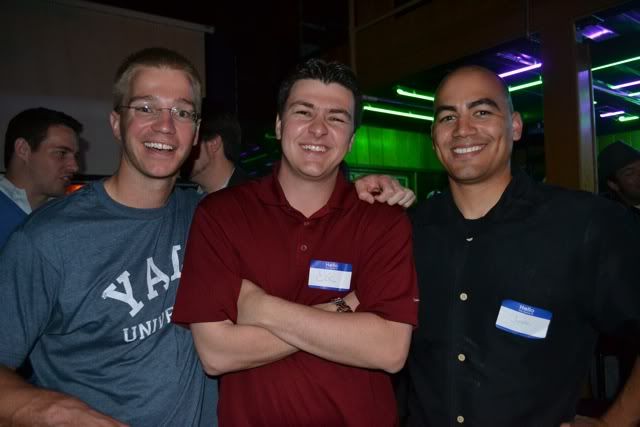 Eric with friends Pat and Justin
These four roomed together in Gainesville Place apartments in college. As you can see, they had fun talking about old times!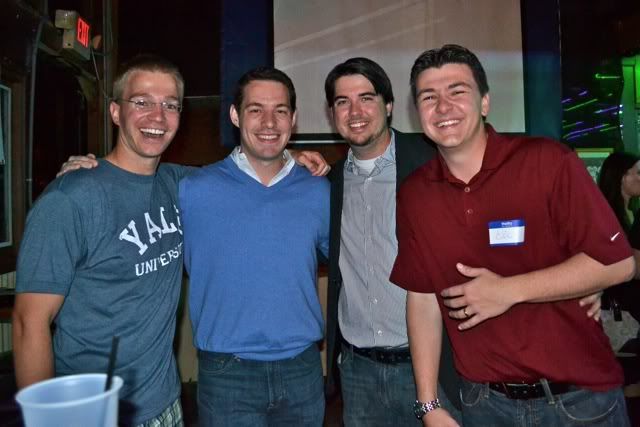 Gainesville Place roommates: Pat, Jeff, Al and Eric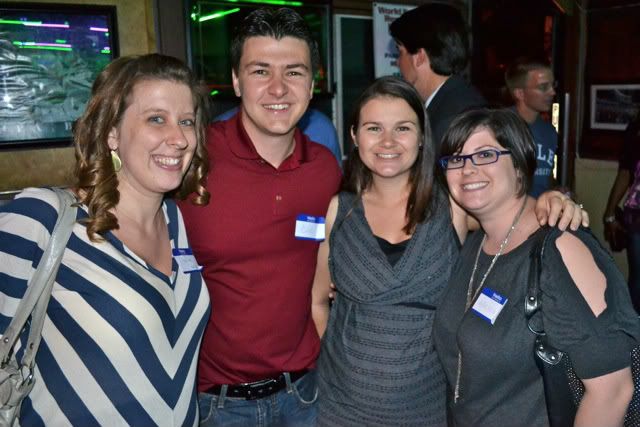 Our last year in Gainesville, we lived with these girls - Coral & Alexis. (Coral is also expecting and due in March, with her second child!)
It was great seeing everyone and catching up! Happy 10 Years to the Lakewood High Class of 2001!