This past Saturday we made our annual trip to Conner's A-Maize-Ing Acres for some fall fun on the farm, and we had a great time! (See previous Conner's outings
here
and
here
.)
First things first, Ellie wanted to play in the corn. So, she played in the corn.
Meanwhile, E.J. roamed all over the place and even had himself his own personal little hoedown.
Next up was some fun with animals. Ellie was very excited to ride a horse again!
Then, we visited with the rest of the animals. The bunnies were a particular hit, especially with E.J., who laughed every time he touched that rabbit and gave it roughly a billion adorable baby kisses.
Next up was pumpkin patch time! Ellie did a lot of awkward toddler smiling while E.J. went up and down the ramp to the country shop as many times as his little legs would carry him. Which is ALL THE TIMES.
Then, it was time to ride some farm rides. Ellie and Eric rode the "tractor bike," then the three of them rode the barrel train.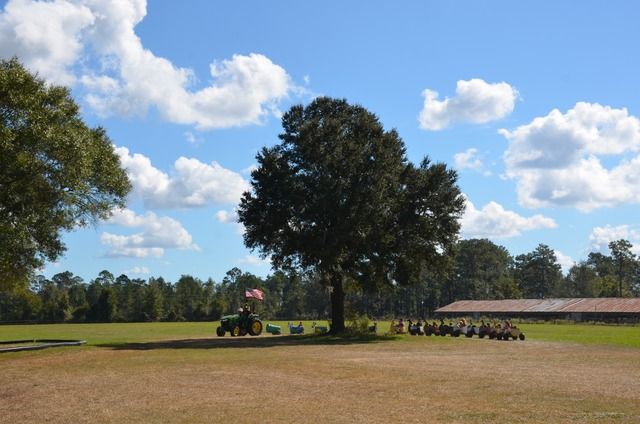 After the train, we visited with the pigs.
Our last big adventure was the hayride to the corn maze. We boarded the hayride and went a short distance, where we stopped and fed treats to the cows.
Then it was on to the corn maze. We did a very abbreviated version of the maze just to get a taste of it. The kids were getting hungry and tired by that point so we weren't feeling particularly ambitious. But, you know, cute pictures of kids in corn!
After our time in the maze we hopped back on the hayride back to "camp" and called it a day. What a great fall family outing!