We spent this past long holiday weekend down in St. Petersburg for a nice visit with family. We got off to a bit of a rocky start, with E.J. unable to nap in the car on the drive down and then likewise in his Pack-N-Play at my dad's house. We had planned to go to the Tampa Bay Rays game that afternoon as well, but that got scrapped and the stormy afternoon weather kept us otherwise inside. Luckily, the kids found ways to keep themselves entertained inside Papa's house.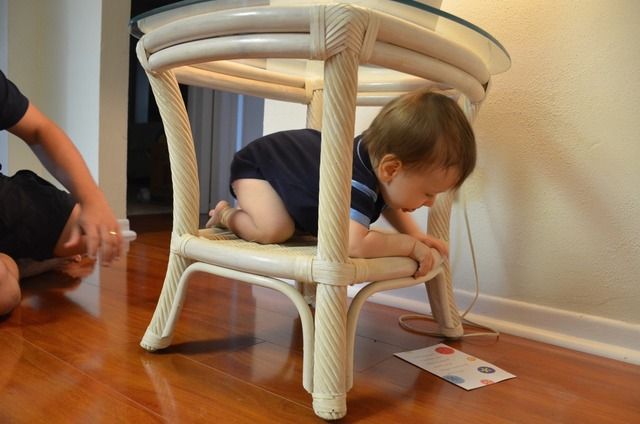 Thankfully, Sunday went much better. We started the morning off by visiting Toni, and Gramz, Ronnie and Charlie joined us. Both Toni and Gramz were ill when we were down in March, so this was the first we were able to see them since Christmas. It was good to see them! Ellie was a bit shy, but E.J. was his usual charming self.
After our visit we went to Dunkin' Donuts for breakfast with Ronnie and Charlie. After we ate, the big kids had a great time running all over the place and playing together!
After breakfast we went back to my dad's house, where we enjoyed a quick play session....
...before E.J. went down for a nap (which he actually took!), and the rest of us donned our swimsuits and hit the pool.
Ellie had an absolute blast in the pool. We all did, actually! We all took turns on "Ellie duty" and had a great time swimming, playing with the pool bubbles, floating on Papa's raft and making waves.
We took a break from the water to grill some hot dogs and hamburgers ("Papa made fire!" says Ellie) and enjoy a nice picnic lunch outside.
E.J. woke up while we were eating our lunch (two-hour nap WHAT), and we got him suited up and brought him out to join the fun.
The weather started to turn gray and drizzly at just the right time, as we were ready to wrap things up anyway. We went inside and it was naptime for Ellie, while Eric, E.J. and I went out to kill some time at the mall. The rest of the evening was spent playing at Papa's house before calling it a night.
And that was it! We left for our return to Jacksonville the next morning, and the rest of our Memorial Day was spent pretty quietly around our home. It was a quick but really nice visit!