In early April, the city of Jacksonville hosted One Spark, a large crowd-funding festival that spanned 20 blocks downtown and lasted for five days. Creators in six categories (Art, Education, Health and Science, Music, Social Good and Technology) bring their ideas/prototypes/pitches/what-have-you and spend five days showcasing them to the general public and investors. The public can vote for their favorite creators using the One Spark app, and their votes are used to distributed a portion of $350,000 in awards. The app also makes it easy to donate directly to your chosen campaigns, and the creators also give more formal pitches to donors on stage throughout the course of the festival. In addition to being a great showcase of new ideas, the festival also brings food, entertainment, and a great atmosphere.
Eric heard about last year's event and mentioned that we should check it this year, and by the time One Spark week rolled around, I was very excited about it. The city seemed to be buzzing and the event was really hyped up. Eric had a short school day on the Thursday of One Spark week, so we hopped on the Skyway and went downtown to check it out.
It was excellent! I would say it really lived up to the hype. We spent our first chunk of time in the Times Union Center for the Performing Arts to check out EdSpark, the education-oriented projects at One Spark.
We support music education!
Ellie was very excited to brush a horse at a booth for a summer camp!
After that we just kind of wandered around, stopping at booths that caught our eye and enjoying the atmosphere. Many creators came up to us in the street with a quick pitch and a card with their project number on it so we could vote. We saw street performers and lots of great food options (though we did not partake), and ended our wandering in Hemming Park, where we made sure to check out the giant shark art piece in the fountain (created by students at UNF).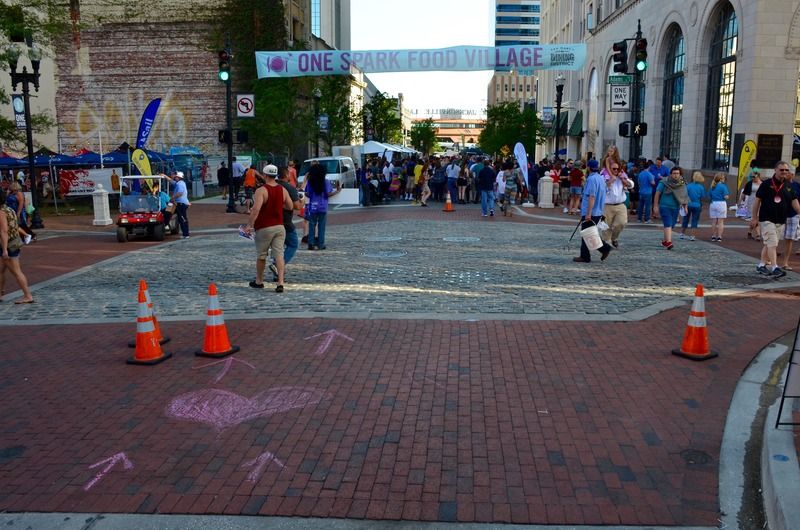 This way to One Spark Food Village!
Street performer juggling fire
Free bike valet adjacent to Hemming Park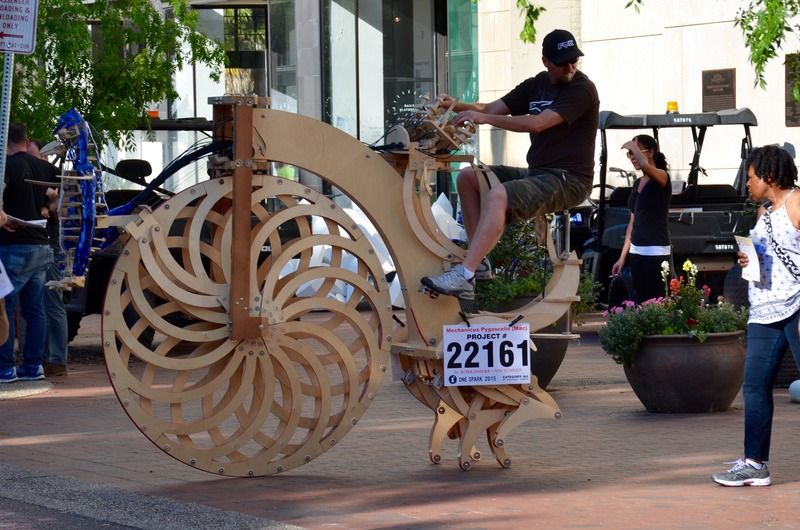 I'd like to see this guy valet bike park that thing.
Booths set up in Hemming Park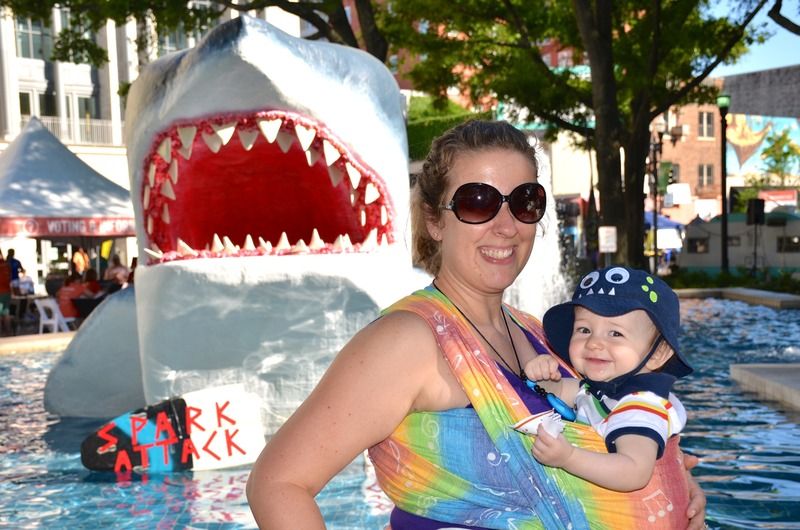 E.J.'s favorite part was the live music, which inspired him to bounce around in his wrap to the beat. That kid could not stop dancing!
VIDEO: E.J. dancing at One Spark
When we'd had our fill of the festivity, we walked back home over the Main Street Bridge. This was my first time doing so, and it reminded me of how much I used to enjoy crossing the Brooklyn Bridge on foot!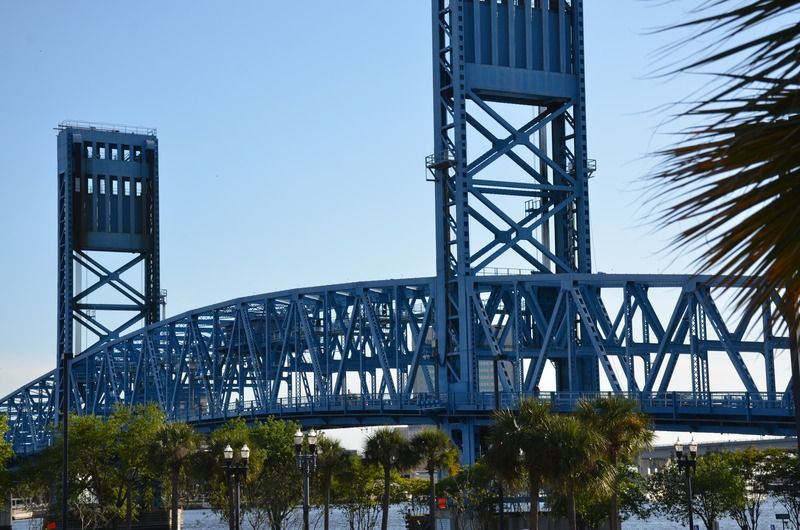 Ellie wanted to touch the bridge!
Coming back down to the southbank side of the bridge, with Friendship Fountain behind us
The whole afternoon was just a lot of fun. I was always such a big fan of street festivals in New York City, and One Spark gave me my fix for that with its own personal style. I loved the spirit of creativity and presentation of new ideas, in addition to the beautiful weather, positive downtown atmosphere and live entertainment. We had a great time, and I wish we could have made it back out there for another day before the end of the festival, but we couldn't make that happen. We'll certainly be back next year, though!