As you may recall, about a month ago I celebrated my 31st birthday. Or, more likely, you don't remember. Because I just had to go back through my blog archive to see what, if anything, I posted
about my own birthday
in real time, because a lifetime has passed since then, and who can be expected to remember that far back?
Anyway. My blog posts may not have been memorable, but my birthday was! My family knew that I was missing Eric this year but they really went out of their way to try to make it special for me anyway. My mom had me over to her house a couple days before my birthday and took me out to dinner (more on that in a later post). My dad and I visited my grandmother on the day before my birthday (his actual birthday) and our whole family made a trip to the Florida Aquarium the day after (more on that tomorrow). And as for my sister, she rocked it and gave me multiple days of fun, which is what I'm going to talk about here.
It all started on Saturday night, July 20, when Heather and I (and her friend Josh) caught a performance of
Spring Awakening
at the FreeFall Theater in St. Pete. The wine was on Heather, and I was practically giddy to be OUT, at NIGHT, with ADULTS, at a THEATER, with WINE. The luxury! The glamour! The thrill! I even did my hair and
wore shoes with heels.
I know, right? I'm a party animal.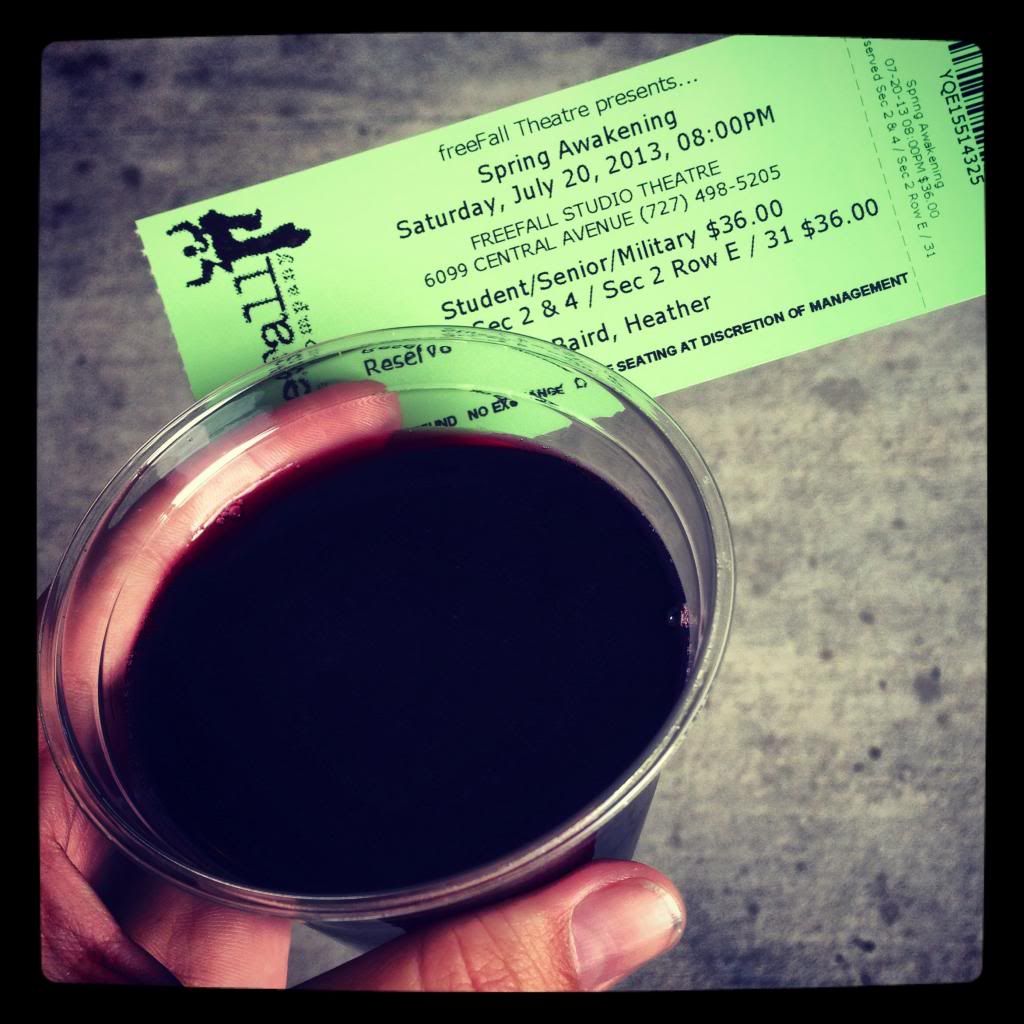 This picture has all the makings of a grown up night out. If my nails were painted, I might even mistake this for a photo from a pre-baby era.
The performance was
superb
. I first
saw Spring Awakening on Broadway
(with Heather, actually), knowing nothing about the show or the music. I was kind of "eh" about the show, but I couldn't get the music out of my head, so I downloaded the soundtrack. Well, after five years of listening to the music and remembering little of the show, I was psyched to see it again. And I
LOVED IT.
All caps, italicized "love." It was beautifully done and the performers were true artists. I desperately wanted to find another opportunity to see it before we left town, but alas, there just wasn't time. But it was so, so good. FreeFall, you nailed it. Loved it.
The next day was my dad's birthday, the day before mine. We spent the day with my grandmother, as I mentioned, and that night I was in bed at 11:47 p.m. on my birthday eve. Remember back in college when we used to do things like ring in birthdays with shots at midnight? Yeah. College was fun. Now I just go to sleep with 13 minutes to go till shot time. Laaaaame.
On my actual birthday, Ellie was so excited to get the celebration started that she woke up at 5:00 in the morning and refused to go back to sleep. Good thing I skipped the midnight shots, eh?
We ran some errands in the morning and then Heather came over for the rest of the day. We had planned to go to Adventure Island, but the weather in the direction of Tampa was looking pretty questionable. Not wanting to drive all the way there and get rained out, we made an en-route decision to about-face and head south to the Dell Holmes Splash Park, which Ellie and I had recently discovered. This ended up being a great call, because the weather in south St. Pete was lovely and we had a perfect afternoon filled with splashing and relaxing in the shade.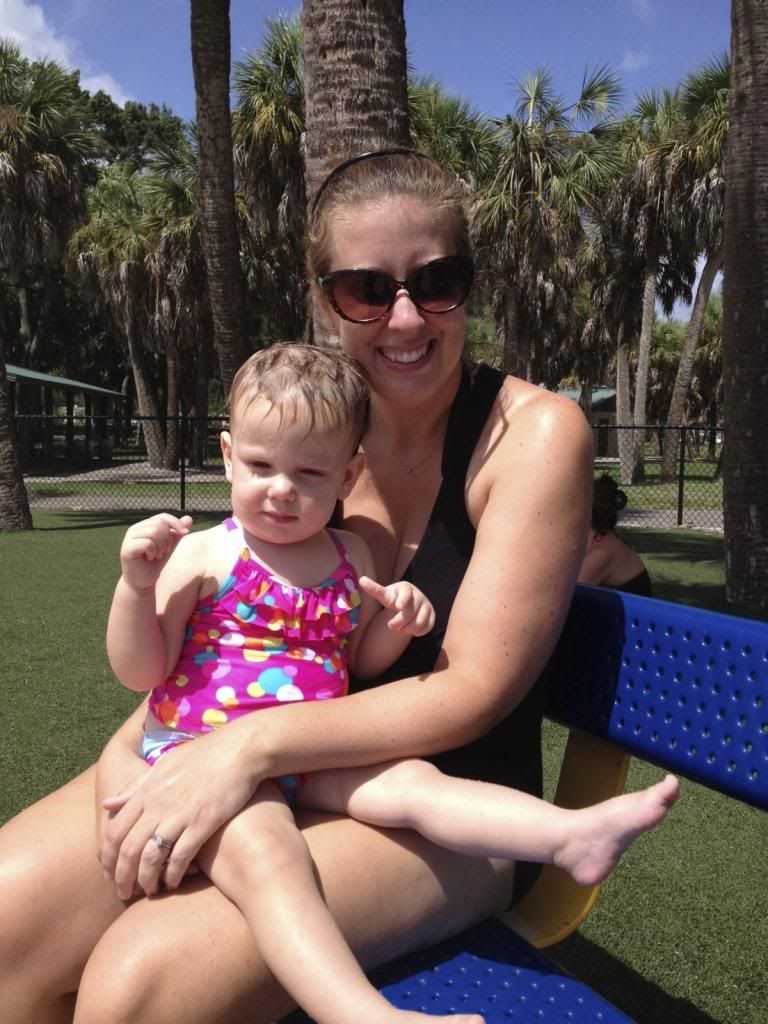 Relaxing at the park with my baby girl
Ellie and her Auntie Heather resting in the shade (sort of)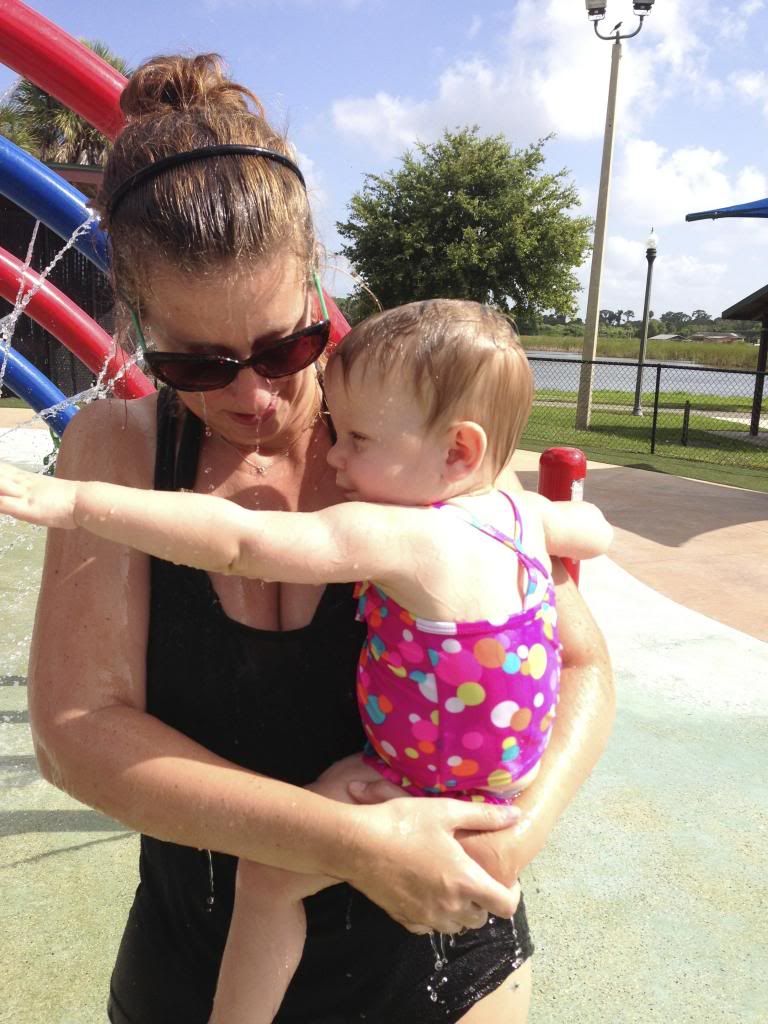 Dripping wet after taking this water baby through the big fountain, and she's already reaching back for more!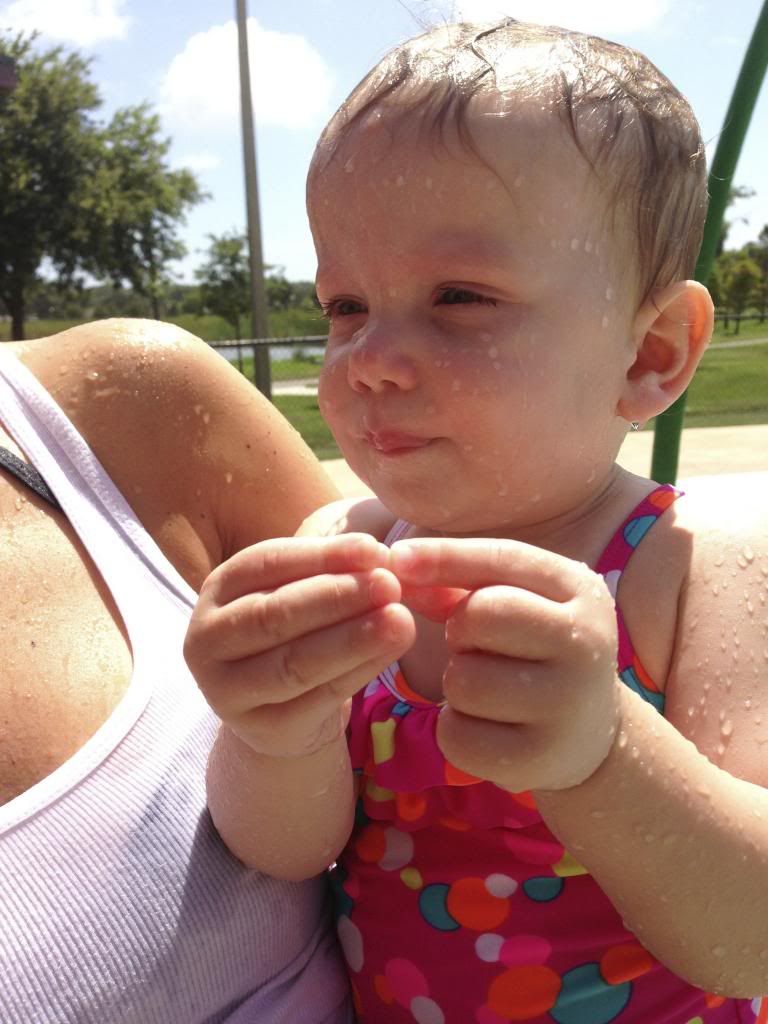 Signing "more," because "seriously, people. More splashing!"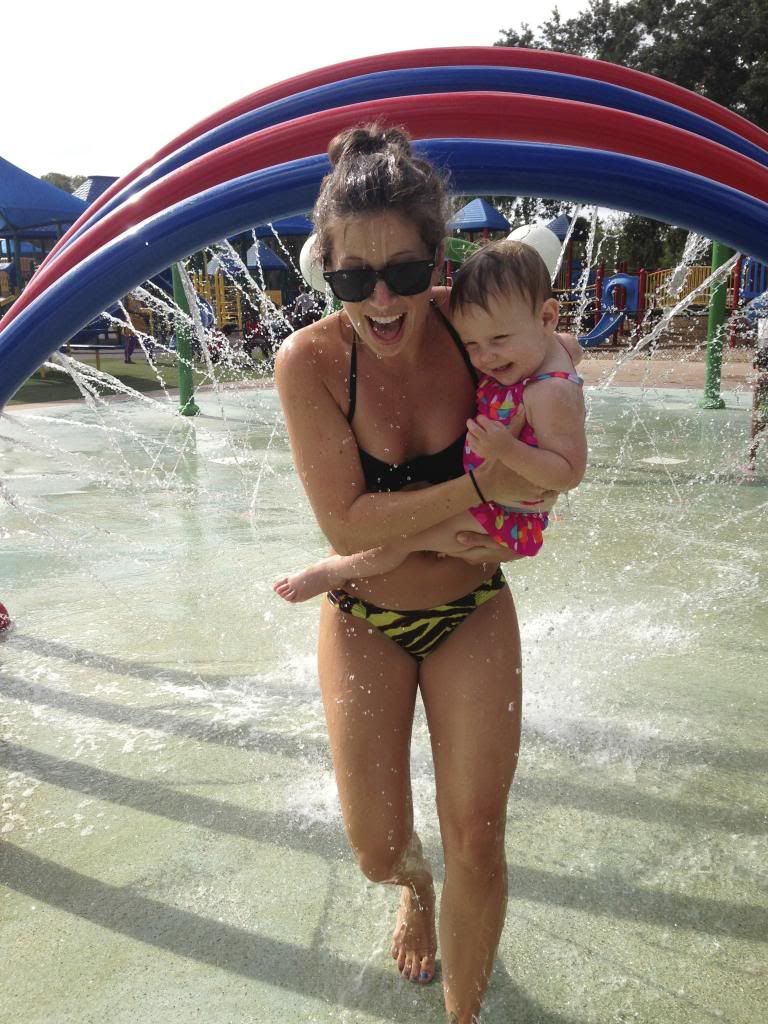 Running through the fountains with Auntie Heather!
We spent about three hours at the splash park, which was the longest Ellie and I have ever splash-parked by about two hours! But it was really a perfect afternoon.
When we got home Heather picked up some McDonald's for us for dinner (Birthday Big Mac! A new tradition!) and for dessert I had both the spice cake my dad made and the yummy ice cream Heather brought me. Because your birthday is no time to be healthy, clearly.
Thanks so much to my family (and Heather especially!) for making my birthday great even though a very important piece of my family was missing! I'm a very lucky girl.