So now that I've caught you up on all the fun things we've been doing in Jacksonville since our arrival three weeks ago, I wanted to mention a few more smaller things about our day-to-day life and some of our first impressions of our new city.
The fun activities have been great to fill the weekends, but during the week, Ellie and I spend a lot of time around the apartment. We still have only one car, which Eric takes to work, so we're left to find other means of entertainment. There is a shopping center with a Public and CVS (among other things) just over a mile away, so we walk there regularly, but there is other fun to be had in our own backyard, so to speak.
One of our favorite things to do is play on our balcony. Of course, I'll show you our apartment more in depth very soon (we just need to finish hanging a few more pictures before the place is ready for its public debut), but I'll give you a little sneak preview of the balcony as I tell you that Ellie and Achilles
love
it out there. Achilles loves to sit and look out at the grassy area behind our building, barking at any random passersby, and Ellie could just stomp around out there for hours. We also have her Cozy Coupe and outdoor chair out there, and she makes good use of those things. No matter how hot and steamy it is outside, they love it, and I am guaranteed to have Ellie bringing me her shoes at least once a day so that I can put them on her and we can go on the balcony.
My
favorite features of the balcony? The ceiling fan and the fact that I can leave one of the sliding doors open and watch Ellie play from the comfort of the air-conditioned apartment. One lazy, wants-to-stay-cool mama, coming right up.
Achilles is modeling our balcony for you
Balcony fun for everyone!
Another nice thing about our balcony is that it affords us great sunset views. Sooner or later I'd like to put some sort of patio furniture out there so we can relax with a glass of wine and watch the pretty sky.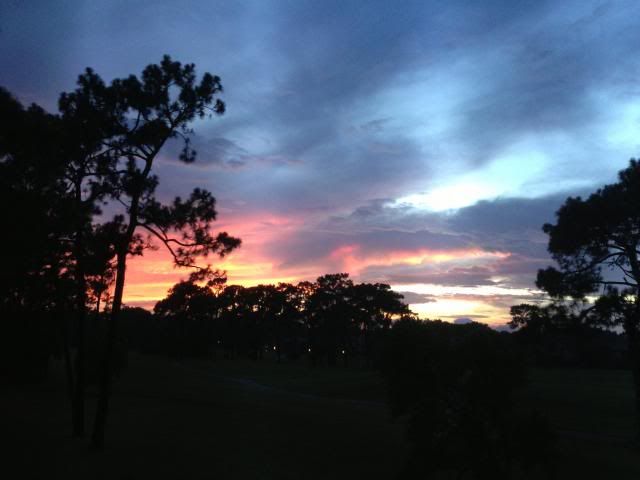 Sunset on one of our first nights in Jacksonville, as seen from our apartment
As for other outdoor activities, another crowd-pleaser is our afternoon walk. Our apartment complex is actually built on a former golf course (can you hear Eric sighing over what might have been all the way from your home?), and we have a big grassy area behind our building with old pathways running through it. If you walk to the right a short-ish distance, you'll even come to a pretty little lake where there are always turtles sunning themselves. Both kids love the walk, and Ellie loves to look for "flowers" (read: weeds) and hold Achilles' leash. She also loves to then let go of Achilles' leash, causing it to retract and go flying towards him, scaring the daylights out of him and cracking her right up. Good times.
Fun on our afternoon walks
VIDEO: Ellie tormenting Achilles with his own retracting leash
We also get a lot of geese out back in the mornings, which is another crowd pleaser.
Ellie thinks we hit the bird jackpot.
And sometimes, if I get really lucky, Ellie will even hold my hand as we walk!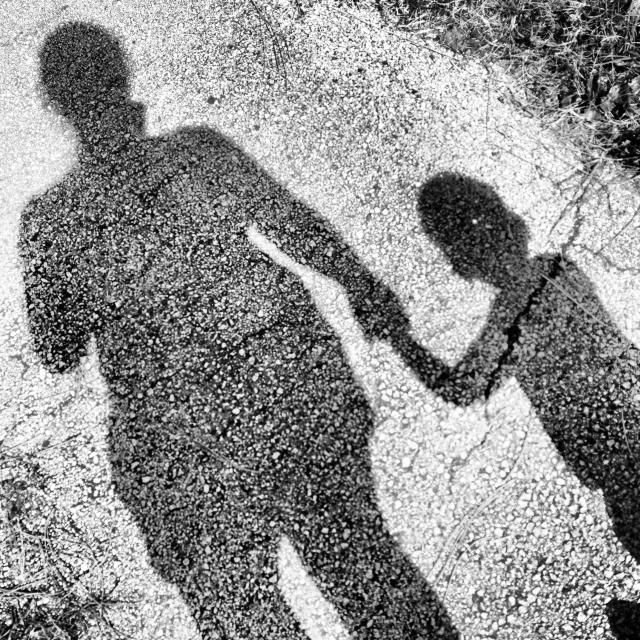 Another outdoor activity that we can use to fill our afternoons is the pool, although we don't do that much because Ellie is far too fond of diving face first into the water and/or running around like a crazy person all over the pool deck, leaving me frantically chasing her lest she trip and fall and meet an untimely demise. So, not exactly a relaxing time for anyone. They do have a one-foot deep kiddie pool that Ellie can play in for a few minutes before diving in face-first (thus giving me a heart attack), and they play music all the time so it's great for an impromptu pool dance party.
Dancing in the kiddie pool!
Back inside, we spend a lot of time playing in Ellie's room, but I'll save that for my reveal of the entire apartment!
Achilles, meanwhile, has been scoping out all the new comfortable places to sleep.
Clockwise from top left: Hanging out on our new living room furniture; tucked away in a corner of the nursery; giving me the side-eye on his favorite corner of the living room rug; and HE IS LAYING ON HIS OWN TONGUE.
And that is primarily how we spend our weekdays. Hopefully we'll have more exciting weekday activities to share as soon as we get a new car, though!
So we have been living in Jacksonville for three weeks now, and thus far I have three major impressions of our new city that I wanted to get on record here:
First, everyone is really friendly. Like,
really
friendly. People on the street, sales staff in stores, customer service people, everybody. When Ellie and I go out for our walks to Publix, everyone we pass on our way out of our complex waves and says good morning. As we peruse the grocery store aisles, every employee and fellow shopper says hello and asks how we're doing. Cars will let us cross and wave as we go by. It's crazy. I remember having a similar impression when we moved from Manhattan to Hoboken, and I was struck by it again when we moved from Hoboken to St. Petersburg, but so far, I would say that Jacksonville is the friendliest city we've lived in by far. It's something I never even really missed when we lived in New York (at times there's really something nice about being anonymous and left to yourself), but now I really appreciate it. It makes me feel welcome and like we belong to a real community. It's nice.
The second impression is just that it's
so big.
It sounds weird saying that after moving from the "big city," but NYC was big in terms of population, not actual size. Apparently Jacksonville is the largest city by area in the United States, and I believe it. It's very spread out, and getting around involves lots of freeway driving (which intimidates me a bit, especially considering people aren't super willing to move over to allow incoming traffic to merge in). I haven't had much opportunity to do any real driving around town, but so far I'm having a little bit of trouble getting my bearings (with one exception: I can easily direct you to two different Targets from my apartment. Priorities!). It feels strange because I could navigate Manhattan (on foot or via public transportation) without hesitation, but I'm a bit overwhelmed by Jacksonville. As I said, it's just so spread out and really not at all walkable, so I'm feeling a little out of my element. I'll get there, I know that, but for now I'm just a little bit intimidated.
The third impression relates to the weather. Jacksonville has some seriously apocalyptic weather on the regular. It seems that every day since we've been here, there has been a monsoon at some point. Aside from just buckets and buckets of rain (we've already had maintenance come repair a leak in our roof/ceiling, so yay for that), the thunder and lightning are intense. I'm not sure if it's magnified because we are living on an old golf course or what, but man, it gets crazy. I know Florida is known for that kind of stuff but it is more insane more regularly here than I have ever experienced elsewhere in Florida.
The sky behind our apartment one afternoon this week. It looks like this often!
So that really sums up the rest of our Jacksonville life thus far. Next week I want to take some time to go back and recap all of the fun things we did in our last days in St. Pete before we return to the present day, and hopefully once that's all done I'll have completed apartment pictures to share. In the meantime, enjoy your weekend, my friends!