On our last day of our Twosome Summer, the day before Eric returned from TFA Institute, Ellie and I had a Girls' Day Out at Sunken Gardens, a lovely 100-year-old botanical garden in St. Petersburg. Sunken Gardens was another place I planned to take Ellie all summer, so I thought squeezing it in at the last minute was a nice, fun way to wrap things up. I hadn't been to Sunken Gardens since Eric and I looked at it as a possible wedding venue in 2006, but I thought Ellie would enjoy exploring and seeing the flowers and such.
So, we headed out there, paid the admission price and slathered ourselves in bug spray. Then we were ready to go.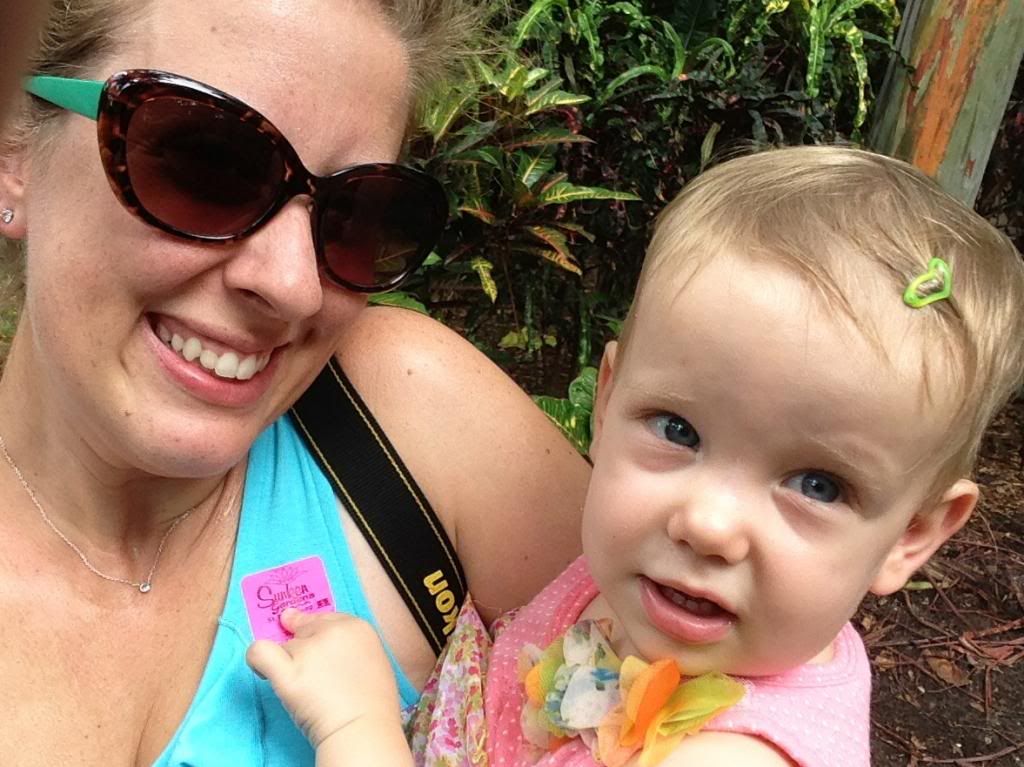 Ready to see some flowers!
Come on, Mom. Let's do this.
Of course, things got off to a rocky start when, literally two minutes into our walk, Ellie tripped over the stroller wheels and did a (very graceful but rather traumatic) faceplant into the sidewalk. She started wailing and her mouth was bleeding and I was all upset, of course. Luckily all this happened right in front of a poor family trying to enjoy a lovely picnic lunch, which was not great for them but worked out well for us because they had ice cubes and water bottles they quickly offered to us to apply to Ellie's mouth. In just a few minutes the bleeding stopped and Ellie was happily sucking on ice cubes, and I am forever indebted to that family.
So, we were on our way. It was beastly hot that day but we still had a lovely time. We watched lizards, saw some birds, admired the flowers and even sat on the Growing Stone, which is supposed to grant all who sit on it inner harmony and tranquility, and the ability to grow things. I don't know about the ability to grow, but Ellie was 0 for 2 on the other two. So, lies! But the rest of the walk was delightful.
Ellie on the Growing Stone. Yeah, inner harmony and tranquility. Uh huh.
Stomping through the gardens
When it's really hot and/or humid, Ellie hair gets curly and I LOVE IT.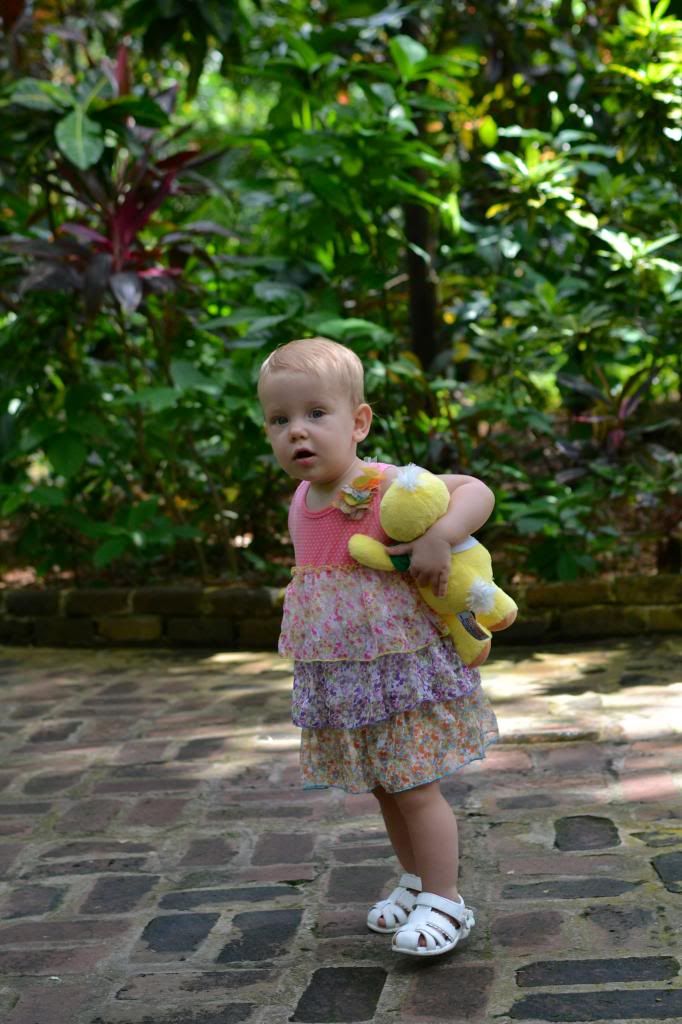 Ellie and Peabody, off on an adventure
Ellie and I sure did miss Eric all summer, but we did have a nice time together, too. She's such a sweetheart and she's so much fun right now. I'm so lucky to have this little girl, and we had a great Mama/Daughter Day Out!
Proud Sunken Gardens visitor!