One week ago, Ellie's umbilical cord stump finally made it's full departure (she's such a grown-up now!) so we were able to give her her very first tub bath. Good times were had by all!
We filled up her Whale of a Tub with just enough water and made sure we were prepared with all the other necessities - soap, washcloths, hooded towels, diaper, lotions, etc. Then it was go time.
She really handled it very well! She was pretty wide-eyed through the whole thing, but she didn't fuss one bit. I think she actually kind of liked it. I asked her if she remembered all the baths she and I took together when she was still in my belly and I was just trying to get comfortable. Baths really were our "thing."
Her reaction when she got in the water
She doesn't think she hates it, but the jury's still out.
Okay, sure, this tub stuff isn't terrible.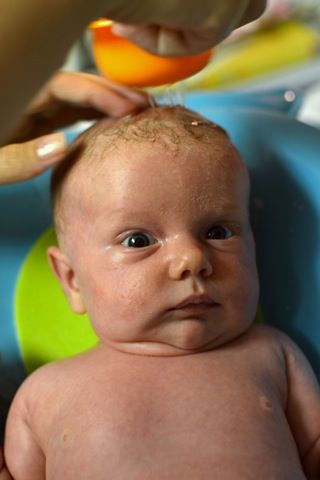 The only time she got upset was when it was finally time to get out and dry off - she was not so much a fan of the drying. I like to imagine she just loved being in the water so much, she didn't want to get out and back on dry land!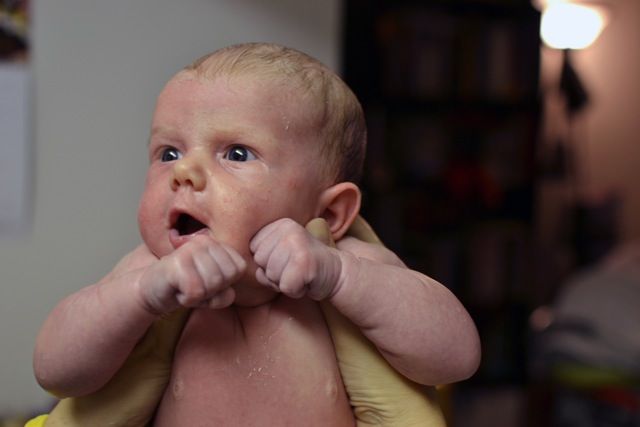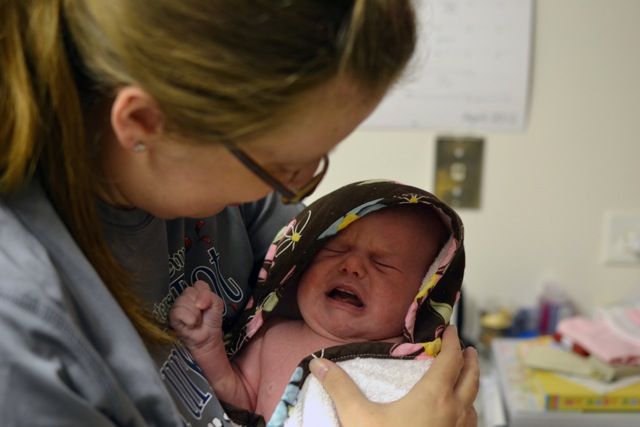 Oops. Not excited about this part.
Of course, then we wrapped her up in a big, warm, fluffy robe (a shower gift from her Great-Grandma), and all was right with the world. There's just nothing like a soft, comfy robe after a relaxing bath, am I right?
Overall, I'd say Operation: Bathtime was a success!