Last week Ellie had her second visitor: my mom, who very kindly agreed to come up at that time because Eric had to go out of town for work last weekend. She stayed for about a week, and it was great to have her here to help me with Ellie, Achilles and housework while Eric was gone!
Most of my mom's visit was spent doting on Ellie. My mom seemed to have the magic touch to get her to sleep, so there was a lot of time spent with Ellie draped over her Grammy.
Left: Grammy and Ellie meeting for the first time; Right: That is one passed out kid.
I mean, she's just so cute.
My mom also went with me to Ellie's one-month check-up, where she got a shot and turned bright red from head to toe before she screamed her head off. SADDEST. THING. EVER. But at least she got a cool Band-Aid out of the deal?
This was even BEFORE the shot. Poor thing!
You can see her Band-Aid on her thigh here - it had Wile E. Coyote on it!
(If you are the kind of person who is interested in such stats, Ellie is a giant. She's up to 10 lb, 8.5 oz now, and 21 and 3/4 inches long. Both her weight and head circumference are in the 90th percentile, and her length is 75th to 90th percentile. She's enormous! I guess it's nice to see that all that time I spend feeding her is actually doing something, right?)
When both Ellie and the weather cooperated, we went on some outings, including a walk around Hoboken, a trip to Target (more new clothes for Ellie!), and even a PATH train ride into the Big Apple for Ellie's first NYC excursion (although that one will get its own post later!). Probably the most fun Hoboken outing was the Hoboken Arts and Music Festival, Ellie's first street festival! The weather was beautiful, and Ellie cleaned up - she got a balloon, a pinwheel, a CD with songs containing her name, a wooden golf club, and a free First Bible and book of bedtime Bible stories. After the festival we spent some time enjoying the views along the water, too.
Ellie is very excited for her first street festival!
Ellie and her mommy! (Do I look like a real mommy, with my stroller and my diaper bag and my camera?)
Ellie enjoying the views at Pier A Park
My mom also brought a sewing project for us to work on! She knows I have been wanting to learn to sew - I even own a sewing machine but really don't know much about how to use it. So, she brought a pattern and some fabric and helped me make an outfit for Ellie!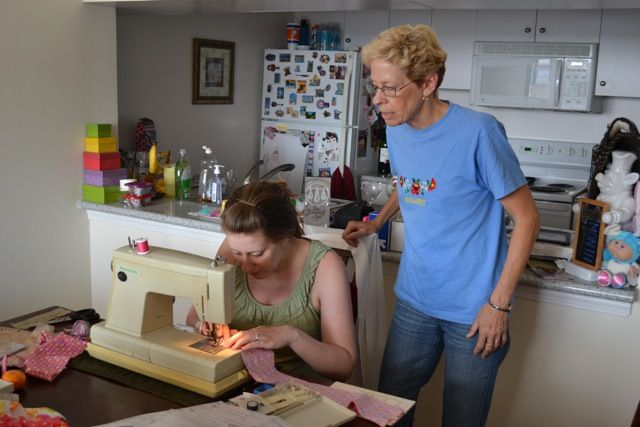 Practicing my new sewing skills while my mom offers her expertise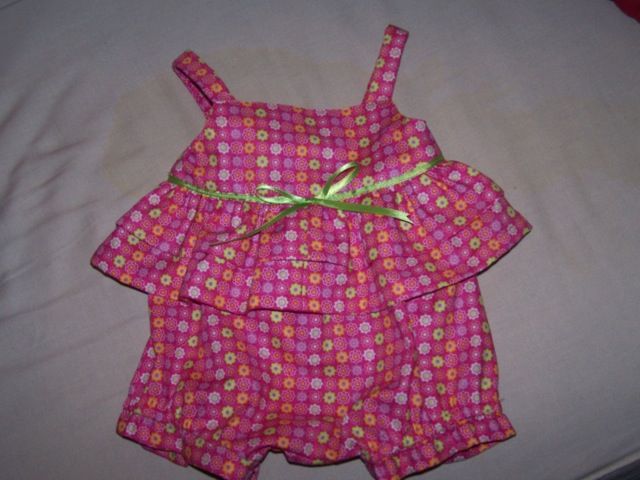 The little outfit we made! It's still a little big for Ellie, so she'll wear it later this summer.
And of course, Ellie and Grammy had some good bonding time. My mom couldn't get enough of her, and Ellie seems to already be learning to just sit back, relax, and enjoy being spoiled by grandparents. Smart girl.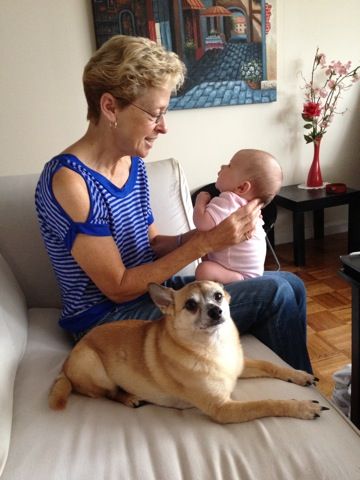 Bouncing on Grammy's knee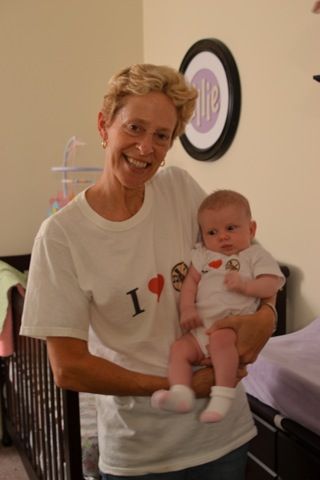 Ellie and Grammy wearing matching "I Heart the Warblers" shirts!
It was definitely a great week. Thanks for coming, Mom!