Tomorrow is the Five Boro Bike Tour.
Am I seriously going to do this?
I'm not even going to lie, I have spent quite a bit of time this week contemplating putting my tour vest and helmet number up for sale on Craigslist. The tour sold out within one day, so I know there are people out there who want my spot. Who am I to deprive them, especially when letting them take my place means I can sit on my couch and relax all day instead of biking 42 miles?
But, thus far I have been able to talk myself out of chickening out and selling my spot. So unless my nerves really get the better of me and I start trying to give my number away for free to passerby on the street, I'm doing this.
All week long I have been saying a silent prayer: "Please, Lord, please, please, PLEASE let me be able to finish this ride." I don't care how long it takes me. I don't care how exhausted I am afterwards. I don't care what kind of a mess I look like in our finish line photographs. I just want to get there, using my own two legs on my bike. I know if I can do it, I will feel amazing. The problem is just that I don't have confidence in myself. Did I train enough? What more should I have done? Will I get too tired, too hungry, too thirsty? Will my poor thighs hold up? Can I manage the bridges?
Can I make it 42 miles?
Well, you never know unless you try, right? So, off we go. Eric and I will spend some time tonight getting our bikes all ready to go - air in the tires, everything tightened and adjusted, bag packed with water bottles/snacks/sunblock/cameras/etc. We'll leave early tomorrow, probably a bit before 6:00 a.m. We will take the PATH train to the World Trade Center, then ride the short distance south to Battery Park to join the starting line. The race officially begins at 8:15, and then 32,000 riders will head off into New York City.
I've been keeping a close eye on the weather forecast all week, and I think we're looking pretty good. Although I would prefer it be a bit warmer, it looks like we'll at least have some sunshine, so I can handle that. I just have to hope my legs don't get too frozen in my bike shorts as we wait at the starting line at the crack of dawn. But overall, I think this is looking pretty good, especially considering the particularly rainy weather we've had lately: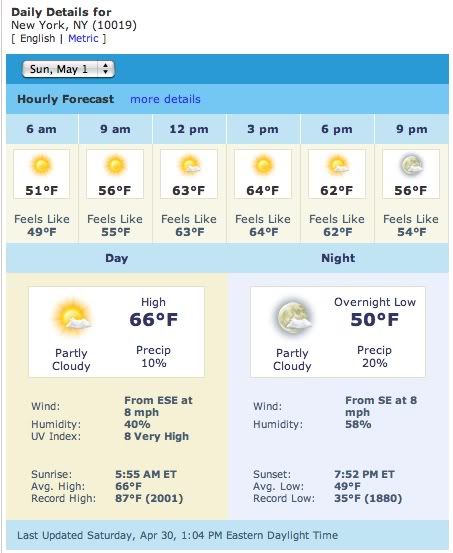 I have posted it before, but if you want to see the route map to "follow along" with where we'll be going, you can see it
here
. Basically, we'll start off heading north from Battery Park (the very southern tip of Manhattan), up through midtown and Central Park, into the Bronx via the Madison Avenue Bridge, back into Manhattan on the Third Avenue Bridge, and south along FDR Drive. We'll cross the Queensboro Bridge (a/k/a the 59th Street Bridge, which will inevitably make me start singing
Simon and Garfunkel
-
"slow down, you move too fast!"
) and ride around in Queens for a while before heading south into Brooklyn. Our final bridge will be the Verrazano-Narrows Bridge, taking us into Staten Island, our final borough. We'll hang out at the festival there for a bit before finishing the last three miles of the tour to the Staten Island Ferry stop. We'll ferry back over to Manhattan, then ride back up to the World Trade Center to catch the PATH back to New Jersey. Then we will lay on the couch and never move again and order all sorts of terrible-for-you food to eat for dinner, just because we can.
Assuming I'm not near death the entire time, I may very well try to post updates on Twitter when we stop at the various rest stops along the way, so
follow me there
if you want to make sure I'm still alive and on my way through the boroughs. And of course, I'll be back to recap the whole thing next week!
In the meantime, say a prayer for me, or send vibes, or "secret" things out into the universe for me, or whatever it is you do to wish someone well. I need all the help I can get!
And if anyone can figure out exactly how my husband talked me into signing up for this thing, I'd love to know.