Prince William and his bride, Kate Middleton
Yup, I got sucked in. Royal Wedding fever!
Unless you live under a rock, you know that this morning Prince William married the lovely Kate Middleton. The impending nuptials have been the talk of..well, the
world
for weeks now. It has been well documented that I love all things wedding, so naturally, I got sucked in immediately. I watched everything I could find on TV about it, read magazines and articles, and got myself all psyched up for the big day.
Eric and I considered going into Times Square for their live viewing event, hosted by Randy of TLC's
Say Yes to the Dress
(how sweet is my husband to agree to do that with me?). But, laziness/sleepiness set in and I decided I wasn't up for waking up at about 3:00 in the morning to get out to Times Square and (hopefully) get a seat in the viewing area. That's just too much.
So, Eric and I set our alarm clock for 5:00 this morning and had our own little party at home. We cooked a delicious french toast breakfast and drank yummy mimosas while we watched the coverage on TV.
Cheers to the new Princess!
First things first, THE DRESS. I was so excited to see the dress. I just love Kate Middleton's style and I knew she would be stunning on her wedding day. She did not disappoint! Although I may have anticipated something with a little more glitz, I thought her dress was divine. It was classic and elegant, very Grace Kelly. I think it will be a timeless choice and she wore it beautifully.
I just loved watching this wedding. I loved the pomp and circumstance, the regality, the formality. Yet in the midst of all that "prim and proper" goodness, there were moments that I could identify with. For example, I loved seeing Kate's sister Pippa fulfilling her maid of honor duties. It reminded me of my sister doing so for me, and how sweet and attentive and concerned with making sure everything was perfect for me she was. Sisters are the best!
Sweet moment between Kate and Pippa when Kate arrived at Westminster Abbey
(Yes, I took pictures of my TV. What of it?)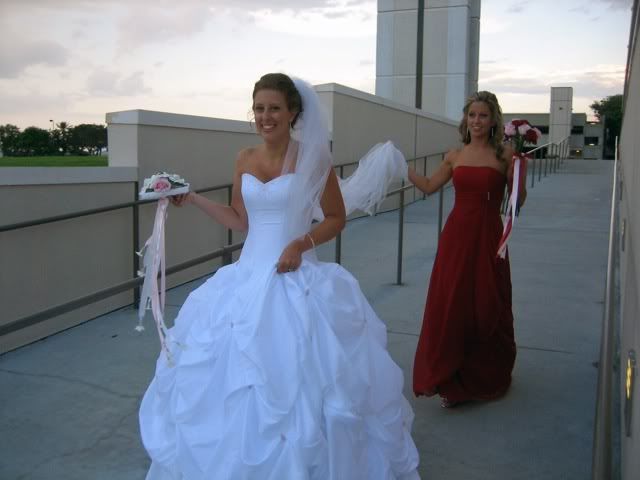 My dear sister being the best maid of honor ever for me back in '07! I like to think she started the trend and Pippa was just following her lead.
Kate and William were very stoic at the altar, but every now and then they would exchange a sweet glance during the ceremony. I especially loved it when Prince William told her she looked beautiful when he first saw her. And of course, that made me think of Eric's face when he first saw me, and how he also told me I was beautiful (and even after today's events, he still maintains that I am the most beautiful bride he has ever seen). We held hands through our entire ceremony and he wiped my tears away when I cried. Awwww. Sweet, in-love men are just the best.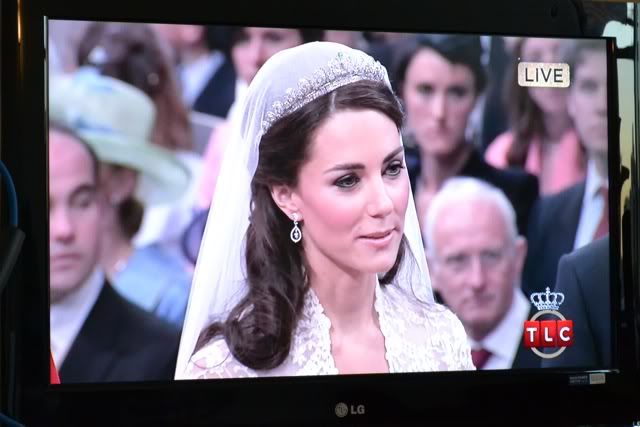 My wedding again, not Will and Kate's! Oh, memories.
After the Mass, the newlyweds exited Westminster Abbey and took a carriage ride back to Buckingham Palace, where they emerged on a balcony and gave a quick kiss for the crowd. The kiss was rather conservative (Come on! More romance!), and I'm told they did it twice, but I missed the second one altogether so that goes to show how drawn out and passionate it all was.
The whole family out on the balcony
Both the romantic and the former little girly-girl in me loved this wedding, because it just seems like a fairytale come true. Every little girl dreams of marrying their Prince Charming and becoming a princess someday, and Kate Middleton - er, excuse me -
Catherine, Her Royal Highness the Duchess of Cambridge
is actually doing it! And it totally could have been me. William and Kate met during college at the University of St. Andrews in Scotland. When I was in college (at the same time as Prince William, who is my age), I considered studying abroad -
at the University of St. Andrews
. I even had my dad pick up some information on the school when he visited St. Andrews. It has always been one of my biggest regrets of college that I never studied abroad, especially now that I know that if I had, I would totally be a princess right now. Ah, well. I'm pretty happy in my life as a lawyer's wife, so it all worked out for the best!
Also, can we talk hats? I have decided that American women need to wear more hats. The hats at this wedding were FABULOUS. What is it about a hat that is just so awesome? That whole wedding was like the Easter Bonnet Parade here in New York. Americans, why do we have to have a ridiculous Springtime Halloween event to have an opportunity to wear hats like that? Bring on the hats in everyday life!
Now that I have been up for five hours and polished off a bottle of champagne, it might be time for a nap. Thanks to the Royals for letting us watch their great celebration! Congratulations to William and Kate, and best wishes for a happy life together!