Eric and I are in the middle of a very busy football-oriented week right now, and it all started with the Bud Light Draft Party at B.B. King Blues Club last night.
We'll be going to Rounds 2-3 of the NFL Draft tomorrow night, and we got those tickets through
1iota.com
(the same place I got tickets to the Comedy Awards). Because we signed up quickly for draft tickets, we were also invited to the Bud Light Draft Party last night to kick things off. We had been meaning to see a show at B.B. King's, so we were excited to go to the party and check out the venue (although of course, this does not exactly count as a blues show).
B.B. King in Times Square
We met up at B.B. King at about 6:30 last night and got in line. We were allowed in to the venue between 7:00 and 7:30, where we easily found a booth and ordered some beers. Sadly, the Bud Light was not free. How does Bud Light sponsor a party and not have free beer? Not only were they not free, but a small draft was $5. I know I am far removed from dollar beer nights back at my old place of college employment in Gainesville, Florida, but doesn't $5 seem a little pricey for
Bud Light
? Ah well. That's New York for you.
The main event of the party was the mock draft featuring six football Hall of Famers: Jerry Rice, Harry Carson, Franco Harris, Warren Moon, Anthony Muñoz and Shannon Sharpe. Jerry Rice was the emcee and each of the football guys went through their pics for the first round of the draft. They also answered some questions from fans and reminisced about their football days.
Hall of Famer jerseys above the bar
Jerry Rice, Warren Moon, Anthony Muñoz, Franco Harris, Harry Carson and Shannon Sharpe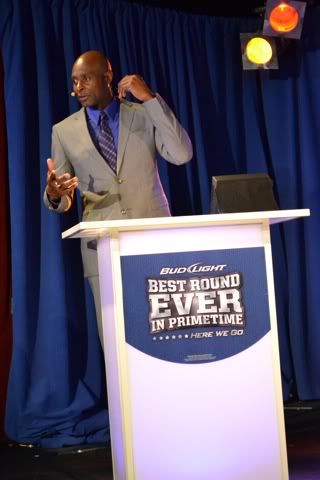 Jerry Rice doing his emcee duties
Shannon Sharpe going through is first round picks
After the mock draft, the players took off and the music kicked in. Eric and I are old people so we didn't stick around much, just long enough to finish our overpriced Bud Lights and take some "red carpet" pictures.
On our way home we passed the Empire State Building, as usual. However, last night there was this awesome fog swirling around it, that almost made it look like the top floors were smoking:
Wow! We just had to stop and stare at this a bit.
Doesn't it look like the building is smoking?
By the time we got back to Hoboken, the Empire State Building lights had been turned off. I learned a while back that they turn off the lights on foggy nights in the spring and fall, so as not to confuse migrating birds (who otherwise may end up flying into the building). On our walk home we had a great view of the fog topping the entire skyline.
Fog over midtown, including a dark ESB
Our football fun has continued today with the Madden NFL 12 cover shoot in Times Square (featuring Peyton Hillis of my Cleveland Browns!), and will keep on tonight at the NFL Draft Red Carpet. Stay tuned for recaps of all these football events!