Last night we finally got around to a New York staple: a comedy show. Well, rather, an improv show. We saw
Seize the Mustard
at the Upright Citizens Brigade Theater, which was an hour of rather humorous improv put forth by the writers for
The Colbert Report.
I saw something posted about this show on Twitter a week or two ago, and with tickets costing only $5 each, how could we not go? That's a downright steal! So, I made reservations for us, as well as Eric's friend/co-worker Dave and Dave's girlfriend Salua.
We all met up around 7:30 last night. The boys picked up some pizza for us to have for dinner, and we ate in Bryant Park. It was a chilly evening, but it was beautiful in Bryant Park. They're still working on the lawn, so there's some messy construction, but I love to see the Empire State Building peering down over the park. Honestly, the ESB and Bryant Park are two of my most favorite sights in this city.
Eating pizza in Bryant Park with Salua and Dave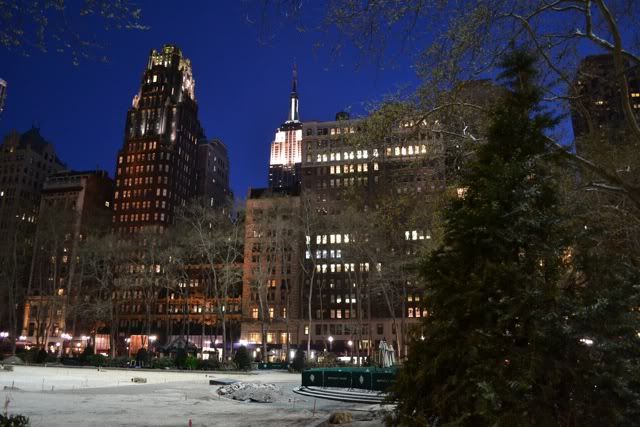 The beautiful ESB peeking out between the buildings
By the fountain in Bryant Park
After our picnic dinner we walked down to the theater on 26th street, stopping to teach Dave and Salua about "fun with statues" along the way.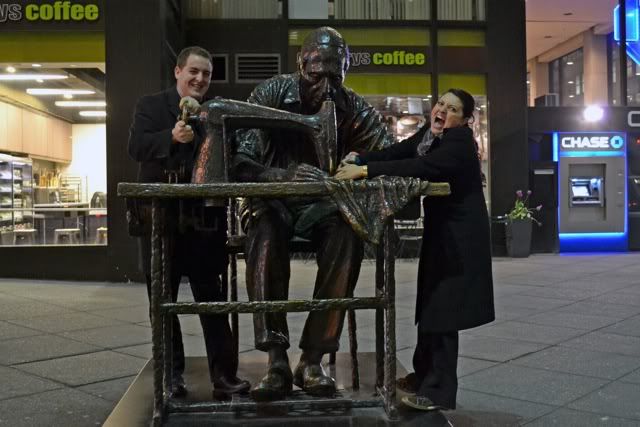 We got to the theater a little early, and there were already lines formed for both people with reservations and people waiting for standby tickets. We picked up our tickets from inside the theater and joined the line. By then it was quite windy and rather chilly, so it wasn't super pleasant, but we were allowed inside before too long. The theater itself was located downstairs, and was pretty small and intimate. It was free-for-all seating, so we found seats along one of the sides, got settled, and grabbed a beer from the bar.
Inside, waiting for the show to start
The show lasted about an hour and was quite funny. One of the writers would start things off by telling a funny story from their past, and then everyone else would jump in and work off the story to create characters and an improv scene. I am just in awe of people who can do that. I mean, for one thing, it is so impressive that they are able to be so quick-witted and creative to come up with funny sketches and characters on the fly. And for another, they go out there knowing that this is unpolished comedy. Even as the words come out of their mouths, they don't know if it will turn out to be funny or not. Will the audience laugh? Will they think it's stupid? That's something that I think would be most people's biggest fears in this situation:
will I really be funny?
The fact that they can just get out there and
go for it
no matter what is amazing to me. And they
were
funny, so it all worked out!
After the show we paused for a quick photo, then bid farewell to Dave and Salua and headed off to the nearest PATH station. It was a fun evening out!
Outside the theater after the show
And now, we are gearing up for our Easter weekend. Tonight we will be trying out a new Lutheran church here in Hoboken for the Good Friday Tenebrae service, which is one of my most favorite services of the entire church year. We're still working out our plans for Easter, but I'm looking forward to whatever we decide.
Have a great holiday weekend, everyone!