We have been in Florida since late Wednesday night, all for tonight's big event: the wedding of Eric's childhood friend Ryan to the lovely Amanda!
Eric and Ryan have been friends since they were kids, when Eric's mom used to babysit Ryan. Eric has vivid memories of sleepovers at Ryan's, involving tag-team wrestling with Jake the Snake and Macho Man Randy Savage, one-hand boxing and video games. They also created and co-starred in "Ryan and Eric Adventures." Eric even had his first taste of alcohol at Ryan's house! After high school, they both went to Gainesville for college. They have remained good friends over the years, and Ryan was a groomsman in our wedding. Now, Eric is returning the favor as a groomsman in Ryan's wedding.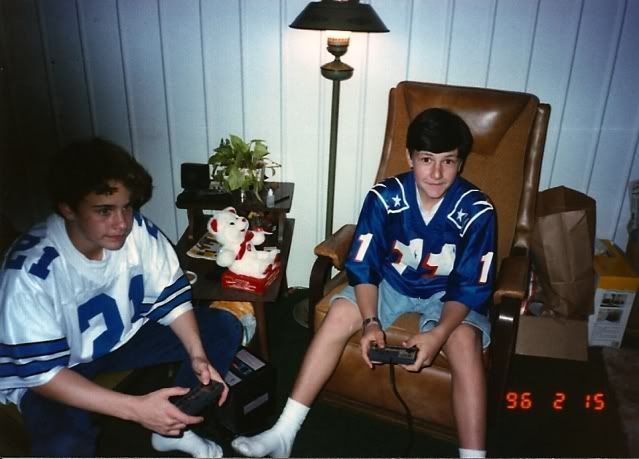 Young Ryan and Eric playing video games
Using their high school football jerseys as Halloween costumes!
We are thrilled to be celebrating with the happy couple tonight! Happy Wedding Day, Ryan and Amanda! Congratulations!