On Friday, Eric and I had our very own cupcake taste test. Dorky? Yes. But also delicious.
It all started on Thursday night, when there actually was no line outside Carlo's Bakery here in Hoboken. Usually, there is a line of people down the street waiting to get in to sample some Carlo's baked goods and hopefully catch sight of Buddy himself. We waited in that line during
our first trip to Hoboken
, but since moving here, we have discovered that every so often you can catch the timing just right and walk right in the bakery, no waiting required. Thursday was one such night.
When that happens, we splurge. On this particular evening, we walked away with four cupcakes, an eclair and a cannoli in hand. I ate both the cannoli and eclair that evening and nearly died. DELICIOUS.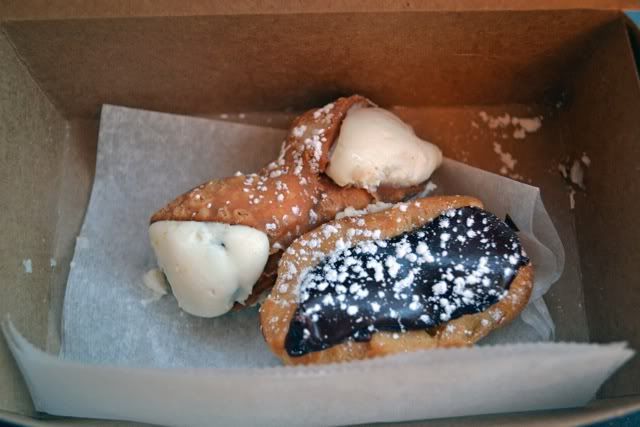 Yummy baked goods from Carlo's
Three of the cupcakes were for Eric and one was for me. Eric ate two of his that evening, so we were left with two Carlo's cupcakes (one yellow cake with chocolate frosting and one red velvet) the next day.
In case you don't know, cupcakes are big in New York. There are tons of cupcakeries, and there is much dispute over which is the best, including some serious animosity between the bakery proprietors themselves (read some background on the subject
here
, if you're interested). Even in our own household, Eric and I cannot agree on which cupcake shop is the W. family favorite. Eric has always maintained a preference for Magnolia Bakery (not only known for cupcakes, but also their appearance on an episode of
Sex and the City
). I, however, am a loyal Crumbs customer. And now that you throw Carlo's into the mix - who can say which bakery
really
has the best cupcakes?
Well, since we had two cupcakes leftover from Carlo's last Friday, I suggested to Eric that he pick up a couple Magnolia cupcakes after work and we could do a taste test. We also made a stop at Crumbs to throw them into the mix, too. At each place, the order was the same: red velvet for me, yellow cake with chocolate frosting for Eric. Then we went home to officially get to the bottom of this very pressing issue.
Top row: Magnolia; Middle row: Carlo's; Bottom row: Crumbs
We started with Eric's yellow cupcakes with chocolate frosting. I set up the blind taste test plate with a small slice of each cupcake, being careful to remove all identifying features (sprinkles, etc.). Then Eric settled in to decide once and for all which cupcake was his favorite.
Judging by his suit, he means business. Look out, cupcakes. (Also, Achilles wants in.)
He took his task very seriously and gave brutally honest feedback with every bite. The first cupcake he tasted was from Magnolia (unbeknownst to him, of course). He thought that one was "really, really good" and "even the cake had its own flavor." The second one he tried was from Carlo's, and he was not a fan. He said it was "very plain" and he would "never order it again." The third was from Crumbs, and he thought that one was "okay" with "very sweet frosting," but "not as good as the first one." So, his ranking of cupcakes thus far was Magnolia clearly in the top spot, Crumbs in second place and Carlo's in last place.
Really taking the time to evaluate the cupcake at hand
However, he did not feel fully satisfied with this taste test and wanted to be absolutely sure he got it right. So, we set the whole thing up again, and this time I switched #1 and #2. That meant the first one he tried this round was from Carlo's, previously described as "terrible" and "plain." This time around he felt it was "very good" and thought it might have been the same as the previous #1. The second he tried was from Magnolia, his favorite from Round 1. This time he said the "cake in #1 was much better" and the "frosting was very sweet." The third cupcake was once again from Crumbs, and this time he thought it was "terrible." So at the end of Round 2, we have Carlo's in the coveted top spot, followed by Magnolia, with Crumbs bringing up the rear.
Cupcake testing is a very tough job.
Just not enough consistency there, though, don't you agree? So, set up Round 3! This time the first one he tried was from Crumbs, and he was "not impressed with the cake" although the "frosting was good," and overall "this was a good one." The second one he tried was from Magnolia, which he thought had "nice cake" and "good frosting," overall "really good." The third one was Carlo's, which he felt had "bland cake" and "okay, sweet frosting." Final rankings: Magnolia, Crumbs, Carlo's.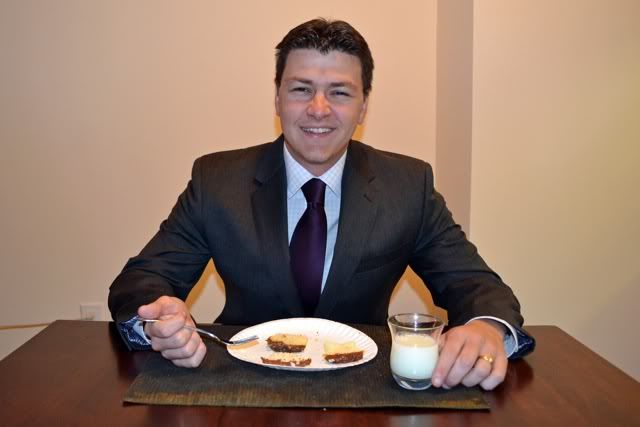 We're really getting to the bottom of things now.
Finally we had one bakery that won top spot for Eric in two out of three trials: Magnolia! I guess he really does like that bakery best. Go figure.
And then it was my turn with the red velvet. Each of the cupcakes had their own look that was hard to disguise, so I had to blindfolded for my taste test. The first one I tried was from Magnolia (again, unbeknownst to me), and I really liked the frosting but did not think the cake was as moist as I would like. Overall, it was good. The second one was from Carlo's, and I liked the cake of that one better but the frosting less. The third one I tried was from Crumbs, and I was quoted as saying simply, "mmmmm, hmmmm. I like that one." The Crumbs cupcake was my clear favorite, but I could not rank Magnolia and Carlo's so we set up a second round with just those two.
In Round 2, the first one I tried was again from Magnolia. I liked the flavor of the frosting - very cream cheesy. The second one was from Carlo's, and this time I was able to clearly say "Number 1 is better." I elaborated by saying the frosting was not as good as Number 1 but still perfectly acceptable, but overall, Number 1 was better. So there we have it, my final rankings: Crumbs, Magnolia, then Carlo's.
I wouldn't be sad if this was my real job.
Although Carlo's got voted last in both categories, I do think it warrants a mention in their defense that by this point, their cupcakes were a day old. Although they didn't taste stale or anything, that is one variable that was not controlled for (please forgive my nerd speak).
I also need to mention the frosting of the red velvet cupcakes and how that may have impacted my evaluation. Both Carlo's and Magnolia had cream cheese frosting, whereas Crumbs had vanilla frosting. Because Crumbs was my clear favorite, it seems possible that maybe I just prefer vanilla to cream cheese frosting, although I do not think that is the case. They just had a better frosting AND a better cake, making it all around a better cupcake experience. I also loved the cream cheese frosting from Magnolia, but apparently, that is not their standard red velvet frosting. When Eric went to buy the cupcakes they said they did not have red velvet because they were waiting for their regular red velvet frosting to be made, but they were able to give Eric a red velvet cake with cream cheese frosting instead, at his request. I don't know how their standard frosting would match up.
All in all, if you eat any one of these cupcakes, you will not be sad. They were all VERY good. But at the end of the day, we each discovered that we know what we like. Eric is a true Magnolia fan, and I am definitely a Crumbs fan. There's no doubt about that. Not only did I choose their red velvet over the others, but I also love their large sizes (you can get a small cupcake for about $2.50 at the other places, or a cupcake twice that size for about $3.75 at Crumbs) and their flavor variety. They have so many amazing flavors, and I would take a Baba Booey from Crumbs over any of these red velvet contenders any day. (FYI, a Baba Booey consists of chocolate cake filled with peanut butter frosting, topped with peanut butter and chocolate cream cheese frosting and rimmed with peanut butter chips. Drool.) So, I'm definitely a loyal Crumbs girl.
Of course, there are many, many more cupcake shops throughout the city just begging to be tried. Serious Eats did a rather thorough taste-test (read about it
here
) and came out with Baked in Brooklyn as the overall best cupcake shop. So, we clearly have more work to do in this department. And the saga continues...