So, I'm like, 100 years pregnant now.
I'm kind of over it.
I know, I know. Less than three weeks left until my due date, so it will all be over soon and Baby Boy will be here and our family will be forever changed. I'm trying my very best to enjoy each day as a family of three in the meantime.
But I mean, it's hot. And everything aches. And I'm so irritable, I feel like I hate everything. So I'm ready to wrap things up here.
But alas, at least three weeks left to go. So, I'm keeping myself wicked busy to help pass the time and distract me from the fact that it is OPPRESSIVELY HOT ALL THE TIME and my belly bumps into things and Braxton Hicks contractions are a way of life now and I can't remember the last really good night of sleep I had. Also, to keep me from whining. It's totally working.
My nesting instinct has been strong this time around (much more so than with my first pregnancy), and I have been channeling it in a crafty direction. I have spent most evenings and nearly every one of Ellie's naptimes in recent weeks working on at least one project at a time. Most of these will be revealed in the coming weeks as we finish getting the nursery set up and reorganizing Ellie's room, but in the meantime, how about a little sneak peek?
I've already shown off and/or hinted at a couple nursery decor DIYs, including some early work on the mobile with my mom: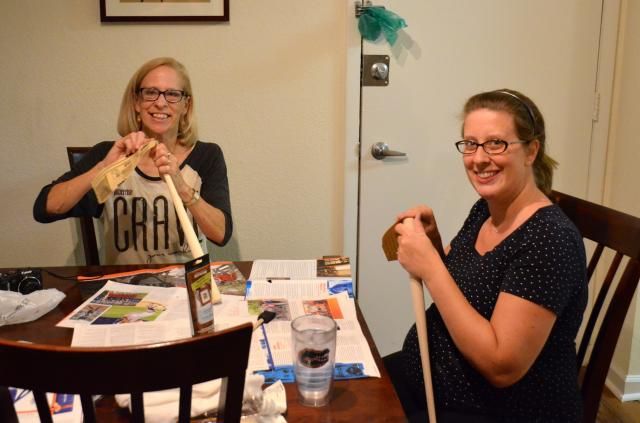 And the hand-painted dresser knobs: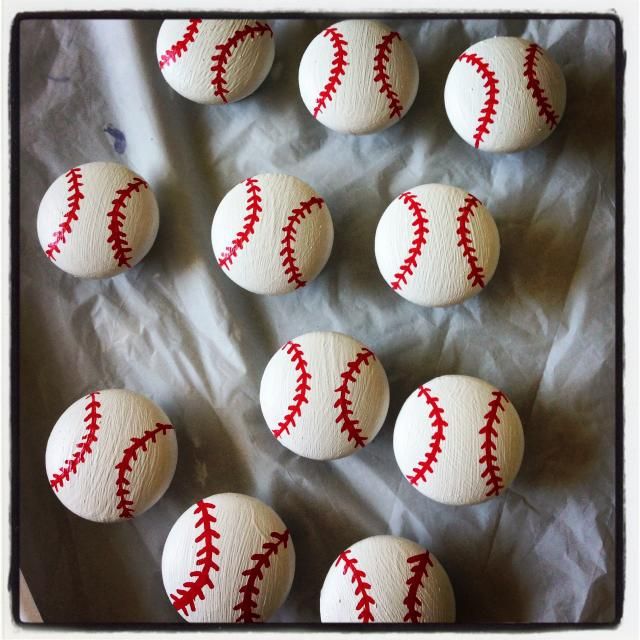 More recently, however, I've tackled some more projects, including the largest nursery project of them all: a scoreboard for the wall, with Plus One's name at the top. I'll reveal the finished product when I show off the completed nursery, but for now, a teaser: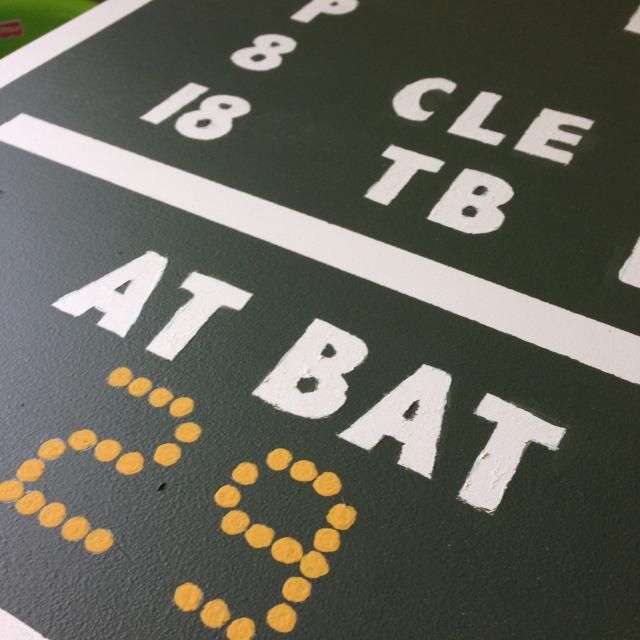 Just a little look at the lower left corner!
I am in love with the completed scoreboard, so I'm making it a top priority to get the nursery finished so I can share the whole thing as soon as possible. It turned out even better than I had envisioned (when does
that
ever happen when you DIY?) and is a very cool, meaningful piece of artwork for Plus One's baseball nursery.
Of course, Ellie also wanted to get in on the "Crafting For Baby" fun, and she painted a canvas for him: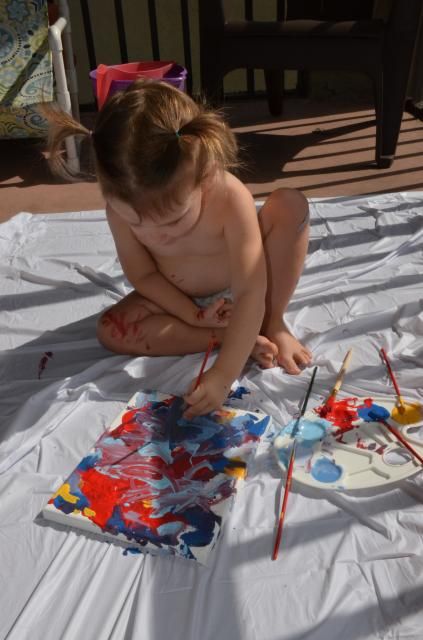 What you can't see is the painter's tape underneath Ellie's masterpiece that spells out Plus One's name! When she finished painting, I pulled up the tape, resulting in a lovely personalized painting made by Ellie for her Baby Brother. It turned out great, and every time she sees it in his corner of the room she comments on it: "had fun painting for Baby Brother!"
Speaking of Ellie, I've also been crafting on her behalf. The biggest Ellie Project has been a little table-and-chairs set for her room. We'll be moving the glider out of her room and into the nursery, so I wanted to have something fun to take its place. We picked up a plain wood table-and-chairs set from Ikea and I've been working hard to girly it up for Ellie:
Not yet assembled, but certainly sufficiently girly!
I've also been working hard to finish filling in all the photos and memories that were still missing from Ellie's baby books. And, similarly, I got our anniversary scrapbook updated. You may recall that for
our third wedding anniversary
, I gave Eric a leather scrapbook including one collage for each year of marriage. I have continued to make a page a year since then, although I was two years behind until just the last few weeks! I'll have another page to make come August, but hey, we've got some big things happening between now and then so I can't get ahead of myself.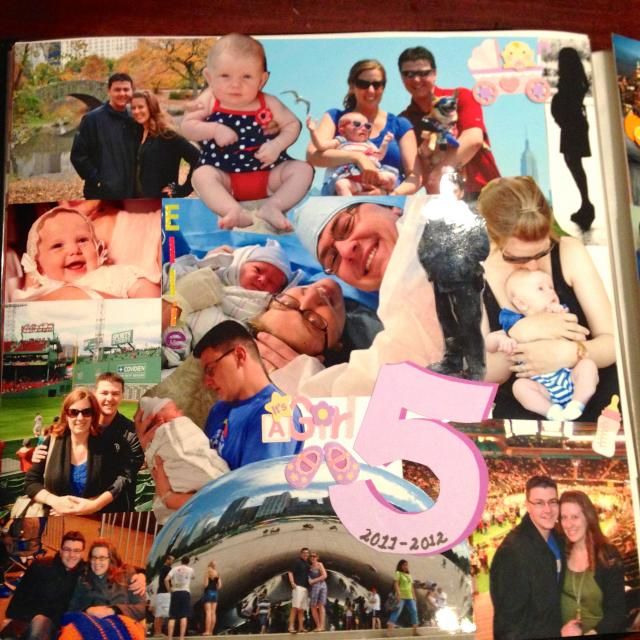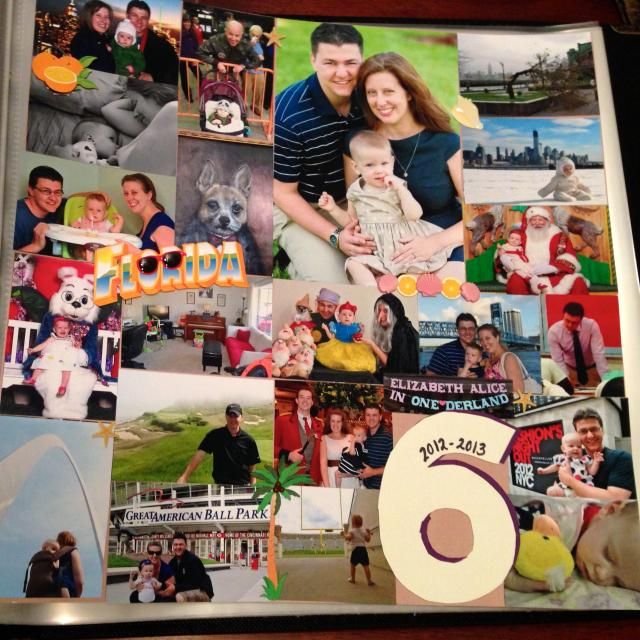 All of this has been in addition to regular photo-storage housekeeping that I was behind on but needed to be done: clearing old photos off my computer, backing things up, getting organized. Basically, telling my iPhoto to brace itself, because there is an onslaught of new baby pictures headed its way (remember when we took 350 pictures of Ellie in her first few hours of life?).
I must say, this nesting thing has been serving me well. I have completed more projects in the last few weeks than I had in years prior to this, I think. And the distraction is certainly welcome. By giving myself a to-do list about three miles long, I'm not wishing for any sort of early delivery because there is too much to do first!
The baby will be here before we know it, but at this rate, I may very well have remodeled the house, carved a bust of Ellie out of clay and written the great American novel by then. Heck, I may knock all that out by the weekend. Let the nesting continue!