Today I am 39 weeks pregnant. Say what, now?
Basically, at this point, it's just a waiting game. We're on Plus One's schedule, and every day I wake up wondering if this might be the day. Really, although if he came today I would be plenty prepared, I wouldn't mind if he stays put until his due date. Another week would give me plenty of time to tie up loose ends, finish up projects, get some rest, enjoy my current family, etc. So I'm putting my labor vibes out into the universe for next Monday! Join me, won't you?
As a general update, everything is still going very well. We have met the new doctor at our practice twice now and love her, we're squared away with our doula, major projects are finished (including the nursery - pics coming this week, barring labor before I get to it!), hospital bag is packed, and so on. As far as my physical state, I'm
good.
Like, surprisingly good. (Here's hoping that putting that in writing doesn't jinx it!) Sure, it's a trillion degrees and I'm constantly sweating, and my back aches by the end of the day - two very understandable and expected consequences of lugging a watermelon around in my belly in the heat of Florida summer. But by this point in my pregnancy with Ellie, I was miserable. I wasn't sleeping and was constantly uncomfortable thanks to heartburn, chest pain, shortness of breath and nausea. I could only get relief by soaking in the bath so I basically lived in the tub, especially at night when everything seemed to worsen. This time, I haven't had any of that, which I am hoping is a very good sign of better things to come. In fact, not only do I feel better now than I did at this point in Ellie's pregnancy, but I even feel better than I did a month or two ago in
this
pregnancy. For a while I was really battling fatigue, sciatic and ligament pain, but much of that has subsided. Sure, I'm still tired, and I'll get some aches and pains here and there, and I'm having a lot of Braxton Hicks contractions, but on the whole it's much better than it was. I'm so grateful to feel this good so close to the end! It certainly helps me to stay patient while we wait for this little guy.
This week we are spending our last few days together as a family of three. The plan is to take Ellie down to stay with my mom on Thursday, and my mom will basically keep her until the baby arrives. We decided that was the best plan, both so that my mom wouldn't have to rush up here to care for Ellie as soon as labor started, and so that I can have a little toddler-free time to do whatever I need to do to prepare (sleep, float in the pool, walk at a brisk non-toddler-driven pace, etc.). And, I think she'll be able to show Ellie a significantly more fun time than I will be able to by the weekend. Of course, I'm going to miss Ellie like crazy - it's killing me to be apart from her for our last days as THIS family. But I do think this is the best plan, so, onward.
Until Thursday, we're doing all kinds of fun things. Eric's work is officially done so we're spending lots of time together, and we kicked it all off yesterday with a morning trip to the beach. We had lots of fun playing in the sand and surf together!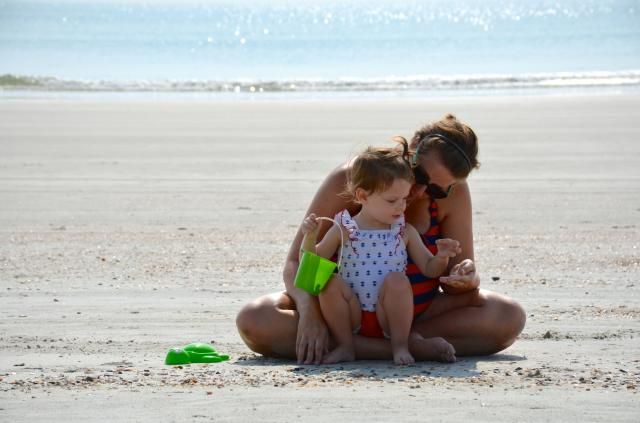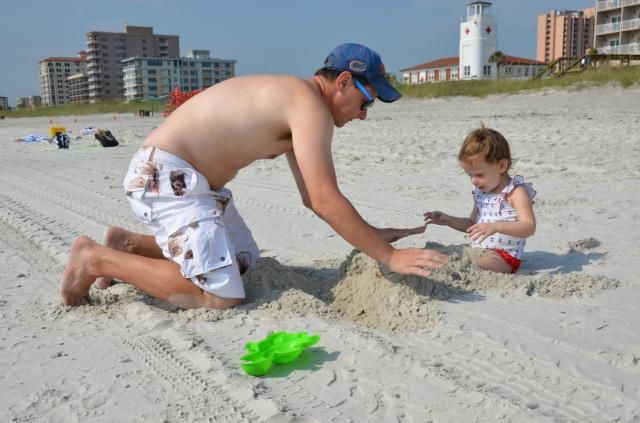 Ellie loves to bury her legs in the sand!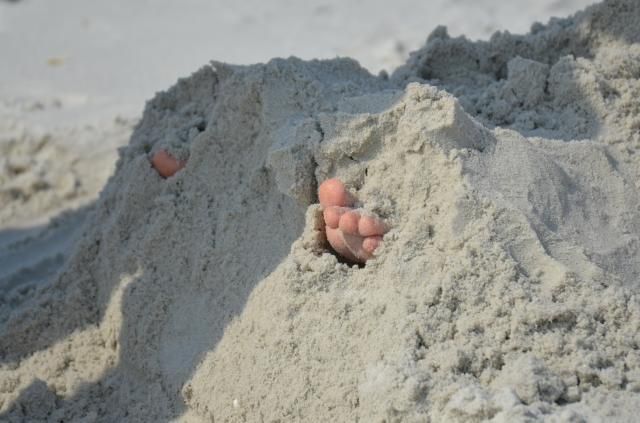 Cute little toes poking out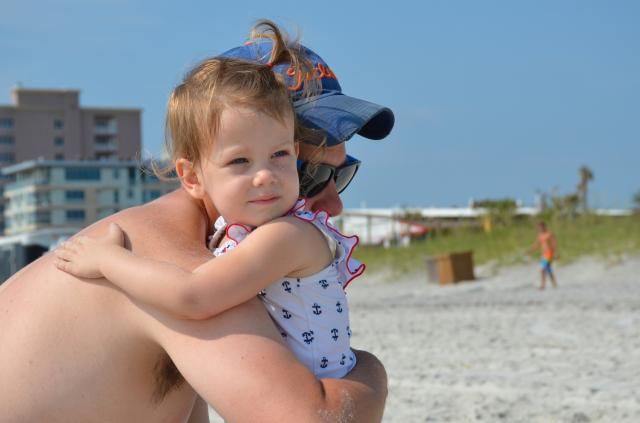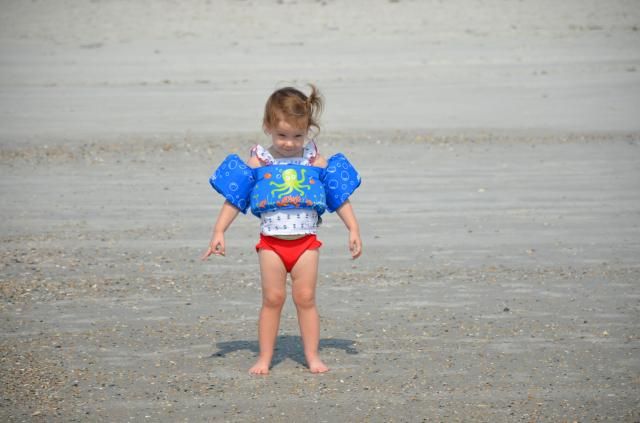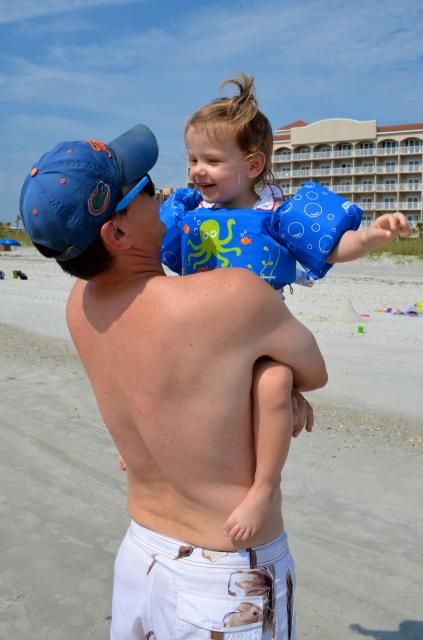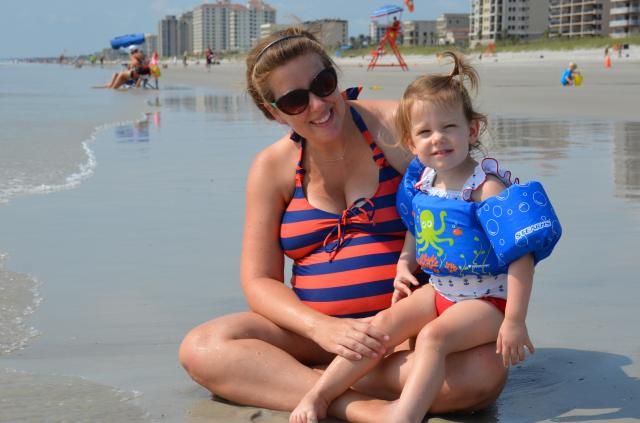 Despite feeling pretty good physically, I am definitely a ball of emotions this week as we spend these precious days together as a family. As excited as I am to meet little Plus One and get to work settling in to our new family, I'm mourning the end of our current family, for lack of better terminology. I know this is normal, and I went through it while expecting Ellie, too; I essentially mourned the loss of the "coupledom" that Eric and I shared. Not because I didn't want to add a baby to our family, but because it was scary to go into the unknown, to completely change our family dynamic, when I knew what we had going on at the time was already
so good.
It's the same thing now. I'm so excited to add to our family but we really have a great little threesome going on, and it's hard to envision how it's going to be with that sweet little boy added to the mix. I know it's going to be wonderful, but we sure have had a good run as a threesome.
But for now, we enjoy each other as we wait for our new one. I have more things to write about this week, should Plus One allow it, so stay tuned!