I hope all you dads out there had a great Father's Day weekend!
We sure did. We didn't do
too
much (unlike driving down to
Sea World for Mother's Day
...being 38 weeks pregnant puts a little damper on any potential travel plans), but we had a really nice weekend overall. It didn't hurt that Eric's last official day of work was last Tuesday, so our weekend felt really, really long - in a good way! (Eric is actually doing some work for Teach for America this week, but
then
when that's over, he's officially free for the summer!)
On Saturday we went to the zoo. The zoo's calendar said it was "Save the Rhinos Day," which we thought would be great because the rhinos are Ellie's favorite zoo animal. Turns out there really wasn't much going on for said Rhino Day, but we had a nice time wandering through our usual paths. This was probably the last time we'll get to go to the zoo until much later this year, so we made sure to let Ellie visit with all her animal besties.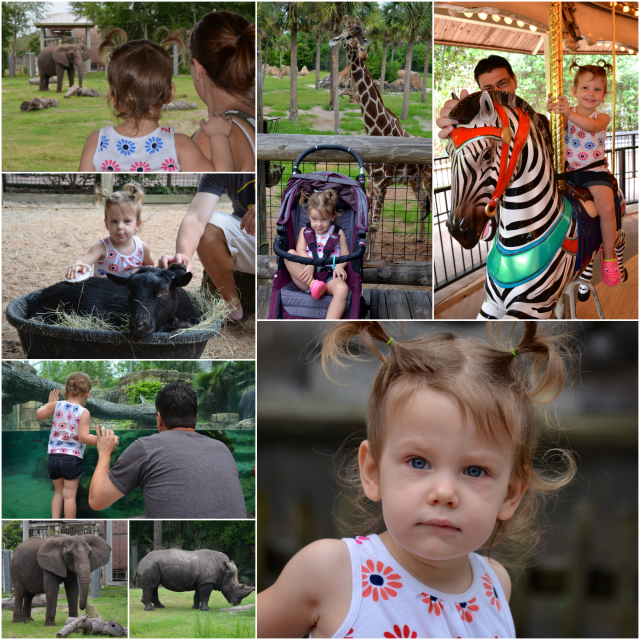 Usual zoo fun: watching elephants, brushing goats, hanging out with giraffes, looking at fishies, riding the carousel, being generally adorable.
On Sunday, we met up with my friend Amanda for lunch. You may remember Amanda as my old friend from Gainesville who lived in NYC for a bit while working as a travel nurse. She and I had a great time in the city, and she was always game for a new Big Apple Adventure. It has been years since I last saw her, so it was great to meet up with her, catch up, and introduce her to Ellie. Ellie was smitten with her and kept asking her to play, then after lunch spent the rest of the day talking about Amanda!
Sitting on the fire truck at our local Mellow Mushroom - Ellie was beside herself!
After lunch we went down to St. Augustine and spent some time at the World Golf Hall of Fame. We have
been there before
, but they were offering free admission for all and free putting for dads in honor of Father's Day, so we figured we'd check it out again.
Ellie and Eric at the Golf Hall of Fame
We went through the museum pretty quickly, but Eric and Ellie made sure to stop at the little putting exhibits, where Ellie got some of her first golf lessons from her daddy. He even found her a left-handed putter (she's our little lefty!) to practice with. Future golf buddies in the making!
Ellie and Eric on the replica Swilcan Bridge (from the Old Course in St. Andrews)
Trying their hands at some putting - Ellie totally cheated.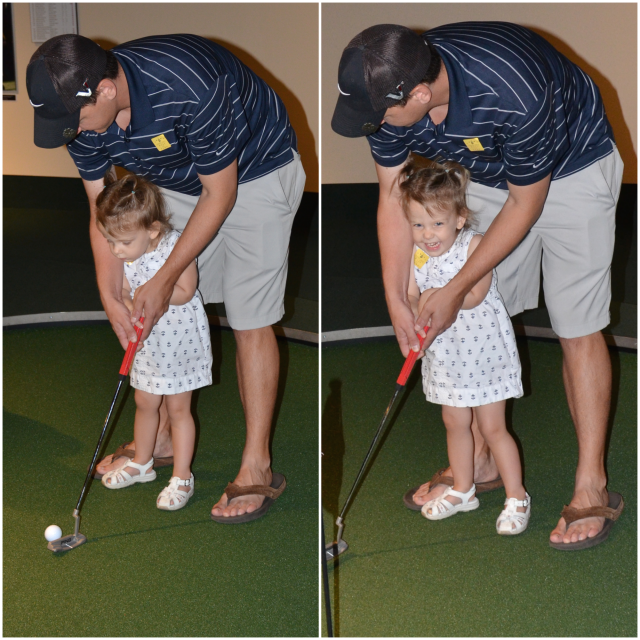 On the right: "I DID IT!"
After the museum we decided to skip the full putting course and instead just walked around the grounds. Eric and Ellie had some fun at the playground...
These days, Ellie does everything Eric does.
...and then we just circled around the lake and enjoyed the lovely (albeit
hot
) day.
We stopped for hugs from an alligator statue
I sure enjoyed our weekend as a family, and I hope Eric did, too. With two weeks left until Plus One's due date, I'm trying to make a point of cherishing every day with the knowledge that it could be our last as a family of three. If this weekend were to turn out to be our last, it was a really great one! I'm so lucky to have these two as my family, and I can't wait to meet our new addition, too!