I hope you all had a great Halloween and a very nice weekend! Our Halloween was excellent and I can't wait to tell you all about it. We actually did a whole bunch of different things to celebrate, so recapping all the holiday fun will take the better part of this week (with the exception of tomorrow, when we'll have to pause to commemorate E.J.'s four-month-birthday! Already!). Get ready for Halloween overload!
We started things off on Friday, October 24 with trick-or-treating at the Avenues Mall (or Mall-O-Ween, if you will). This was what we did
last year
on Halloween proper, but I was very excited that this year they were holding their event the week before Halloween. That meant we could participate in this, to give the kids' costumes a trial run and get Ellie primed for trick-or-treating,
and
we could still be free to do whatever else may strike our fancy on actual Halloween (spoiler alert: we did some good old-fashioned neighborhood trick-or-treating, and it was a rousing success!). So, it was perfect!
Eric and I decided to skip the costumes this time but we got the kids all ready to go and made it out to the mall around 6:15 p.m.
Ready for some Mall-O-Ween fun!
I should mention that I made both the kids' costumes this year, and I also made a babywearing version of E.J.'s Peter Pan costume (as you see above) so that he could still be obviously dressed up while being toted around! I'll share more about the costumes later, but both seemed to be a hit at our various Halloween events and I was very pleased with how they came out.
I had been talking up "getting candy" to Ellie, instructing her in how to hold out her bucket and say "trick-or-treat," and when it came time to put our practice into action, she picked it up
right away.
She was unfazed by the crowds and looked so adorable just walking up to each store with her little bucket.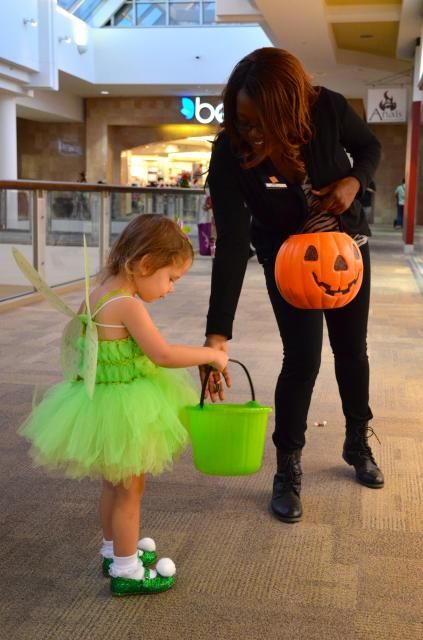 Happily walking in search of more candy
Sure, she had a lot of candy to get, but there's always time to window shop.
With all my "this is how we trick or treat" prep work, one thing I didn't think to do was some candy recognition practice! Most places would just hold out a bowl and say, "pick what you like!" but since Ellie doesn't eat a lot of candy, she doesn't know what
her father and I like
she likes. So, she would often pick the grossest/weirdest/least appealing thing in the bowl. Poor kid. We failed her. And by her, I mean ourselves, because let's be honest, raiding your kid's trick-or-treat bucket may just be the biggest perk of parenting, no? So we should have planned ahead and trained her to skip the weird random gummy things and go straight for the Reese's and the Snickers! She did get a lot of lollipops, though, which she loves, so I was happy for that.
Lollipops as far as the eye can see!
We took a break from trick-or-treating to head to Center Court for the costume contest. We entered both kids in the 0-3 years age group, but sadly, neither child won. When it was Ellie's turn to strut around the stage and show off she got some stage fright, which I did not expect because there were big costumed characters on stage with us and she LOVES costumed characters. I thought she would want to go see them, but nope. I took E.J. around for his show-off spin and he got big cheers from the crowd, but it didn't pay off with the judges. I say we were robbed!
On stage for the costume contest! Ellie is unimpressed but E.J. is PUMPED.
After the costume contest we checked out some of the other Center Court activities and then did a little more trick-or-treating.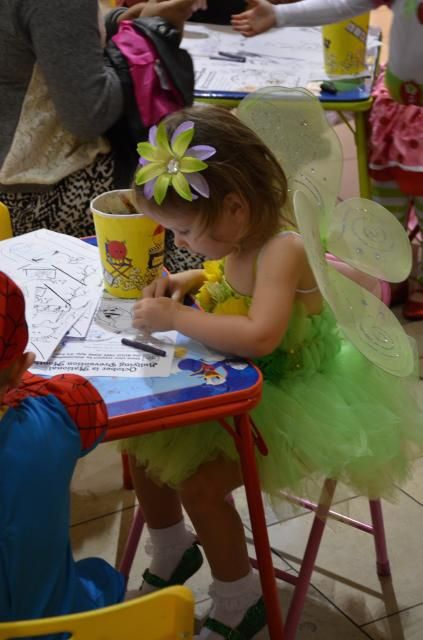 Tinkerbell doing some coloring
We didn't last too long before we decided to stop for dinner. Our little Tinkerbell was happy to be treated to some Chick-Fil-A fries from the food court, but our Peter Pan was down for the count.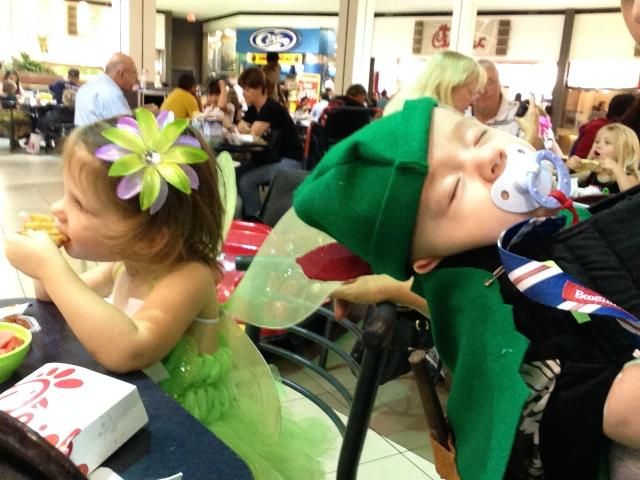 After dinner we let Ellie ride one of the little automated cars, which she loved. She had been asking to see the "bunny" which we thought meant the Easter Bunny (my kid has a
well-documented love
of that big ol' springtime rabbit), but she really meant this mouse in the car. She climbed right up on his lap and was all, "You're my friend! I love you!" She's a very affectionate little thing.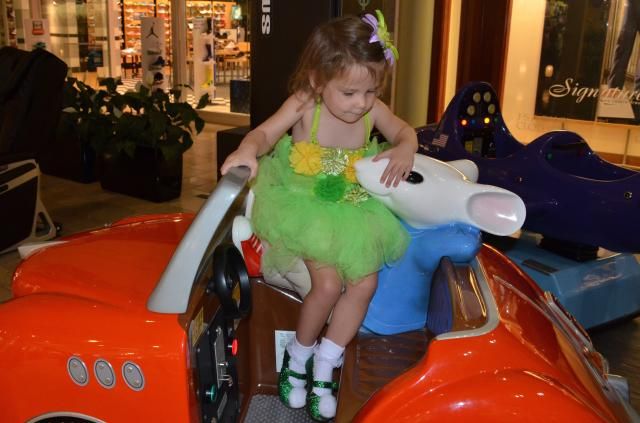 And with that, we called it a night. It was a very fun Mall-O-Ween experience and a great way to kick off our Halloween celebration! It sure did get Ellie primed, too - for days afterwards she would grab her bucket and say, "Want to get more candy, Mama?" Just you wait, kid! More candy is coming!