Before I get to the birth story itself, I should talk a little about our last days before E.J. arrived. As I mentioned in real time, we sent Ellie to stay at my mom's house starting Thursday, June 26. The plan was for her to hang out with my mom, having all sorts of Grammy fun, while I
hopefully
went into labor shortly thereafter. Then, my mom would drive Ellie back to Jacksonville so they could come see us at the hospital.
Eric drove Ellie down to my mom's house that Thursday and when he got back, we took advantage of being kid-free with a dinner date at Seven Bridges Grille & Brewery followed by a movie ("22 Jump Street"). We had a great time and even though I was missing Ellie, I was really enjoying having that time with just Eric. We had some great dinner conversation and enjoyed the movie. It was a great way to relax before the GET THIS BABY OUT mindset
really
kicked in.
On Friday morning I had a weekly appointment with my midwife. I was somewhat discouraged to hear that I really wasn't making any progress yet, despite knowing that doesn't really mean anything. She mentioned that although E.J. was head down, his head was still high and he was laying in a less than desirable position. She gave me some natural things to try to help encourage things along (evening primrose oil capsules and red raspberry leaf tea) and suggested some strategies to get E.J. into a better position. I scheduled my next appointment for Thursday, July 3, hoping I wouldn't need it! I also spoke to my doula and scheduled an "induction massage" with her for the afternoon of the 3rd - again, hoping I wouldn't need it.
We spent the rest of Friday taking care of errands and last minute things around the house. We hit the pool for a little while in the evening - sweet, glorious, weightless heaven!
On Saturday, Eric golfed in the morning and then we spent the afternoon at the pool. It was beastly hot so we spent a lot of time going back and forth from our lounge chairs to the water. On the whole, it was really very nice - aside from our
babymoon
in March, I can't remember the last time I was able to just relax at the pool without having to worry about a two-year-old running around, hellbent on her own destruction.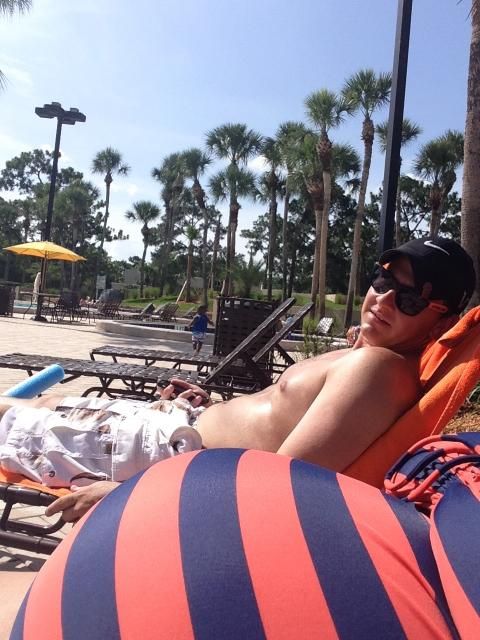 I took a picture of my two favorite boys poolside!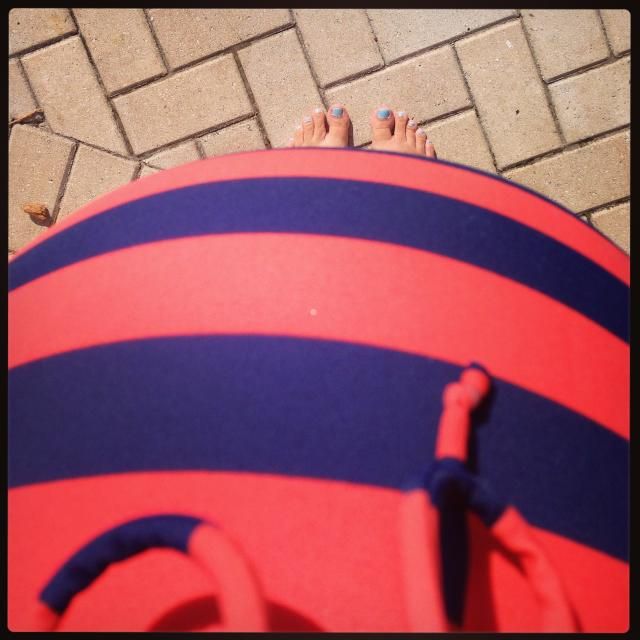 Helloooooo, down there, feet!
(Please notice the baby blue toes in honor of E.J.! The color is actually called "Cinderella," so it was like a two-for-one in reminding me of my kids!)
Sunday was when we really started
Operation: OUT, KID
. We went out to the beach in the morning and walked a good three miles. The breeze off the ocean made the temperature bearable, and the walk was really quite pleasant.
It was a gorgeous Sunday morning! Score one for being pregnant in the summer in Florida vs. winter in NYC, am I right?
After our beach walk we went to Taco Lu's for some tacos, and I made sure to order anything that had the "spicy" indicator next to it, because GET OUT, KID. The food was delicious, though I longed for a margarita.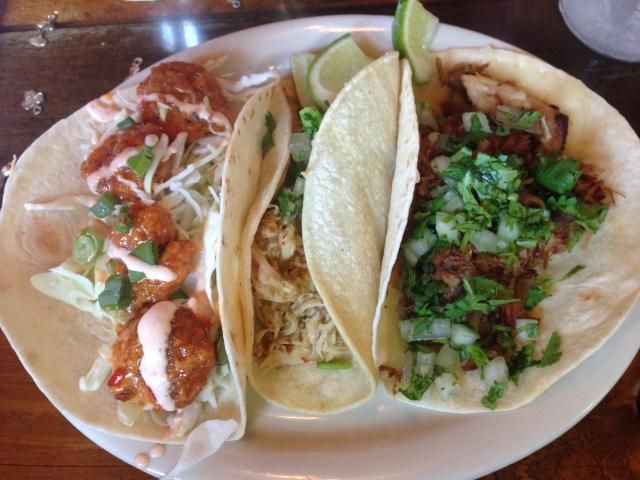 My lunch! Bangin' Shrimp, the Spicy Bird and Carnitas
That evening we had more spicy food for dinner and I baked the same
labor cake
I made and ate 24 hours
before going into labor with Ellie
, in the hopes of a similar reaction. (Alas, we finished that stupid cake before labor ever started. Lies, cake!)
While all this was going on over the weekend, Ellie was having lots of fun at my mom's house, with trips to the beach and the playground, a new pool on their porch, and a fun day at Busch Gardens.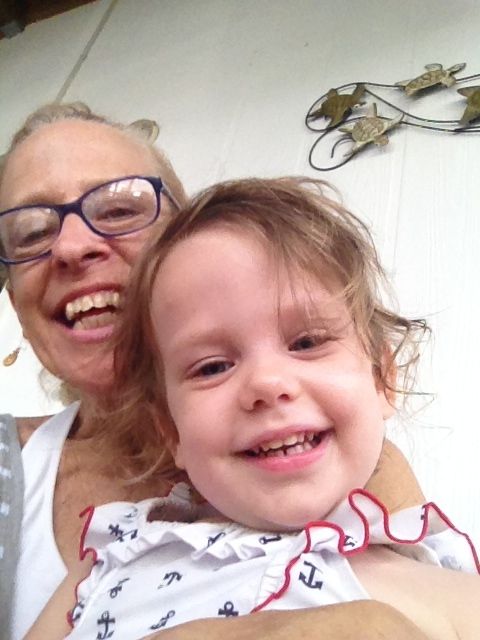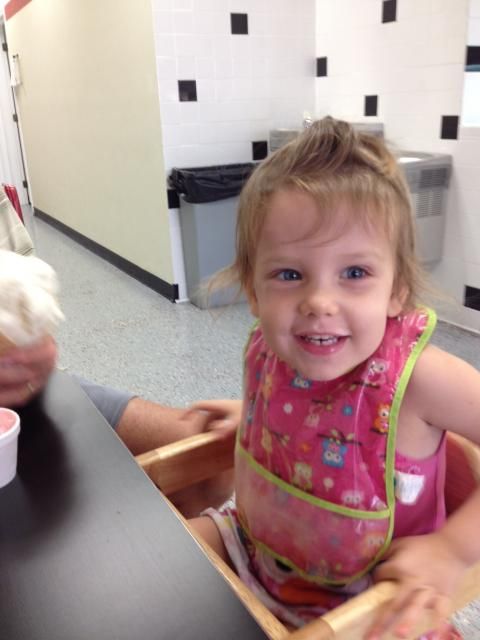 She even got to eat bubblegum ice cream!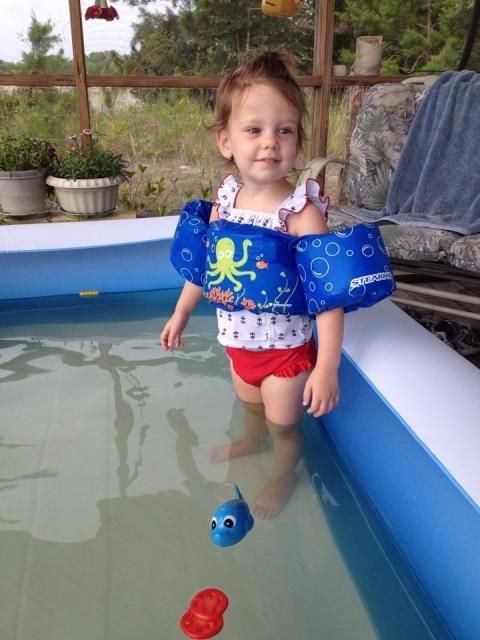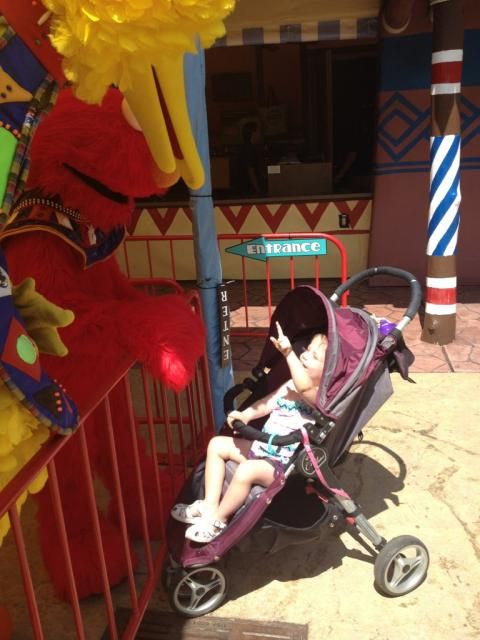 Hanging out with friends at Busch Gardens
On Monday, our only big outing was a walk around the mall, but I was feeling pretty over it so it was not as productive as our beach walk. That afternoon I got a bit of a shock when my doctor's office called to set me up for my official "We're Going In After Him" c-section date. I knew it would happen, and it was just a precaution, and really I "lucked out" because although they wanted to schedule me for exactly 41 weeks (on July 8), because of scheduling conflicts, they couldn't get me on the books until Friday, July 11 (E.J. would've had free Slurpees from 7-11 on his birthday for life!). That meant I had a little extra time to go into labor on my own, although by that point I was sure that would NEVER HAPPEN.
By Monday I was a very impatient pregnant lady, even though I tried to keep reminding myself that I hadn't even hit my due date yet. I think it was a combination of having that "end date" looming out there, the constant well-meaning but anxiety-inducing texts from family asking if anything was happening yet, and being away from Ellie. I had thought sending her to my mom's house would be a great stress-reliever for me, but it actually backfired. I missed her like crazy and felt so guilty for shipping her off instead of spending our last days as a family of three together. I worried about how it may impact her adjustment to our new family and was basically a wreck over the whole thing. I just wanted to go into labor already so Ellie could come home and I could have
both
my babies with me.
But, relief was on the way! On Tuesday, my mom brought Ellie back to our house and decided to just stay here with her until the baby came - or until she had to get back to work, whichever came first, but we were all crossing our fingers in favor of the former. Especially because by then, I had officially hit my due date and knew that this baby would be a July baby:
40 weeks pregnant and ready to meet this kid already!
We took advantage of my mom's presence that afternoon by leaving her with a napping Ellie while we went looking at houses to rent, which is a whole other story for another day. While we were out driving around checking places out, I noticed that some of my usual Braxton Hicks contractions were starting to get a bit painful. I hoped it was a good sign but the painful contractions were so irregular (and nothing I couldn't remain straight-faced through), that I didn't think too much of it. If I learned anything from Ellie's birth, it's that labor can be quite a lengthy process. Don't get too excited too soon!
On Wednesday (July 2nd), my mom took Ellie to storytime at the library while Eric and I went to check out a couple more houses. That afternoon, Eric went to the gym while Ellie napped. My mom and I chatted for a while while I bounced on our exercise ball, and then I took a nap myself (thankfully, because although I didn't realize it at the time, I had a sleepless night ahead of me!). That evening, after Ellie was in bed we watched most of the first Harry Potter movie. We turned it off with a half hour of movie left to go because we were all so tired, thinking we would finish it the following day. I had continued to have sporadic painful contractions all day, but they were so irregular that timing them didn't prove fruitful, and I could still play them off without trouble. So, I still didn't think much of it. I would soon be changing my tune, however...
And that's where we'll leave off for now! Next up: it's baby time!