As I mentioned yesterday, one of the "big events" of our babymoon was a round of golf at the Copperhood Course at Innisbrook for Eric (while I was pampered at the spa, so this was a win-win for all involved). I asked Eric to right about his experience in his own words:
* * * * *
One of the upsides of staying local for our babymoon was the opportunity/excuse to play the Cooperhead Course at Innisbrook. Growing up in St. Petersburg, I have known about the course for over two decades. One of my earliest memories of golf is going with my father to see a senior tour event there with Jack Nicklaus when I was in grade school. I only wish I had truly appreciated how cool that was while it was happening.
Until now, I had never played any of the four courses on the property despite having played almost everywhere else in the county. This is still the case for the other three courses at Innisbrook, but the Copperhead is the marquee course and the one I most wanted to see for myself.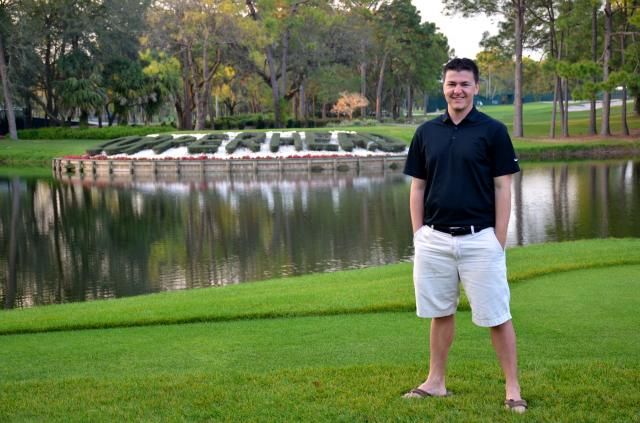 Copperhead topiary behind the 17th tee, as seen from the 12th tee
As an added bonus, I was able to play less than a week after the Valspar Championship, so some of the grandstands were still up. In addition, the greens and green-side rough were pretty much in tournament shape, which is actually pretty fun. I actually lost a ball I hit pin high on number 12. If nothing else, the conditions reminded me that no matter how good I think I am, there is a big gap between what the guys do on TV from the tees they play and what regular golfers are asked to do at their regular courses.
17th hole - good example of the grandstands. Fun story, I hit my tee shot to four feet.
The Copperhead course itself is very different from the other courses in the area in terms of elevation. It is more like what you would expect to see up north. Course designer Larry Packard calls it the "ultimate test of fair" and multiple tour players list it as their favorite tour stop in Florida.
The most famous group of holes is the last three, known as the "snake pit." There is a cool statue near the 16th tee welcoming you to some of the "most difficult finishing holes on the PGA Tour." The 16th is a beautiful hole and I was very familiar with it from watching the TV coverage of the Valspar Championship. I birdied 17 and thought the 18th green, with a back right pin placement, was one of the most difficult on the course. Other than that, my favorite hole was probably 14, a double dog leg par five.
* * * * *
Thanks, Eric! Glad you enjoyed your golf day!