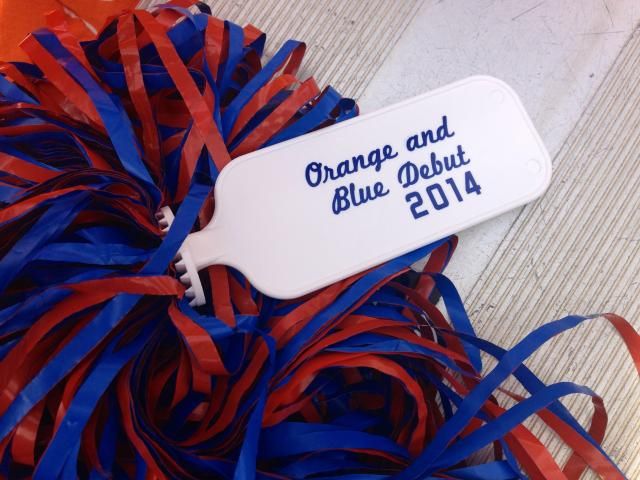 On Saturday we took a little day trip down to Gainesville to catch the Florida Gators spring football game, the first game we've seen in Gainesville since 2005. Interestingly enough, I don't think I ever went to the spring game at all before, even when I was a student there. No better time than the present then, right? Plus, we really are excited to take Ellie to a game, but regular season football games are just too hot and crowded and crazy - no place for a fidgety toddler. So this was an excellent substitute to hold us over until the kiddos are a little older!
We arrived early and did some wandering through the Fan Fest in front of the stadium, then made a stop in Alumni Hall.
Ellie getting acquainted with Albert and Alberta in front of Alumni Hall
We also did a little souvenir shopping.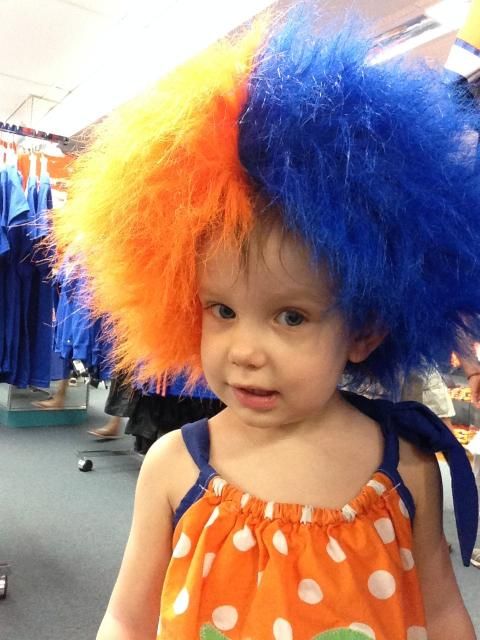 When we started to get hungry for lunch, we picked up some slices from Italian Gator, our favorite pizza place from our college days. We took our lunch across the street to the Murphree Area Commons, the outdoor common area for the dorm in which I used to live. We camped out at a little picnic table and gave Ellie her very first Italian Gator experience. I think she gets the hype.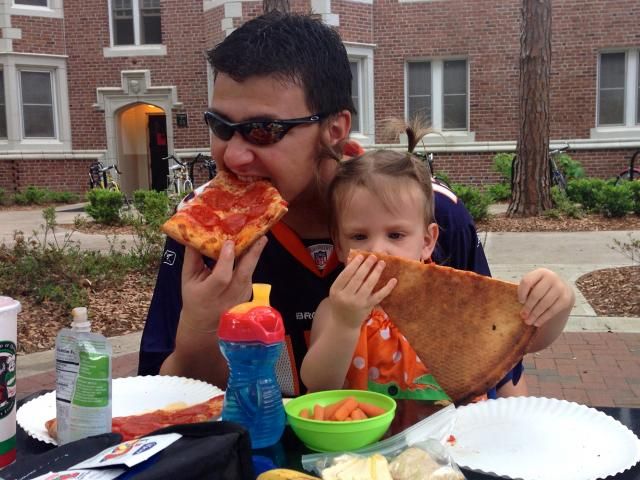 The biggest piece of pizza her little hands have ever held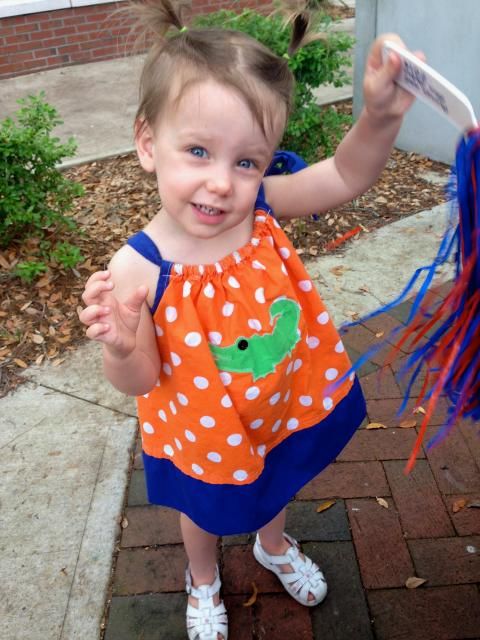 Practicing her "Go Gators" after lunch
We made our way into the stadium about 30-45 minutes before the game was due to start so we could catch a little of the alumni football game they had going on beforehand. Ellie was very excited to "see football," and she liked watching the cheerleaders, too.
Ellie's first game in The Swamp!
Cheering along with the cheerleaders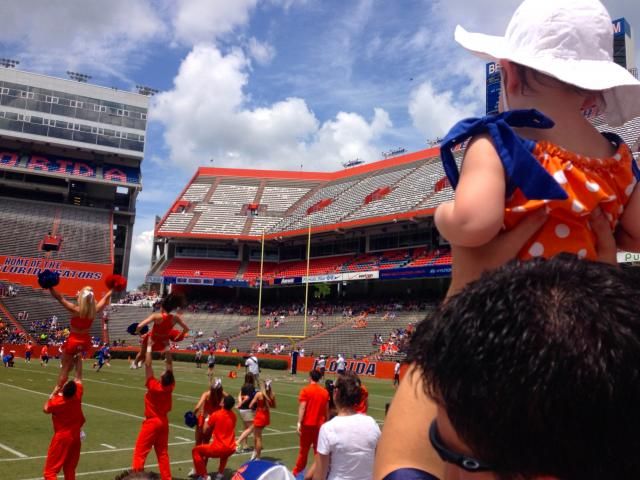 When it was time for the game to start, we enjoyed seeing the introduction again (I didn't get a video of it, but if you don't know what I'm talking about, check it out on
YouTube
) - it's hard not to get pumped up at that!
Heeeeeeeeere come the Gators!
We watched most of the first half of the game but it was getting rather hot (duh, it's The Swamp) and Ellie was getting restless, so we decided to go find Albert and Alberta, who we could see were taking pictures with fans in a section across the field. Unfortunately, right when we got there they moved on, so we spent some time chasing them down. Poor Ellie sooooo wanted to meet those Gators! She kept saying sweet things like, "show Alberta piggies [pigtails]" and "Cuddle Gators!" Awww.
We did finally catch up with Alberta first, and then Albert. As is Ellie's style, you'd never know how excited she was to meet them by her faces in the pictures, but trust me - she loved it. In fact, she loved it so much, that she pretended to
be
Alberta the whole way home and for about 24 hours afterwards.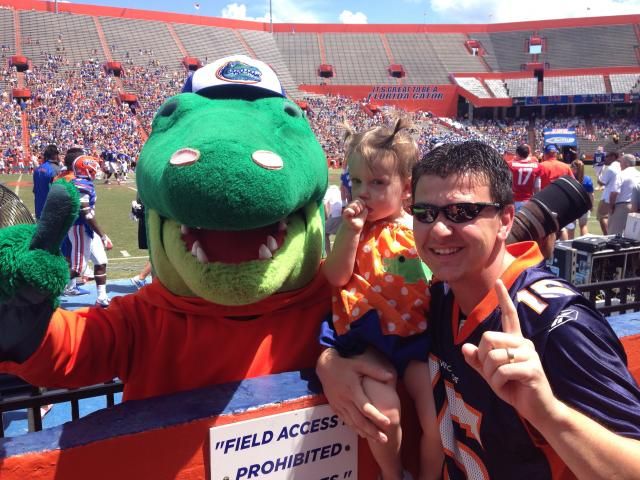 By that point we knew Ellie was about done, so we called it a day and made the drive back to Jacksonville. Sure enough, shortly after getting on the road, this happened: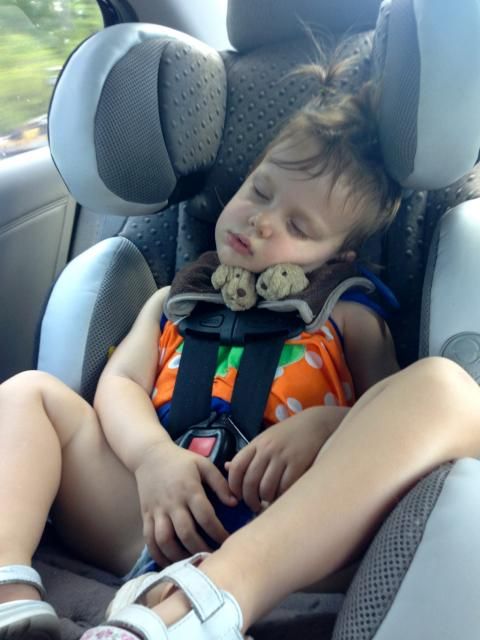 We had a great day back at our alma mater. One thing that really struck me was the memory talking with Eric years ago about how someday, it will be so fun to bring our kids back to Gainesville. And somewhow, we're already old enough to be doing so. That hardly seems possible, but at least it is every bit as fun as I expected!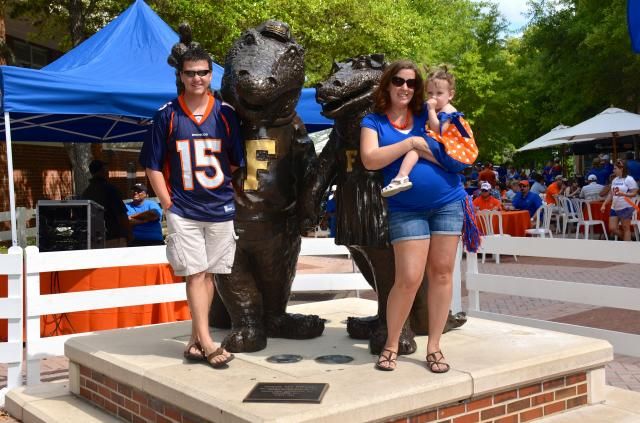 The two of us with our 1.5 kids, back in Gainesville!