As you know, last Saturday Eric and I celebrated 15 years since we first started dating. Charlie's party was on that anniversary, so we primarily spent the day celebrating with family. However, we decided to do a little something that evening to pay homage to Early Meghan and Eric. That little something was taking Ellie for her very first meal at "our" Steak 'N Shake.
I've mentioned before that Steak 'N Shake plays a pretty big part in our history, and really worked its way through our entire families. My very first job was as a waitress at the Steak 'N Shake at Gateway Mall in St. Petersburg. They had just built it and it was opening right as I was looking for a job in the fall of my junior year of high school. My reason for seeking employment? My homecoming dance was coming up (the very one that I wore my Titanic-inspired jewelry to), and I wanted to be able to afford to pay for Eric's ticket.
I was hired basically on-the-spot, and thus began my new part-time job as a server. I worked several four-hour shifts a week, and for a 16-year-old kid, the money was great. I generally made $40 in tips every four hours, plus my $2.13 hourly rate. There aren't a lot of jobs out there that pay $12/hour to punk kids in their first job. I was pretty good at it, too, if I do say so myself. Before I knew it I was some sort of shift supervisor and was training other new servers. Many of the other servers were fellow high school kids, so I made lots of friends there, too. In the early days, I would use the pay phone in the break room (no cell phones yet!) to call Eric, or sometimes, he would come up to hang out with me on my break. His home was only a short jog a way.
Later, when Eric needed a job, guess where he applied? Soon we were working together, and although it pains me to admit it, he was also really good at it. Well, at the serving part; I was often picking up his slack on the sidework end (don't you even try to deny it, Eric!). But my Steak 'N Shake employment referrals didn't stop there! In time, my sister Heather also worked there, as did both Eric's brother and sister. Kelley even was a manager for a while! And as for me, I worked there all through high school and whenever I was home on Christmas/summer breaks during college. So, a really long time.
Heather and me on the job in 2003
Needless to say, we feel a nice sense of nostalgia about Steak 'N Shake, and I was excited to take Ellie to the very location that was such a part of our early history. So after Charlie's party, on our 15-year anniversary, we headed to Gateway Mall, grabbed a seat at Table 14 and enjoyed a delicious meal - no longer as two high school kids working to save money for homecoming dances, but as a family with our sweet baby in tow.
We even tried to get Miss Ellie into the spirit of things with an official Steak 'N Shake uniform hat, but she was not enthused. Perhaps food service is not in her future.
An unfortunately blurry picture, because that lip can't be beat.
She didn't mind so much if other people wore it, though.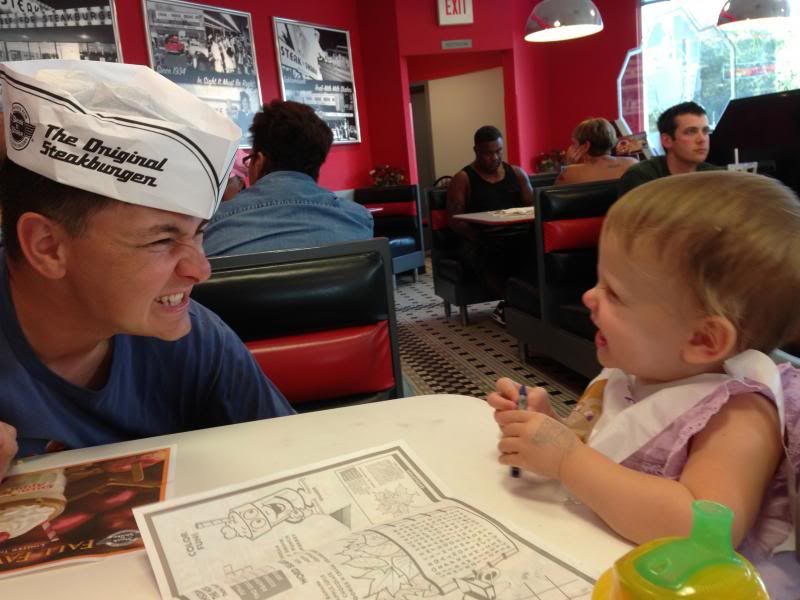 She did also enjoy the coloring page and stickers that came tucked inside her hat.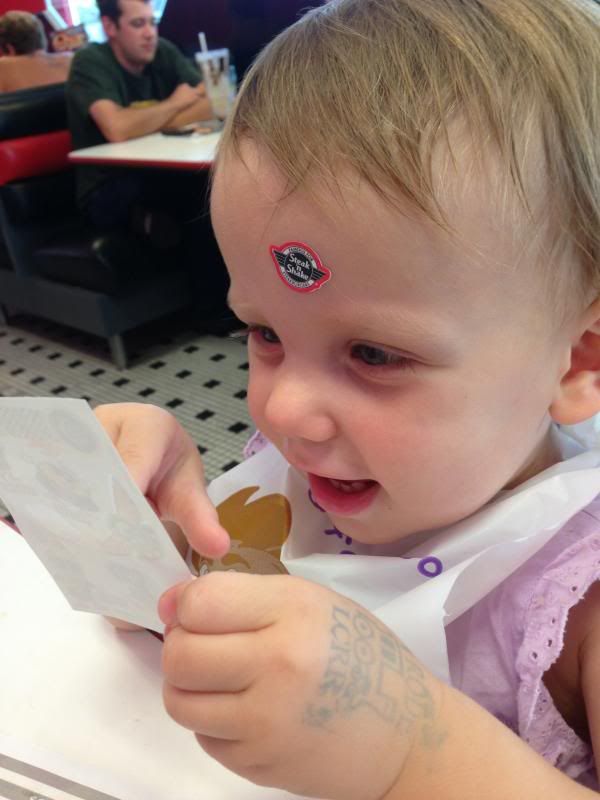 When the food came, she chowed down on grilled cheese, applesauce (so many more side dish choices now than in my day!), and of course, shoestring fries.
My sister was on her way to my dad's house to hang out with us as we were finishing up our meal, so she just met us there and Ellie helped her sample some fries.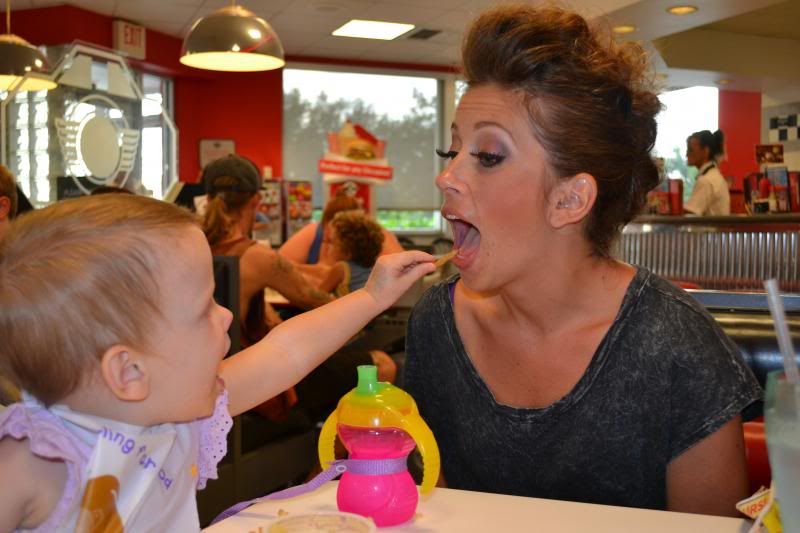 I think Ellie enjoyed her first taste of Steak 'N Shake and it was fun to incorporate her into our history there. It was just so funny to sit there at Table 14, in what was formerly the smoking section but was always one of the "best" sections, remembering our young high school selves running around behind the server station. We thought of both good times and stressful days, the people we met, the nuances of the restaurant. To be back so many years later, married, with a child...it's just funny. It's just another piece of our history that I love that we share!