It's been a long time coming, but I'm FINALLY posting pictures of our apartment! Forgive my tardiness, I just couldn't seem to get my life together to take pictures when the place was looking its best. So, without further ado, I present to you the humble W. abode! Please join me for a tour...
This is what you see when you first walk in the door. To the left is the coat closet, and then a hallway (where the bathroom and bedroom are). To the right is the dining area and kitchen, and straight ahead is the living room.
Here's the kitchen. Well, one side of it anyway. Pretty much your standard apartment kitchen. We do miss the pass-thru window our kitchen in our DC apartment had, I must say. But this kitchen has giant cabinets! They're so tall, we had to invest in a step stool or I'd never be able to reach the top two shelves.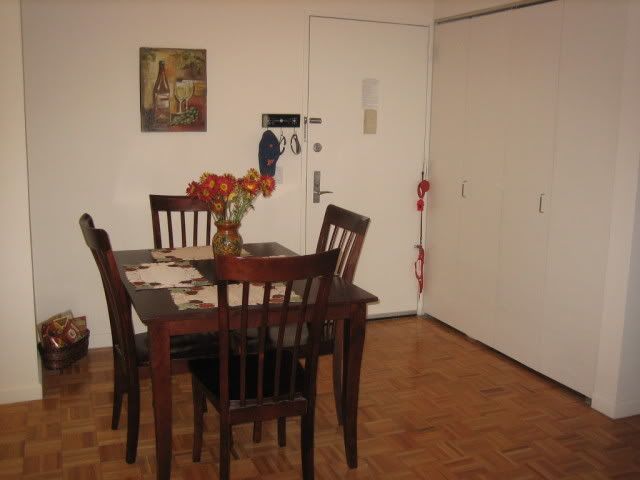 This is our "extra large foyer" turned dining room, as seen from our living area. Also, our front door and jam-packed coat closet. The kitchen is to the left.
Another view looking back towards the dining room from the living room. Again, the kitchen is to the left of the dining area, and you can also see our "office."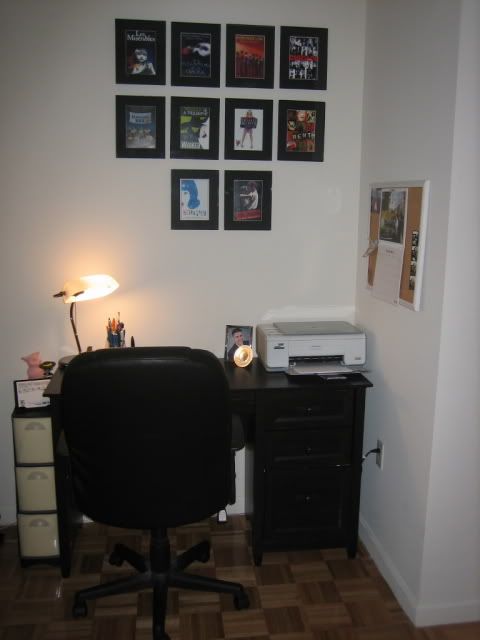 Here's a closer view of the "office." This is where all the GRE studying magic happens (but not for much longer!). I put that desk together myself, you know...well, with minimal help. I'm pretty handy.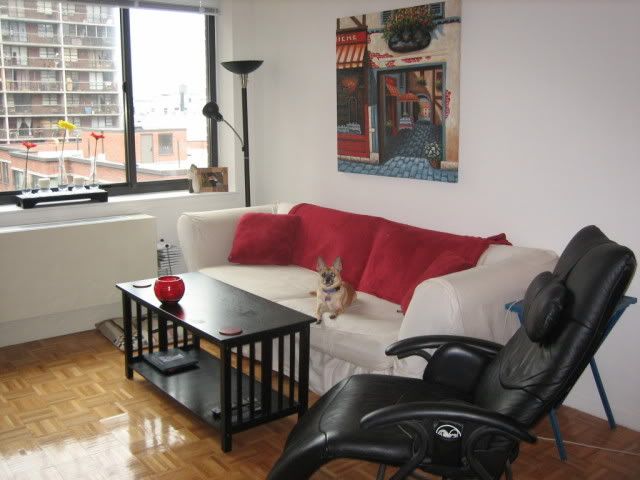 The right side of our living room. Isn't Achilles a great model? He makes it look so homey.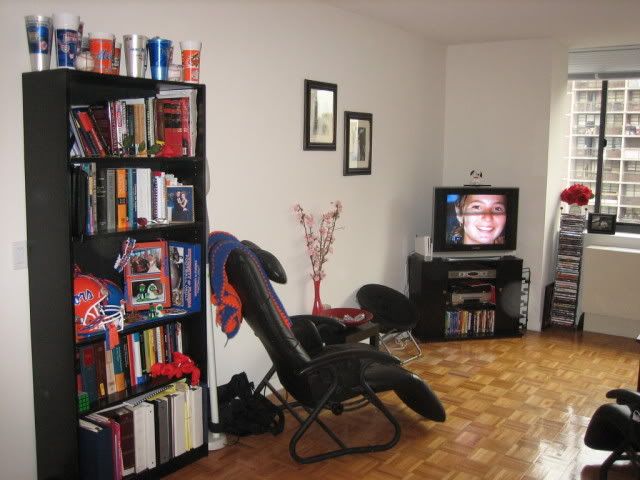 And the left side of the living room. Please excuse the fact that I did not think to turn off the TV, so now I have some random girl's face in my picture. Also, I'd like to draw your attention to the Gators shrine in the middle of the bookshelf. Go Gators!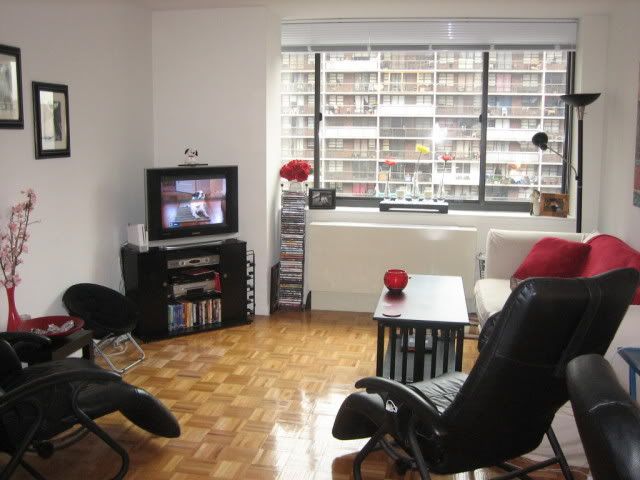 One last general shot of the living room, because I need some opinions. We're thinking about getting a rug for the living room, to cover most of the floor in that area, and we're thinking maybe some sort of deep red, probably patternless. Thoughts? Suggestions?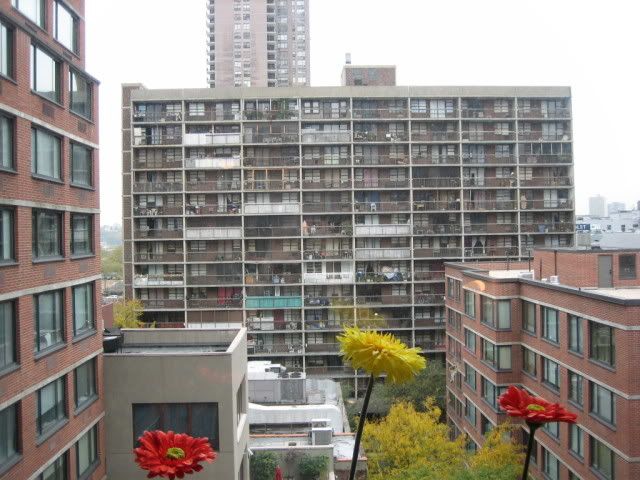 This is the oh-so-lovely view out of our living room window. If you look past that really ugly building in front of us, you can see New Jersey. Fancy schmancy.
This is what you see if you look down out of our living room window. Check it out - we have a view of trees! Actually, that gray patio is our sundeck (out of the picture, there are lounge chairs, grills and patio tables), and the area with the yellow trees is a little courtyard with benches and chairs to sit in. So, that's nice.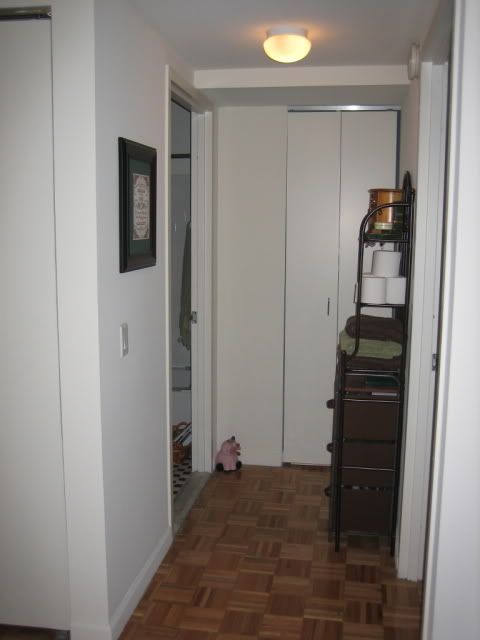 Back inside. This is that hallway that I mentioned, that is to the left when you first walk in the door. That's the bathroom ahead on the left, and our bedroom is off to the right.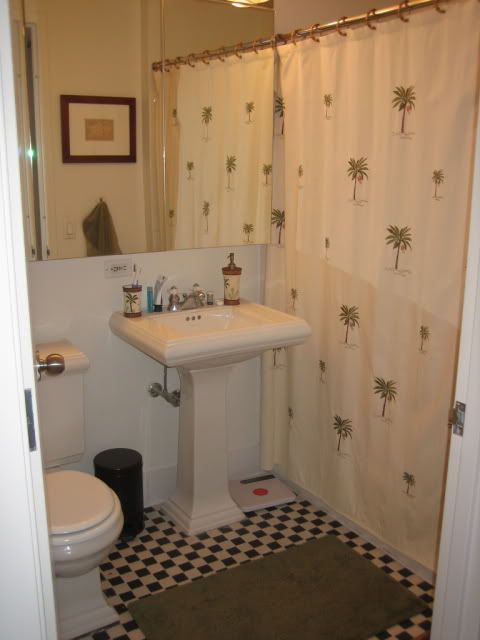 That bathroom I mentioned...huge mirrors, but minimal storage. "Minimal storage" seems to be pretty standard in New York.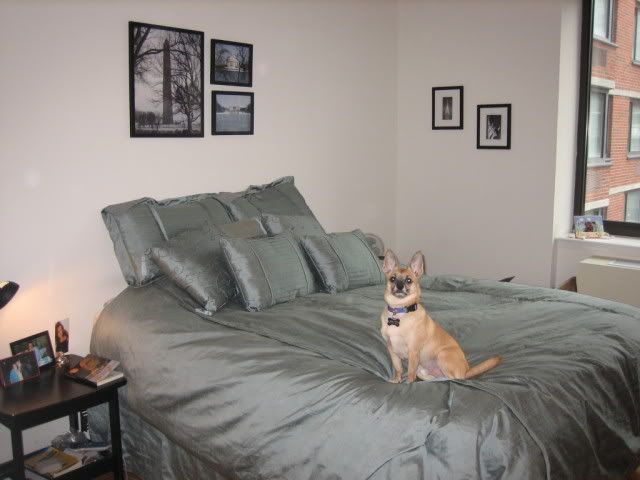 The bedroom, with my lovely model assisting me once again.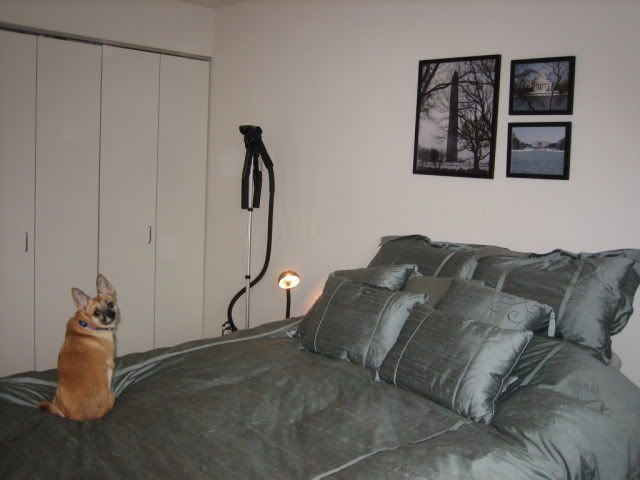 Bedroom from another angle. Also, Achilles from another angle.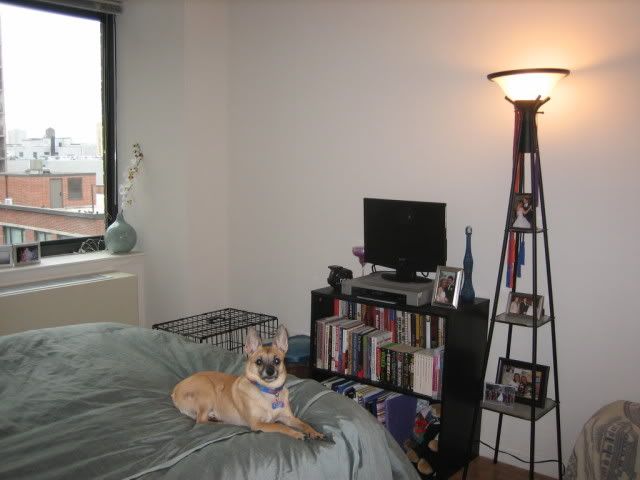 And, one last view of the bedroom. Achilles' little home is in the corner on the left. We're trying to figure out what to hang to fill that blank space above his crate and the TV/bookshelf. Anybody have any suggestions?
And that's our New York home! Please allow me to add that the couch you saw pictured above does pull out into a queen-sized bed, and we have another memory foam pad that can make that floor you saw pretty comfortable as well. So, we're well-equipped for visitors, and all are welcome!