Well, today the holiday break is officially over. Bummer! But, our 2015 is already off to an excellent start.
We had an
amazing
holiday. We traveled, we ate, we visited, we gifted, we enjoyed. And everything was extra magical thanks to the kids. Ellie's excitement was contagious and E.J. was just his happy E.J. self. Everything was perfect.
I have tons of stuff to tell you about! Lots of recaps are in the works, and a few other things, too. As you know based on my last post, E.J. is now six months old and somehow I still haven't gotten around to writing a few introspective/silly/generally E.J.-related posts that I've been meaning to write for the past six months. I'm hoping to catch up on some of that this month, in addition to sharing our holiday fun with you.
Of course, I can't quite hit the ground running with this because this week we're off to Disney for six days! Eric is running the Disney Marathon on SUNDAY - do you believe that? He's going to rock it! Ellie is also running in the runDisney Kids' Race on Thursday, so we're going down to Orlando for that and staying until Tuesday. In addition to the running, there will be lots of Disney fun on either end! I can hardly wait.
So, I'm going to try to schedule a couple of posts to go up here and there while we're gone, but otherwise, I'll hit the recapping in earnest when we return. In the meantime, here's a brief recap of what we've been up to and what is on the blogging agenda:
Although I had work leading up to our holiday travel (and more since we've been back), we did take some time out to check out Christmas light displays around Jacksonville, including the Landing Christmas Tree, Deck the Chairs at the beach and ZooLights: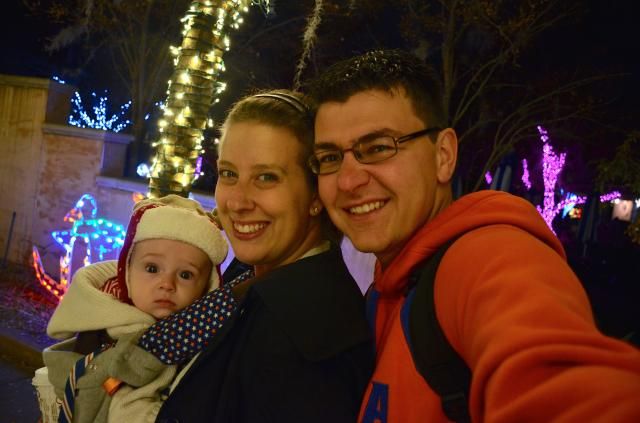 With my Erics at ZooLights
We spent Christmas proper down in St. Pete with family. We kicked things off by spending Christmas Eve morning at Busch Gardens: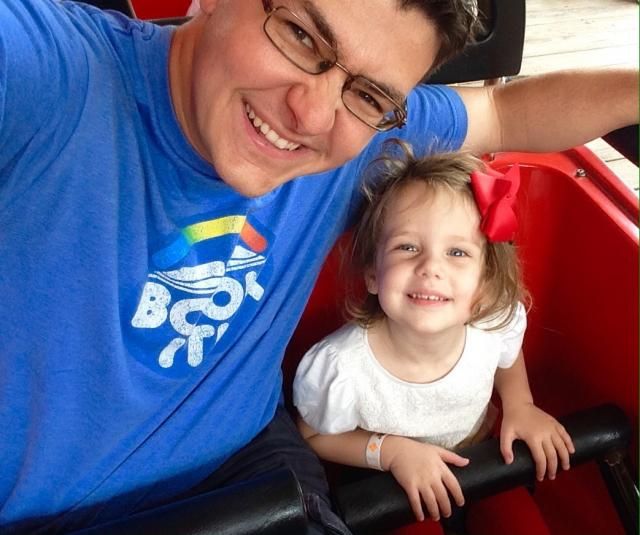 Ellie rode her very first roller-coaster!
The kids were angels at Christmas Eve church (although at one point, Ellie did turn around and ask the girl in the pew behind us, "Am I gonna go home now?" and bless her heart, the little girl thought for a moment and answered, "Eventually!"):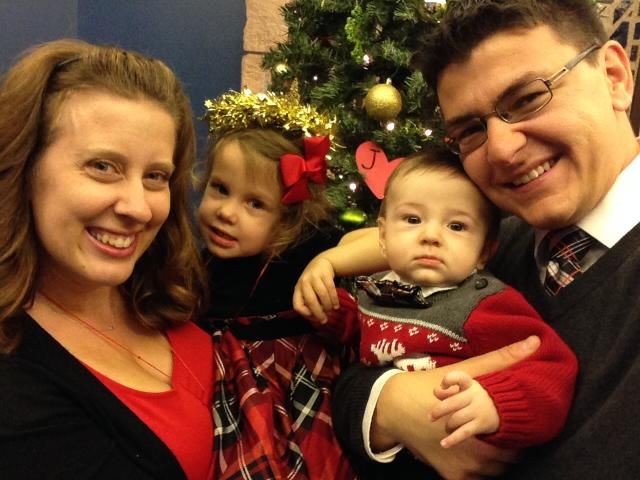 We had Christmas morning at my Dad's house: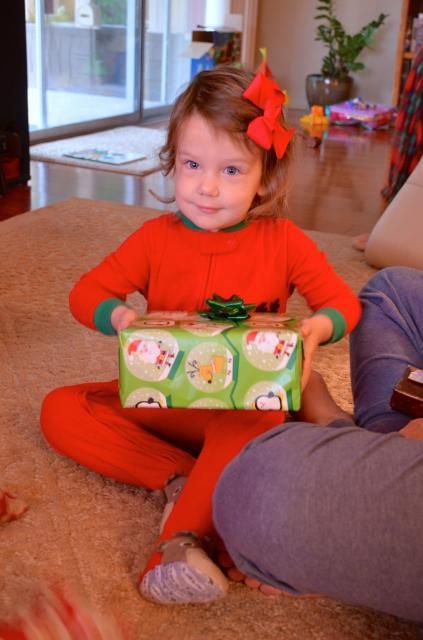 Ellie is ready for presents!
Then went to Gramz's house for the W. family celebration: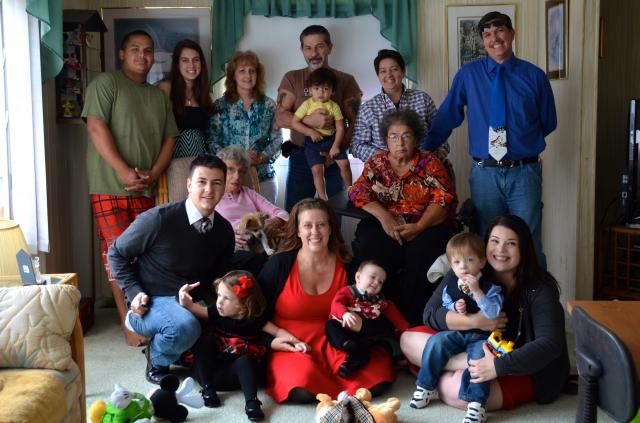 It was so great to have everyone together!
On the 26th E.J. and I went up to Cleveland - his first flight and first time meeting his great-grandfather, among many other family members: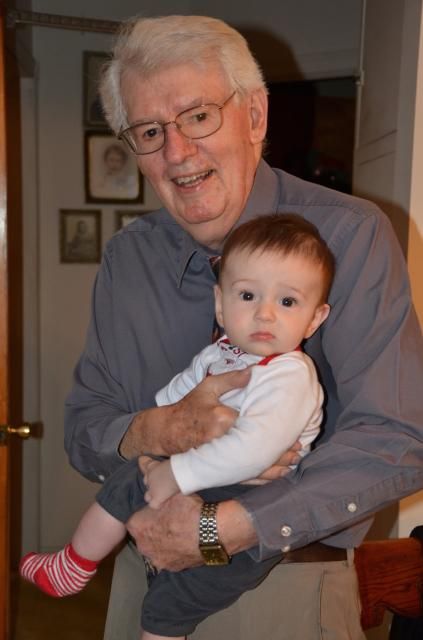 The oldest and youngest members of our family - 92 years apart!
(Of course, E.J. will only hold the "youngest" crown for a few months - two more great-grandbabies are due in March!)
Back home, Eric and Ellie kept themselves busy: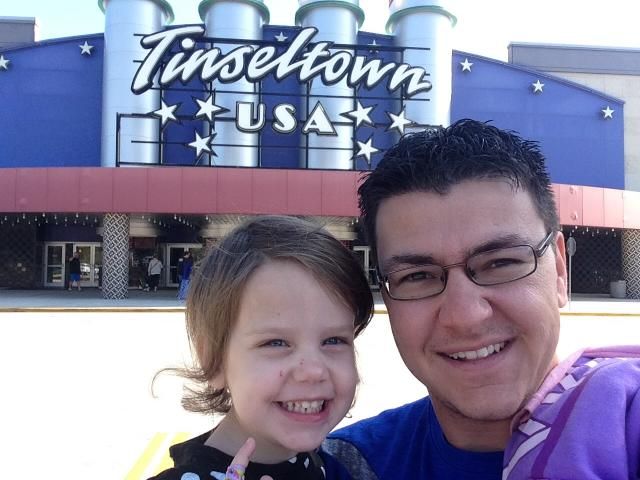 Father-Daughter movie date!
When we returned to Jacksonville, Santa made a belated stop at our house for our own family Christmas (and he brought the kids a totally made-over Ikea play kitchen!):
And, that same night, we celebrated the new year: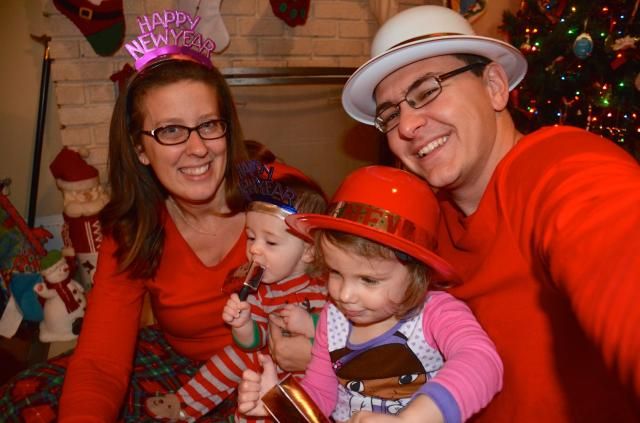 It has been a blast and I can't wait to tell you about all of it. But for now, I must prepare for our upcoming trip! Stay tuned! And Happy New Year to you!