We spent the second weekend of January in Orlando for Disney Marathon Weekend. Running a marathon has been a goal of Eric's for some time, so last April he signed up for the Disney Marathon. While doing so, he discovered that there were also kids' running events, and Ellie could run the 100m dash the Thursday before Eric's race! That seemed like a great way to kick off the marathon fun, so we signed Ellie up and planned to make a weekend of it, with six nights in a hotel, two planned Magic Kingdom days, one day at Hollywood Studios and of course, the races for Eric and Ellie!
The whole thing began with an early start on Thursday, January 8th. We left Jacksonville earlier than anyone should have to get two kids out the door, and made it to the Wide World of Sports in Orlando with plenty of time get get checked in and pick up numbers and such for both of our runners. We also spent a few minutes wandering through the expo.
Always an exciting sight!
Our runners at the Wide World of Sports
Wise, marathon-appropriate words from Mr. Disney himself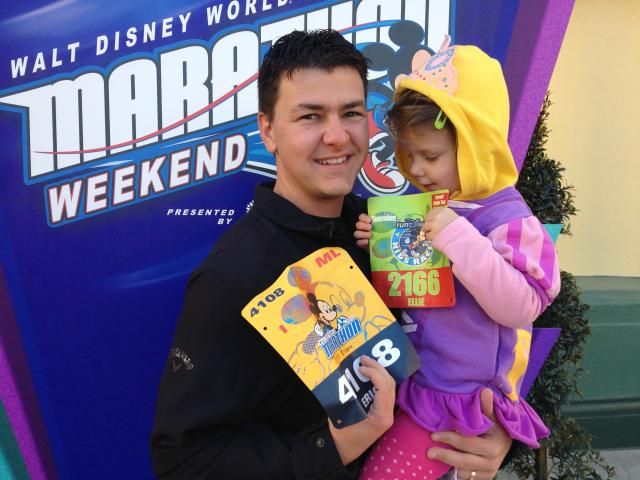 These two look so official!
We then went out to find the starting line for Ellie, and posed for a photo op.
The weather was CHILLY. I hesitate to write anything about the temperature, given the snowy conditions for my friends up north at the current moment, but I guess I have to embrace that I'm an obnoxious Floridian now, so here it is: it was cold. Very cool temps and wind. The kids were appropriately layered but somehow I hadn't really thought to pack enough warmth for myself. Luckily I wore E.J. for the majority of the trip so he helped keep me a bit warmer than I otherwise would have been. (Babies—so multipurpose!)
As the start time for Ellie's race approached, E.J. and I went to stake out a spot along the course to cheer, while Eric accompanied Ellie in lining up for her heat.
Mickey waiting to hand out high-fives at the finish line!
Eric and Ellie are lining up!
When it was time for Ellie's heat, they started off with Ellie in Eric's arms. After a short distance he put her down to run on her own, which she wasn't totally on board with at first...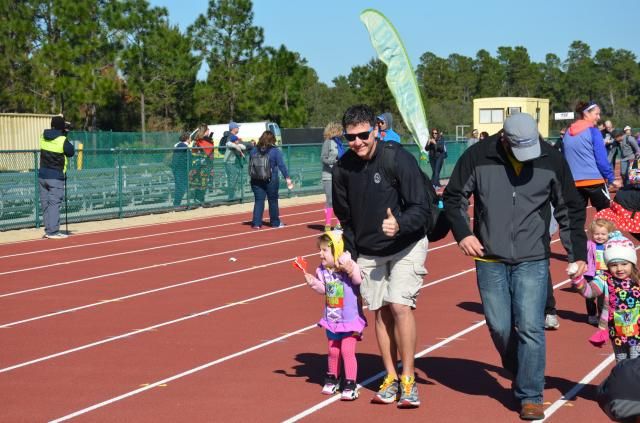 ...but she pulled it together and ran the rest of the way! I guess having Mickey waiting at the finish was a good motivator!
At the finish line, she received her medal. Way to go, Ellie!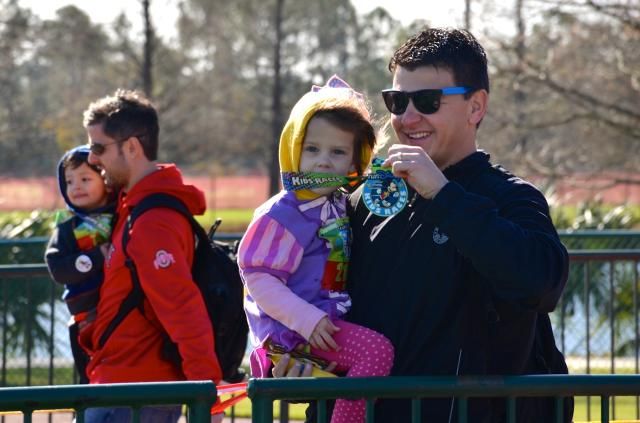 We stopped for an official "finisher" portrait, too:
I'm so proud of my little runner! I hope she enjoys running with her daddy as she grows up. So far, she seems to. When Eric did run the marathon, and I told her we were going to go see Daddy run, she replied, "But, Daddy and Ellie can run TOGETHER!" I sure hope so, kiddo!
On our way out of the Wide World of Sports, we stopped at Guest Relations to make sure we were all squared away to hit the theme parks, and then went back to the car to get ourselves ready for some more Disney fun!
One race down - just the marathon (and a good bit of theme park action) to go!
Eric looks ready to go!
(If you'd like to see more pictures from Ellie's race, you can see the full set here.)