I hope all of you had a wonderful, relaxing Mother's Day yesterday!
We had a very nice day, although I'm not sure if I would call it relaxing. Our celebration yesterday was much different than last year, when we were still in New York and kept things quiet with just a little picnic lunch by the river. This year, we're in Florida, which means we had the opportunity to celebrate with both of our mothers - a great opportunity indeed, and one we haven't enjoyed in many years, but it made for a much busier day!
Our Mother's Day celebration actually started on Friday with a trip to Adventure Island with my mom, Gary and my sister, but I'll have a separate post about that for you next week. Yesterday, we kicked off our day with cards and gifts at home. I got some beautiful cards from family and Ellie made me a very sweet gift:
"Our bond by one or by many names is the sweetest thing I know."
In case it isn't clear, on the left are all of the nicknames I call Ellie, and the right is the only thing she calls me. I love this little collage and have it sitting on my desk right below my computer screen now!
Our next stop on our Mother's Day Celebration Tour was Gramz's house for breakfast with (most of) Eric's family, including his cousin Tara and her new baby Colton, who we got to meet for the first time! He is just the cutest and we loved getting to see Mama Tara and the little one. We also bestowed gifts and a giant card upon Toni and Gramz and enjoyed a yummy bagel breakfast al fresco.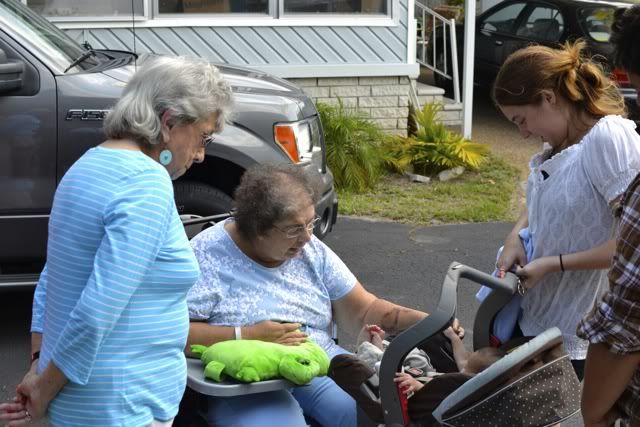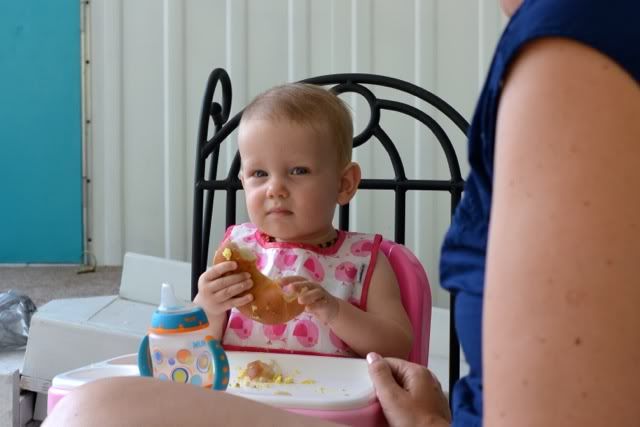 Ellie eating bagels with the family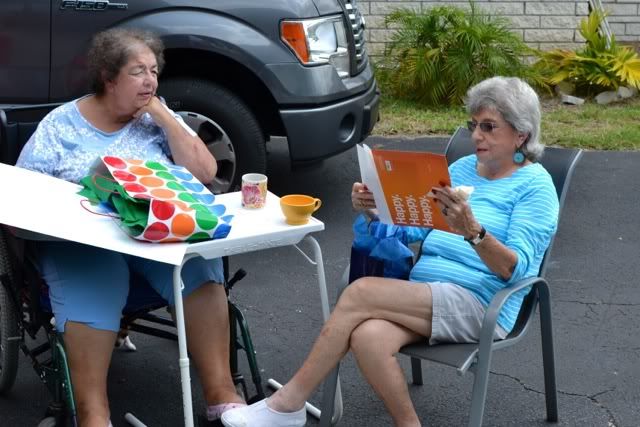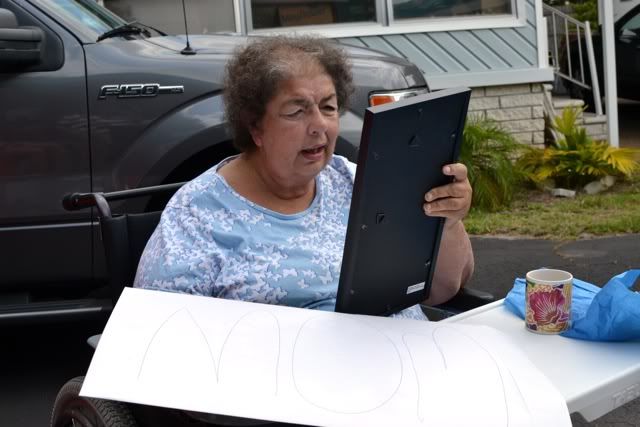 Toni's gift and giant card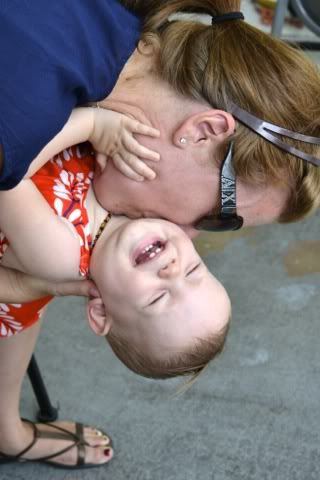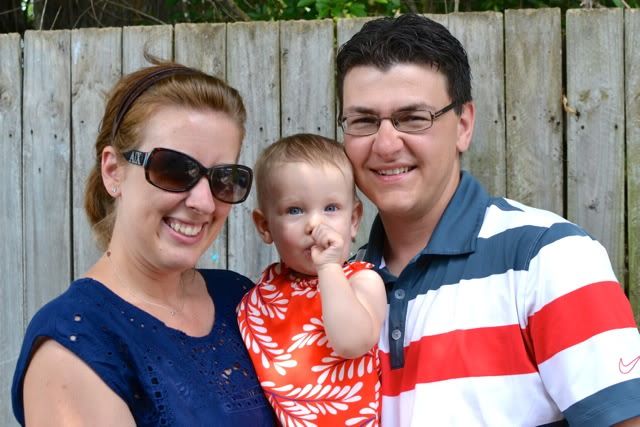 After breakfast we went back home to put Ellie down for a nap, which she happily took for THREE HOURS. Happy Mother's Day to me! When she got up, we had a light/late lunch and then went to Lake Seminole before our next appointment, just to spend just a little bit of time out and about with our own little family. We spent about 20-30 minutes playing on the swings, posing for pictures and enjoying the scenic view from the pavilion where we had Ellie's birthday party.
Left: On the slide with Daddy; Right: Enjoying the view with Mama
We tried to recreate the picture on the left from last Mother's Day (and my favorite picture of Ellie and me), but she's enormous now, so the effect wasn't quite the same!
When we left Lake Seminole we went to my stepsister Julie's house, who was kind enough to host dinner (prepared by the men, of course) for us and my mom and stepdad. We had burgers and hot dogs, and the guys watched golf while most of the ladies watched Ellie. Ellie loved all the doggies at the house, and had a lot of fun playing with a big mylar balloon. Unfortunately, I don't have many pictures of this portion of our day because we forgot to recharge the camera battery during naptime and it was completely dead by the time we got there. Ooops!
Hanging out on the floor with Ellie and my mom
We left Julie's house around 7:00 and headed home, where we let Ellie play outside a little bit before calling it a night.
All in all, it was a very nice Mother's Day spent with some great people, including a number of other great moms. It was nice to have so many people to celebrate with!
And the very best part of all? Why, getting to be this little girl's mother, of course. I'm so very blessed.
With my baby girl - Mother's Day 2013