As we continue our trip down March Memory Lane, I wanted to share a great Girls' Day Out that Ellie and I enjoyed back at the beginning of March. Eric had plans to go to some sort of Golf Fest with his brother, so Ellie and I stole the car and went out for some fun of our own.
Out on a Mama & Baby Adventure!
My friend Stephanie was in town from Ohio with her new baby, so Ellie and I went downtown to meet them at the St. Pete Farmers Market. We spent some time visiting with them (although I forgot to get a picture, for shame) before parting ways. Great to see you ladies!
Ellie and I decided it was too nice of a day to pack it in after our visit with friends, so we spent some more time exploring the Farmers Market. We ended up at the "all natural" popsicle stand, where we purchased a strawberry-lemon popsicle and then found a lovely tree to sit under and enjoy. Ellie's first popsicle! If memory serves, she was teething at the time so I'm sure it felt great on her gums. Either way, she loved it. Mmmm, sweet frozen fruity goodness!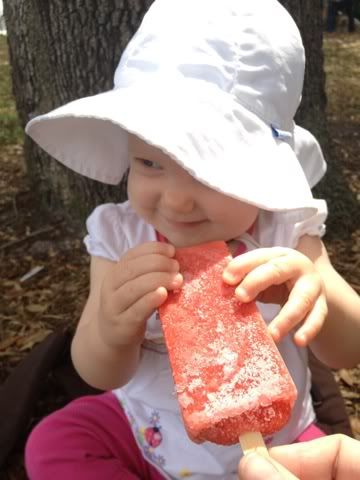 Oh, yeah. That's the stuff.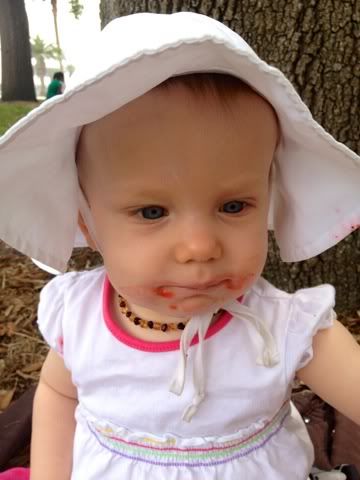 After popsicle time, we left downtown and went out to do some shopping for teacups for
Ellie's party
at the Salvation Army and garage sales. We had some nice success!
Our Girls' Day Out teacup/teapot haul
It was such a nice morning out with my baby girl. We are certainly not at a loss for quality time together, she and I, considering that we spend all day nearly every day together, but it was nice to have this time
out
to do something fun together, just the two of us. I look forward to many more of those days in the future!