One of my biggest complaints about being back in Florida has been the lack of accessibility to fun daytime activities for Ellie and me while Eric has the car at work all day. After living in NYC/Hoboken for four years (and D.C. for three years before that), I was just used to having anything and everything I wanted/needed to do right at my fingertips, with no car needed. The grocery store was right downstairs, the post office was two blocks away, La Leche League meetings and play groups were held right in my apartment building. So, being in a far less walkable town was a major adjustment for my automobile-challenged self and frankly, I've been stir-crazy. And, I have been especially dreading this summer, when Eric will take the car with him to Teach for America Institute (training) in Jacksonville for six weeks while Ellie and I stay put in St. Peterburg. The idea of being stuck at home day in and day out was making me twitchy already.
But then, I had an idea, a solution to my problem: a bike. Now, I have not ridden a bike since our 42-mile ride for the
Five Boro Bike Tour
back in 2011. That event was both a highly empowering and highly traumatic experience for me. (Yes, I'm being a little dramatic, but seriously, it was awful. They still email me yearly, all "sign up for the Five Boro Bike Tour this year!" and I literally laugh out loud every time, because OMG NO NEVER AGAIN YOU MUST BE OUT OF YOUR MIND.) But desperate times call for desperate measures, my friends, and I decided that nearly two years was probably enough recovery time and I should get back on the bike. The only trouble was, we opted to leave our old bikes in Hoboken when we moved because we didn't feel they were worth what it would have cost to have them moved here. So we needed to start from scratch.
And, thanks to the outstanding generosity of family and friends for Ellie's birthday, we have been able to do just that. Eric's sister Kelley gifted Ellie a bike seat for her birthday (the
WeeRide Kangaroo
center-mounted bike seat, for any who may be curious), and our friend Jeff's gift cards took care of everything else we needed to get outfitted for some biking adventures. And, I got this awesome new cruiser to serve as our new mode of transportation:
Is that not the cutest? It's a pretty shade of blue, and it has these happy flowers on it:
And you know what else it has on it?
A bottle opener
. A bottle opener built in on the front wheel! This bike is
begging
to be ridden along the beach with a few bottles of beer in tow. Now, now, don't worry, I will not booze and bike with baby (alliteration!). I am a responsible mother, no drunk biking here. I'm just saying that if I wanted to, I could. This bike gets me.
Oh, excuse me, bike, would you mind opening up this delicious cold beer for me?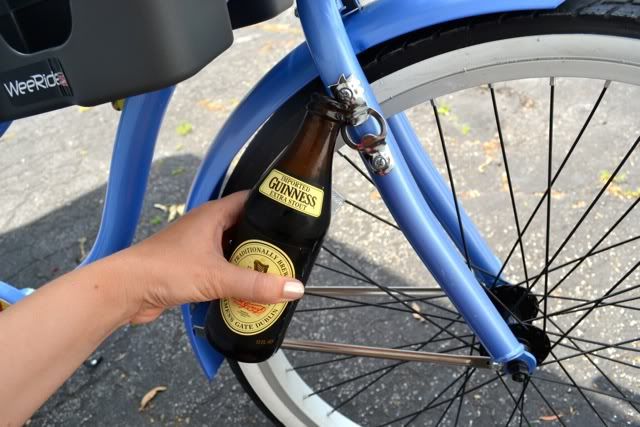 After getting the bike and bike seat all set up, and stocking the front carry-bag with the essentials (a spare diaper, sunblock and a tire repair kit [see? no beer]), I was itching to get this bad boy out on the open road and see what Ellie thought of the our new endeavor. So, a couple of weeks ago, we did just that. Her first impression? Not great.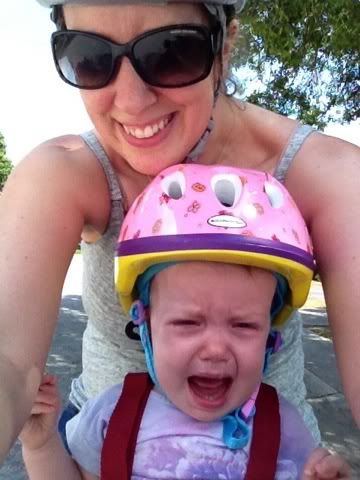 Baby bike torture! She had no idea how she was shattering my dreams of sweet, sweet freedom in this moment.
But I think her hatred was really geared more towards the helmet (which is the cutest thing I've ever seen, by the way) rather than the biking itself, because as we got going, she warmed up to the idea. Eric hasn't replaced his bike yet, so he roller-bladed along with us and took pictures. Ellie settled in and had a great time pointing things out along our route. The girl loves to point.
On our inaugural bike ride, we rode up to Checkers to have lunch and then back. It was a delightful afternoon.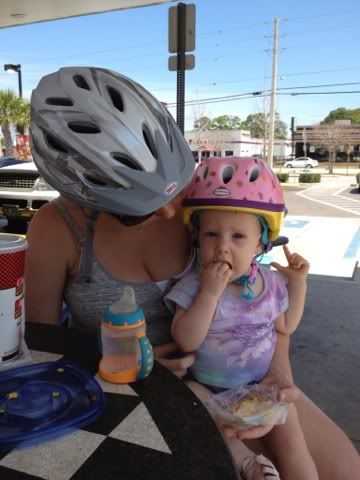 A baby in a bike helmet. Honestly. It kills me.
On our way home, Ellie even settled in so much that she relaxed and put her feet up, as is her way.
So, now we have a fun, easy, time-efficient way to get out of the house! I plan to get a little basket for the back rack to carry picnic supplies, or bring bags home if we want to go shopping, etc. We haven't actually gone anywhere meaningful yet, because although we have found our bike lock in the piles of boxes stored in the garage, the key is...somewhere. And I can't really ride to, say, Target and just leave the bike chilling outside unlocked while we shop. But chances are slim we find that key before unpacking in Jacksonville, if ever, so needless to say, we may just be buying a new lock.
In the meantime, Ellie and I have just been cruising around the neighborhood, which has been plenty enjoyable for both of us. I love to get out and get the exercise, and she spends the majority of the ride waving at everything she sees, like a little Miss America in a parade. What a cutie.
So, a
huge
thanks to our very generous friends and family who gave Ellie such great gifts for her birthday - really, they were gifts for
both
of us, and my stir-crazy, transportation-deprived self is incredibly grateful. Ellie and I have lots of fun in store for us on the bike this summer, and I can't wait!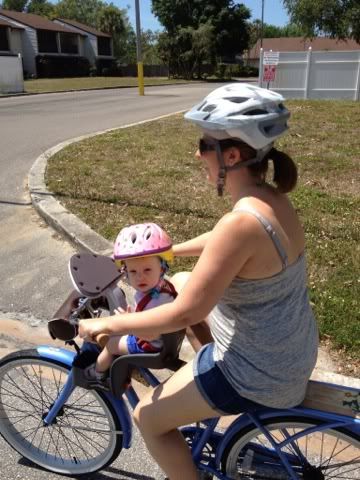 The first of many biking adventures!