How sad is the day after Labor Day? It totally bums me out. Not only is summer unofficially over (and our mid-60s temps today sure make it feel official), but there are no more short work weeks on the horizon until Thanksgiving. THANKSGIVING! Blah.
But, we did have quite a nice Labor Day weekend together here. Eric spent Saturday playing golf while I got caught up on life at home, and of course we spent Saturday night watching the Gators. I protest fall but I am happy to have college football back in my life.
Sunday we went to see the Pompeii Exhibit at the Discovery Museum in Times Square. It was in its last weekend, and we got a great deal for tickets through Living Social. So, we went. I figured it was our "Italy substitute" - we had planned to make a trip to Italy this summer, including a stop in Pompeii. (My sister stopped in Pompeii on her cruise in 2009, and after seeing
her pictures
, I have been dying to go.) But, we ultimately decided to scratch Italy and instead use the money we would have spent on that one big trip on several smaller domestic trips instead. So, in our minds, all of our little road trips (Niagara Falls, Pennsylvania, Chicago) have equaled out to one big Italy trip. Definitely not the same, but it has been fun!
So, this exhibit was our "Italy sightseeing" for the summer. And I must say, it was definitely a mistake to go the last weekend of the exhibit. The line was
looooooooong
. We got there around 1:30, and the next available time we could get tickets for was 3:30. We killed time by stopping for pizza in our old neighborhood (more Italian theme!), which was tasty and fun. We got in line for Pompeii around 3:15, and didn't get in until after 4:00. It was brutal. Like, why sell timed tickets if you're just going to oversell and not be able to fit all those people in at that time anyway?
Blackberry picture of a portion of the line
The exhibit itself was nice. It started with a look at life in Pompeii pre-volcanic eruption, and then you went in a little room and watched a movie about the eruption (following the timeline) and then went into the second half of the exhibit, which featured those casts of deceased Pompeii citizens that we are all familiar with, as well as other recovered artifacts. It was quite interesting, although I was glad we did not pay full price for our tickets. It was quite a small exhibit compared to the $26 entry fee they wanted. But, a nice way to spend our afternoon.
We spent our Monday relaxing at home, and then went out to see
Hair
on Broadway at night. This was another thing that is getting ready to close, so we got tickets at an awesome price. The show was pretty good, although not one of my favorites. I was prepared for the nudity at the end of Act I, so no surprise there (although that was the most naked people I have ever seen on one stage at one time, it certainly was not the most "in your face" nudity I have seen on Broadway.
See: Naked Boys Singing
. Now
that
was an experience.) The music was good (I'm a sucker for oldies) and I thought the ending was beautiful. A night on Broadway is always a nice night!
Hair at the St. James Theater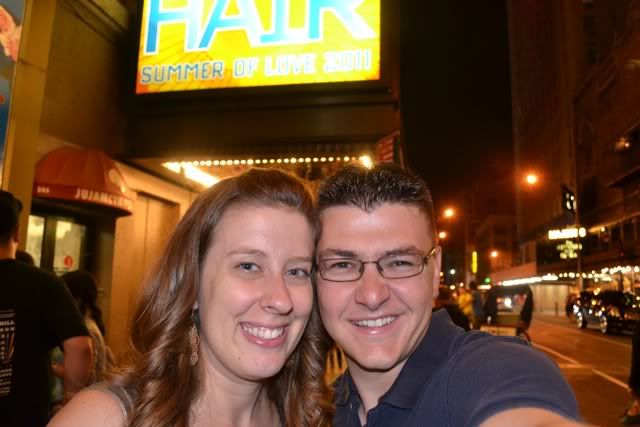 After the show. I may look drunk, but I'm definitely just tired. Don't mind me.
And that was our weekend!
I can't be too sad that our long weekend is over, because today is my only day at work this week before I take three days off to entertain my sister, who is coming to visit tomorrow! I'm psyched. We have some fun things planned (including a New York Philharmonic performance and Fashions Night Out), along with plenty of time to do absolutely nothing if that's what we want to do. It will be awesome.
Have a nice week, everyone!