I mentioned yesterday that we planned to spend our actual Labor Day at the ballpark, for the last Jacksonville Suns game of the season. We were all looking forward to it, and Ellie was especially excited about watching baseball, meeting Southpaw (the mascot) and eating popcorn. Sounds like a delightful afternoon!
Of course, after a lovely sunny morning, as soon as we got in our car to drive to the stadium, rain drops started falling. It stayed pretty light as we parked and walked up to the ticket window, so we bought our tickets and went in, hoping for the best.
We stopped in the gift shop first and got Ellie outfitted with a foam paw, then went out to try to see some baseball....
...with "TRY" being the operative word.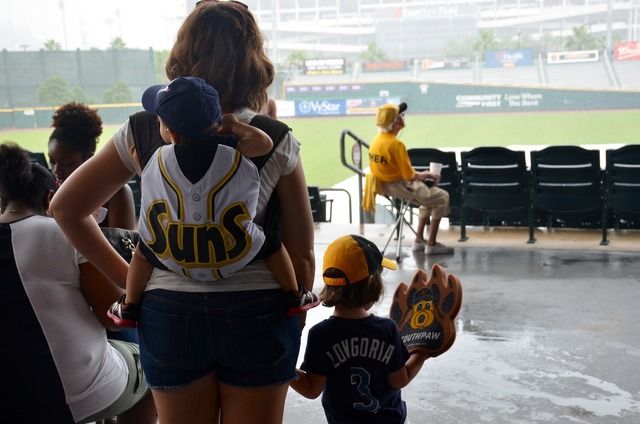 Less than ideal baseball conditions.
As soon as we walked out towards the field, we saw the tarp was already spread out and we were in an official rain delay.
Okay, we figured. So no baseball right now, but we can check off the next item on Ellie's to-do-list while we wait for the rain to clear out and the game to resume: let's go find Southpaw! So off we went.
Ellie's paw on the handrail was adorable and funny.
And we were unsuccessful. No baseball. No Southpaw.
Okay, we figured. Let's find an uncrowded spot where the kids can run around a bit while we wait out the rain, and we can go ahead and get our popcorn now. So, we found a spot and Eric left me with the kids while he went off in search of popcorn. E.J. loved stumbling all over creation (like a little tiny drunk) while we waited. And, we watched the rain fall harder.
He's pretty composed here!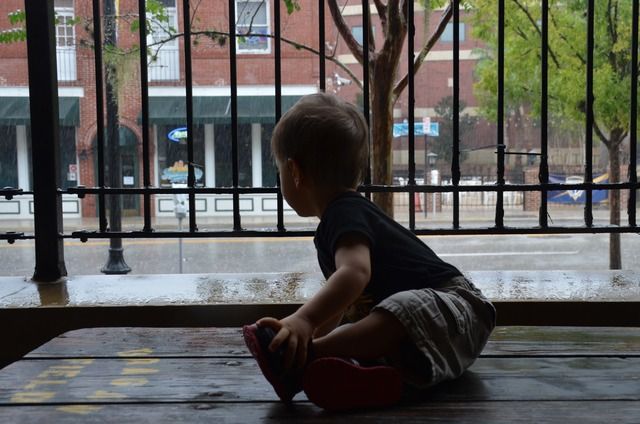 Rain, rain and more rain.
Then Eric returned...sans popcorn. The concession stands were all out of popcorn (and ice cream, our second choice). So, no baseball. No Southpaw. No popcorn. Not exactly a winning day.
They did, however, have french fries, which apparently were a quite suitable substitute.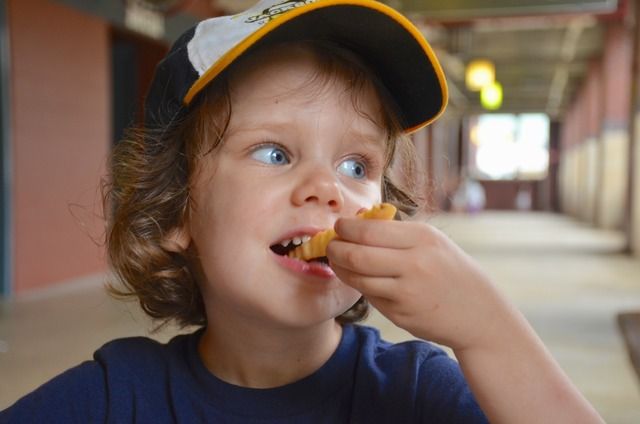 After our snack we hung out for a few more minutes before figuring out that the game had officially been cancelled. Since it was the last game of the season, there was no make-up game scheduled. We were pretty bummed. We were able to get our tickets refunded, but we would have preferred to actually see baseball! Of course, we still managed to have a pretty decent time considering we didn't get to do anything we set out to do. Fun, cute kids do tend to brighten things up a bit!
And, when I took the kids to Target the next day, I made sure Ellie got her popcorn.