We're back from our trip! We were gone for a total of 14 days, drove over 2,500 miles and made (planned) stops in seven cities. We visited two amusement parks, met 12 PBS Kids celebrities, visited with four great friends and 18 family members, and nearly filled two 16-GB memory cards with photos. In short, we had a blast.
This trip was funny (but not unusual) because, as these things tend to do, we started out with a single destination in mind (my family reunion in Cleveland) and in thinking through our drive there, we found a number of stops to add, stretching the trip to its final lengthy duration. It was the sort of thing that, as we talked through it, we got more and more excited about all the fun things we could fit into one trip and marveled at how great this would be. We added stops in Washington, D.C., Philadelphia (and a visit to Sesame Place), Pittsburgh (and a visit to Idlewild amusement park, plus a pit stop at the Flight 93 Memorial), and Pinehurst, NC. Our itinerary was looking good!
Then, as the trip approached, our nerves picked up a little. All those stops stretched the reunion weekend into a full-on two-week road trip. We were spacing out the driving as much as possible, but still, that was going to be
a lot
of travel with a three-year-old and a one-year-old. When we shared our plans, people weren't really great at hiding that "OMG YOU ARE CRAZY" look on their faces, and we started to think they were probably right. Our itinerary looked a bit ambitious, and my mind started to fill with visions of sleepless night after sleepless night and car rides filled with the tortured screams of travel-weary children in the backseat. WHAT WERE WE THINKING.
In the end, though, everything was
perfect.
We only really had one minor child-related hiccup (a 4:00 a.m. wake-up from Ellie the morning we were driving from D.C. to Philadelphia), but for the rest of the trip, they were such troopers. They really slept pretty well, rolled with the punches when days ran long and naps got skipped, kept their happy demeanors and, most importantly, seemed to have lots of fun. Backseat screaming was even kept to a minimum and could usually be quieted with a new toy or container of Cheerios. Everything else went great, too—we only drove through rain a couple of times (at the start and end of our trip), and otherwise the weather was excellent (albeit hot) for every other part of the trip; we got where we were going in a timely manner; we saw what we wanted to see and made a lot of really great memories. Honestly, we could not have asked for better.
I am going to recap everything in depth (as if you would expect any different), but that's going to take some time because, as I mentioned, we took an absolutely ridiculous amount of pictures. So I have lots of editing and sorting and organizing to do. I may get started on recaps next week, or I may share some other things I've had in the works for a while next week and pick up the trip recaps the following week. We'll just wait and see how ambitious I feel over the weekend!
In the meantime, however, I'd like to give a brief synopsis of the great things we did. Consider this the Cliffs Notes version of our trip!
We left on Thursday, July 23rd and drove from Jacksonville to Raleigh, NC, where we stayed in a house (via AirBNB) for the night.
On Friday, July 24th, we drove the rest of the way to our first stop: Washington, D.C., where we stayed for 2.5 days with friends Jeff and Sarah. We were so excited about this stop, as it has been almost exactly 10 years since we moved to D.C. and seven since we left. I hadn't been back since we moved away, and I was excited to see it again and take the kids. The visit did not disappoint! We did lots of typical D.C. sightseeing and enjoyed time with our friends.
On Monday, July 27th, we left D.C. and drove to Philadelphia, where we did some historical sightseeing and ran up the Art Museum steps
Rocky
-style (or, if you are a three-year-old girl, Elsa-style).
On Tuesday, July 28th we went to Sesame Place, where the kids especially enjoyed our breakfast with Elmo and friends. They had a blast and that meal experience in particular was probably my favorite part of the entire trip!
On Wednesday, July 29th we left Philly and drove to Pittsburgh, making a stop at the Flight 93 Memorial along the way.
In Pittsburgh we stayed with my Aunt Rachel and Uncle Mark, and the kids loved playing both with them and with all the toys they put out for them. (E.J. was also particularly fond of the stairs and went up and down ad nauseam.)
On Thursday, July 30th we went to Idlewild amusement park specifically for the new Daniel Tiger's Neighborhood addition to the park. We rode the trolley, watched the Daniel Tiger show, and met Daniel and Katerina Kittycat. We also learned that Ellie LOVES to ride rides.
On Friday, July 31st we made the short drive to my Gramps's house in Cleveland, where Eric golfed, I visited with my friend Megan, and E.J. LEARNED TO WALK.
The weekend was filled with reunion fun, and marked both my grandfather's 93rd birthday and the first reunion appearance for his three newest great-grandbabies. We had a great time together!
On Monday, August 3rd we left Cleveland and made the drive to Pinehurst, NC, where we spent the day on Tuesday with golf for Eric, a spa day for me, and some fun on the putting greens with the kids in the evening.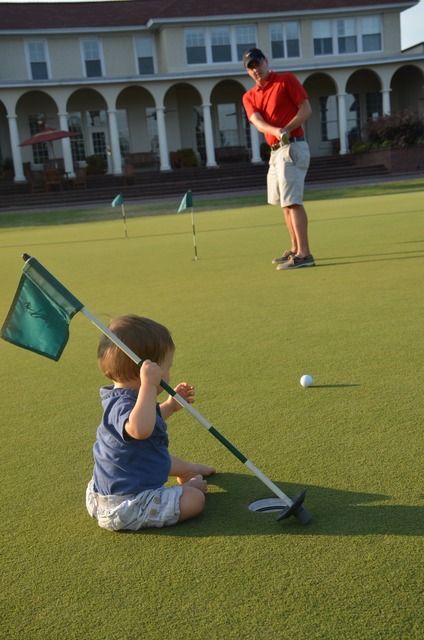 And then on Wednesday, August 5th, we packed up the car for the last time (
thank goodness
, because that was a
chore
) and made our way back to Jacksonville!
What a great trip with my wonderful little family!