It's hard to believe summer is already coming to an end, isn't it? Eric is back at work, and his students started back today. Ellie starts school (!!!!!!) this week, too. Unfortunately, the temperatures don't yet reflect the change in season, but for all intents and purposes, summer seems to be over.
This summer was a crazy hectic one for us. It started with the news of Toni's decline on the very last day of school in June. We left for St. Pete the next day and basically didn't stop to catch our breath until August. We went back and forth to St. Pete numerous times for two funerals and E.J.'s birthday party, we went on an epic road trip, Eric worked a summer job in there somehow, etc. It just was non-stop.
Needless to say, we were relieved when we returned from our road trip and still had a week and a half at home, to ourselves, before Eric had to go back to work. Of course, it's not in our nature to just laze around the house, so we made the most of that week! We packed in all kinds of things we would have liked to do with a leisurely full summer in Jacksonville. We had a really great time!
First, we went to Shark Fest at the Jacksonville Zoo. We met some mermaids and played at the splash pad.
We went to a Jacksonville Jaguars scrimmage, which was our first visit to Everbank Field. Unfortunately, we thought the game was supposed to start at 6:00 p.m. (so fine with children's schedules) but it didn't actually start until 7:30, so we couldn't stay to watch any football. But, we did enjoy the atmosphere and the stadium!
Eric also ran the Jaguars 5k Stadium Challenge through Everbank Field that week!
It wasn't all just sporty fun...we also got a little culture with visits to the Cumner Museum of Art and Gardens, and the Museum of Contemporary Art. We pretty much just enjoyed the hands-on kids' areas in both museums, but still had a very nice time. The grown-ups will have to go back for more sophisticated perusing later!
Back at home, all that art inspired Ellie to do a little painting herself:
Three of the four of us also watched some golf.
We also did some shopping (tax-free week!), and visited a couple of playgrounds we don't usually get to.
And of course, what would a Florida vacation be without a day at the beach? We went to Atlantic Beach for the first time and had a blast! We brought a little kiddie pool to fill with water by our blanket which was a HUGE hit with E.J., who must have climbed in and out of that thing a billion times. He also loved playing in the waves. Ellie made a friend and spent most of her time playing in the sand with her.
This past weekend, my mom came to visit and gave Eric and me a night out to celebrate our anniversary. We had dinner at Taverna (my scallops were heavenly), then stopped for dessert before walking out to the river. With my mom, we made a trip to the Riverside Arts Market on Saturday and the zoo on Sunday. Lots of fun!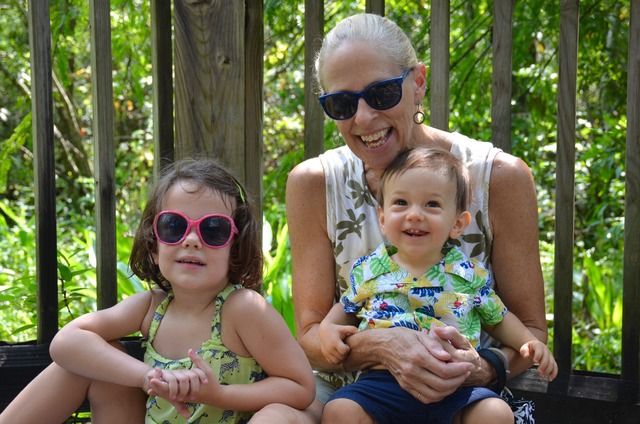 And of course, as the vacation time started to come to a close, we helped Eric get his new classroom all set up for the new school year. He's teaching Algebra 2 Honors and Pre-Calculus this year!
Not a bad little "staycation," right? I'm so glad we had that time to have a little fun in our own hometown this summer!