We went down to St. Petersburg last week for an unexpected trip for my Grandmother's funeral. It was our first long car trip with E.J./two kids and really, the car part went
exceptionally
well, especially on the way down there. E.J. slept the whole time, and we just kept marveling at the difference between this trip and Ellie's first. Granted, Ellie's was longer - about nine hours, from New York to Cleveland - but she screamed and cried for about eight and a half of those nine hours. Let's just say I prefer E.J.'s approach to car travel. (On this particular trip, Ellie was also incredibly good and even the dog slept quietly in the backseat instead of whining in my ear for three hours. I don't know how it happened, but I wanted to give all three of them big sloppy kisses of thanks upon arrival.)
We hadn't planned to bring E.J. to St. Petersburg until the end of September, which would have meant that some of our family members would have still had another month to wait before meeting him. However, this visit gave us the opportunity to make some introductions ahead of schedule.
We stayed with Gramz (Eric's grandmother) for this trip, so she got to meet E.J. as soon as we arrived: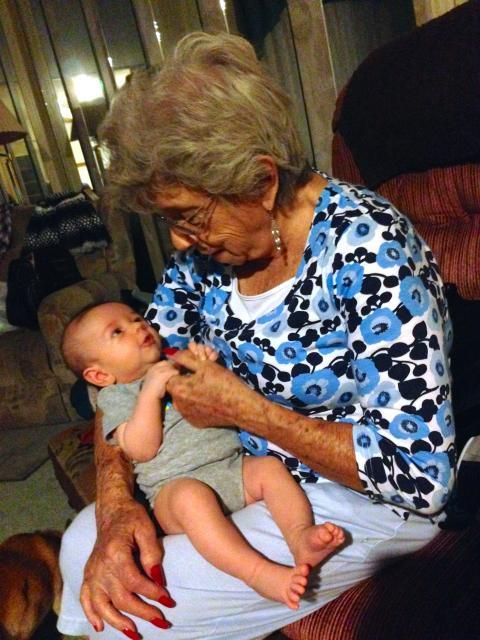 E.J. laying on the charm for his great-grandma
After my grandmother's funeral on Friday, my mom took Ellie back to her house while Eric, E.J. and I continued on to the cemetery with my dad. After the ceremony at the cemetery, we stopped back at my mom's house to retrieve Ellie, and E.J. met Grandpa Gary for the first time: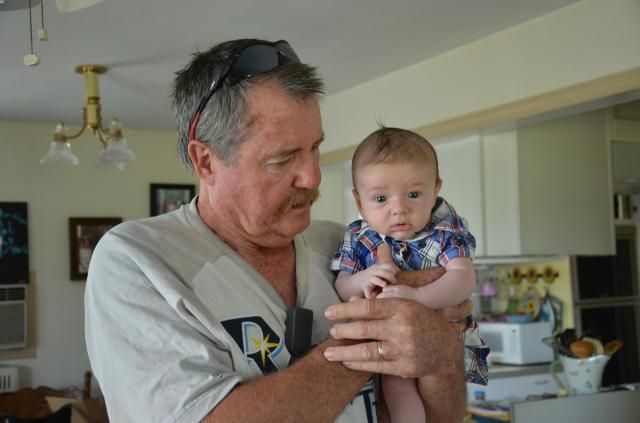 He looks a bit overwhelmed.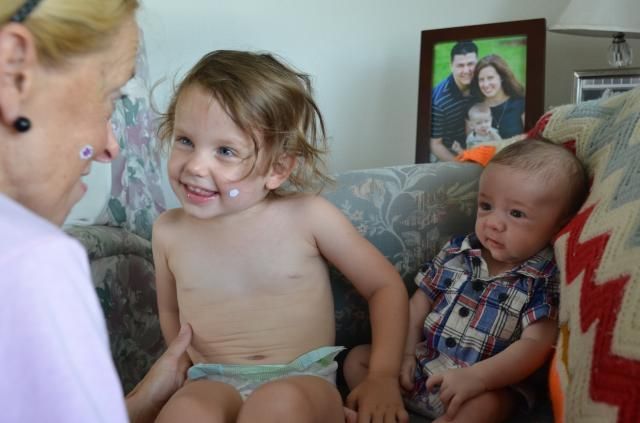 My mom was happy for a little visit with both her grandkids too, and it looks like they feel the same!
Then, on Saturday morning, we went to visit Eric's mother for breakfast, so she got to meet E.J., too: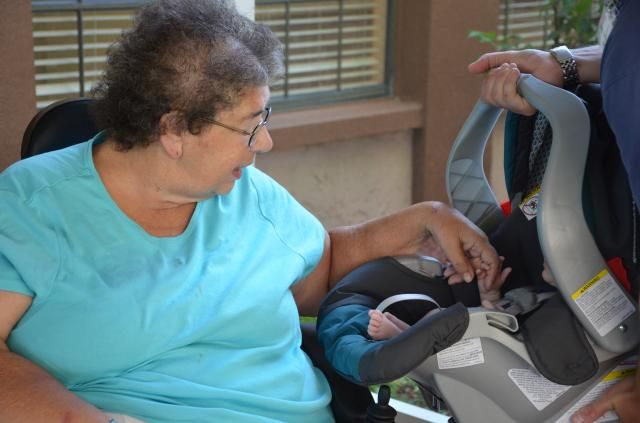 Toni getting her first look at her new grandson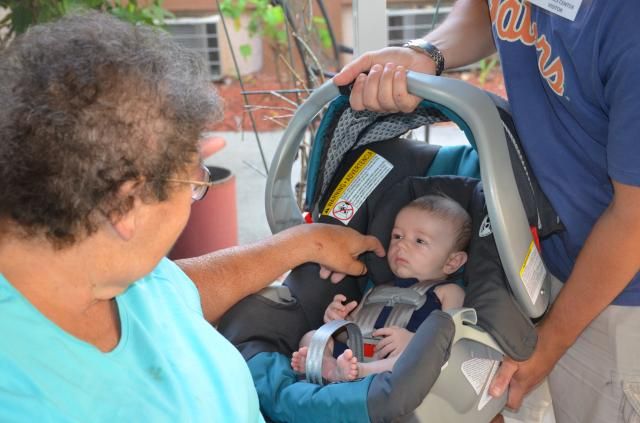 Eric's brother Ronnie and our nephew Charlie also joined us, which was great fun. We were even able to get some pictures of all the cousins together. Of course, there isn't a single one with all three kids looking at the camera and/or looking pleasant, but hey. That's life with kids.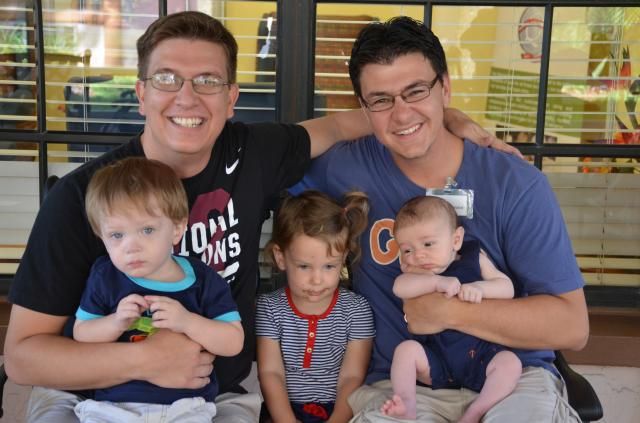 Brothers and their babies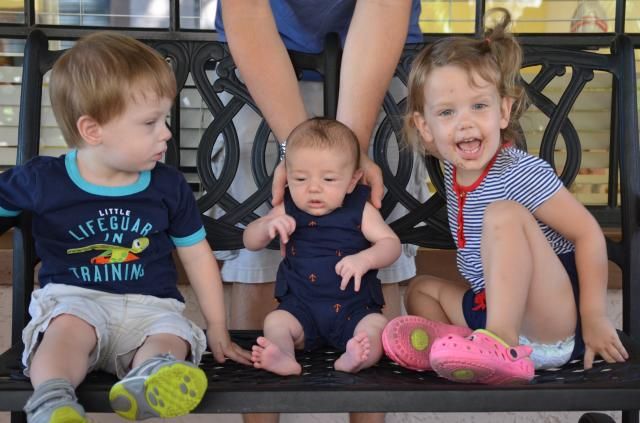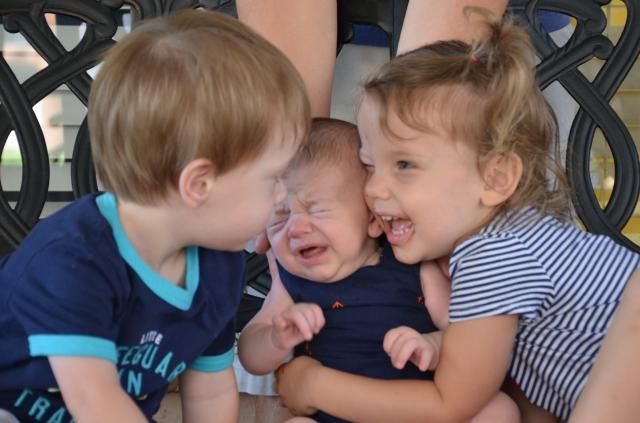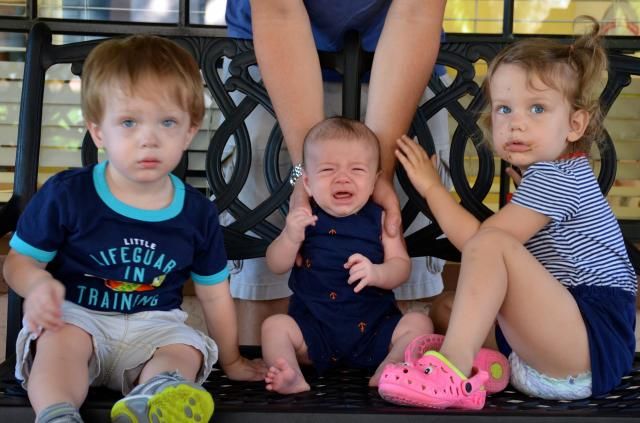 After that visit, we stopped at the park for a late morning play session and another visit with my dad before hitting the road back to Jacksonville. The trip back was a little more up and down, kiddo-wise, but for the most part, everyone was great. We really do have a couple of terrific kids!