I can't believe I'm about to write my very last recap of a fun NYC outing. That is blowing my mind.
Before we get to that, in case you're wondering how Florida life is progressing, our belongings arrived last Friday and we've been working hard to get unpacked and settled. A word (or two) to the wise: I do not recommend moving 1) at Christmas time, and/or 2) with a baby. Both things really complicate your life.
It's nice having our things here, but we have yet to establish a routine, something that I'm sure will finally happen after the holidays. We have just been so busy I feel like I've barely had a moment to come up for air. It has been a non-stop mad dash of car registrations, new driver licenses, unpacking, visiting family, working, trying to do some kind of Christmas preparation, etc., etc. I haven't read a blog or responded to email in a timely manner or had a night to just
sit
and aimlessly watch TV in weeks. The silver lining there is that being so busy has kept me from dwelling on all the Christmas in New York Fun I'm missing out on, but the flip side is that I'm sure the homesickness is going to hit like a ton of bricks after the holiday craziness. Every now and then I'll get a passing moment of "oh crap, we're really not going back," but for now, that thought really hasn't been allowed much space in my brain. Check in with me again mid-January.
And it is very strange to think that this post will conclude my NYC-related recaps. It's all Florida from here on out. I hope you're ready for the change, my friends. I plan to share more about what exactly we're doing here shortly after the New Year, so stay tuned for that.
Our last night in New York was a perfect one. We took the ferry from Hoboken into midtown, which gave us great dusk views of the skyline as we approached the city. I made sure to point out all the notable buildings to Ellie.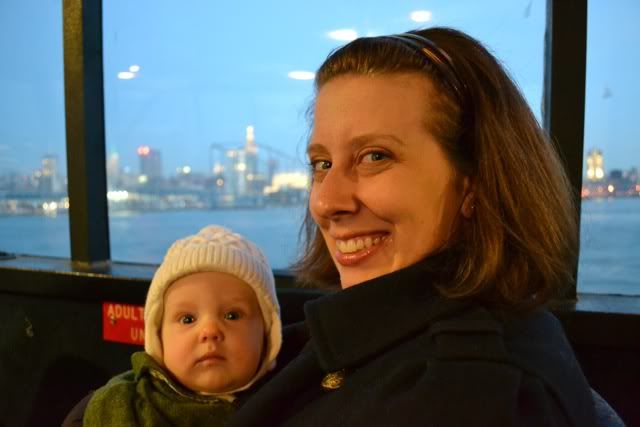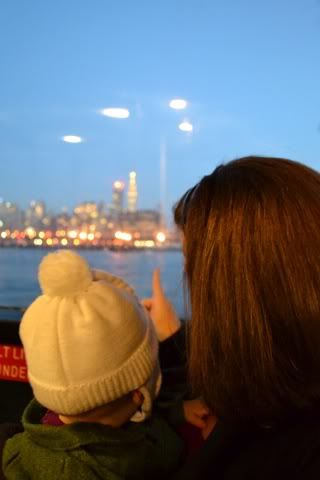 Look, Ellie! The Empire State Building!
We then walked east, through our old neighborhood and over to Times Square. Ellie made this a bit taxing by doing her "lean as far backwards in the carrier as I possibly can" thing. At least she was having fun?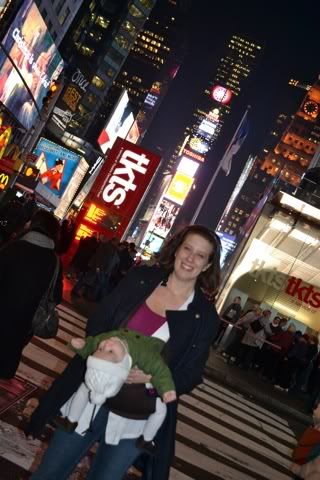 Even though we had already taken Ellie there the week prior, we made our way back to Rockefeller Center to take in the tree one more time.
Eric's friend Dave met us by the tree to meet Ellie, and kindly snapped a few family photos for us.
That girl loves to pinch.
We also paused on the Promenade to recreate one of my most favorite pictures of us from our time in New York: us in front of the old Saks snowflakes in 2009.
Left: Christmas 2009, after seeing the Rockettes at Radio City Music Hall. Right: Christmas 2012, with our baby in tow, bidding farewell to our city.
We then walked back over to Sixth Avenue to take in the large ornaments and Christmas lights once more.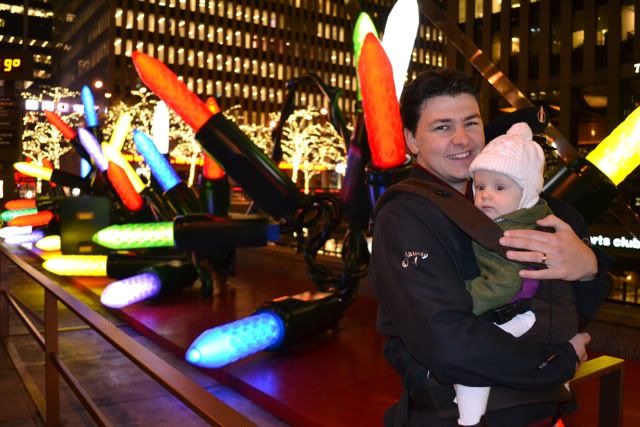 Eric and Ellie and giant Christmas lights
Then it was over to Times Square, just because well, it's Times Square. It just seemed fitting to end our time in the city with a pass through Times Square. Once again, we stopped to recreate an old photo, this time one we took while Eric was a summer associate in the city, before we even moved there. We had just seen a Broadway show and were enjoying our night out in the big city. We weren't even married yet at that point. Five years of marriage, four years of New York life and one baby later, we tried to recreate the magic on our last night in the city.
And with that, we decided to call it a night and close out our city life. We walked back to the PATH train and I couldn't help but shed a few tears as I looked back at what we were leaving behind. I felt brokenhearted and unable to imagine not walking those streets every day. Frankly, I
still
can't imagine it.
We took the train back to Newport and walked from there back to Hoboken along the waterfront. I spent the whole walk trying to memorize every last detail of the skyline, every peak of every building and every glittering light. I don't ever want to forget exactly what it looked like.
For dinner that night we ordered in Italian from a favorite local place and drank a good amount of wine, trying to both reminisce about our New York life and prepare for the next day and all the change it would bring with it. That was our last real moment to reflect before the madness that was the day of our travel to Florida.
That night was a perfect way to say good-bye to the city: just roaming around midtown, through our old neighborhood and past these major NYC sights that used to be a part of our daily lives. I've said it before, and I'll be saying it for the rest of my life: we were so blessed to have the opportunity to live in that great city, and our time there will be remembered often and fondly. I love that city.
And now, with this closure of the New York chapter, let our Florida life commence.