The Friday before we left New York was Eric's last day of work at the firm. As I mentioned earlier, they gave him a rather nice send-off, complete with a going-away party and an autographed David Price baseball as a parting gift. I think Eric was very flattered, and although we're very much looking forward to what lies ahead for us, we are so grateful for the opportunities that job has provided for us. That firm job is what brought us to NYC, making dreams come true, and I am so thankful for that.
While Eric was saying good-bye to coworkers, Ellie and I made the trek into the city to visit yet another of my favorite holiday destinations: Bryant Park. Of course, I have said a gajillion times that Bryant Park is my favorite park in the city. They have so many fun events in the summer, it's such a nice place to have lunch in the fall and spring, and the holiday shops paired with the ice skating rink in the winter is just all so very charming. So, I wanted to be sure to make a stop there before we left, both so Ellie could see it and so that I could enjoy it one last time. When Eric's party came to a close and he left the office for the very last time, he came to meet us there.
The first thing we really checked out was the tree. It was looking quite lovely (and large!) in blue and silver.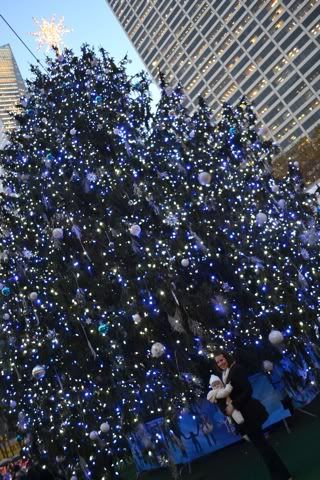 Ellie and me in front of the Bryant Park Christmas tree
We then circled around the ice rink, watching the skaters go by. A couple even stopped to talk to Ellie! She just stops all kinds of traffic.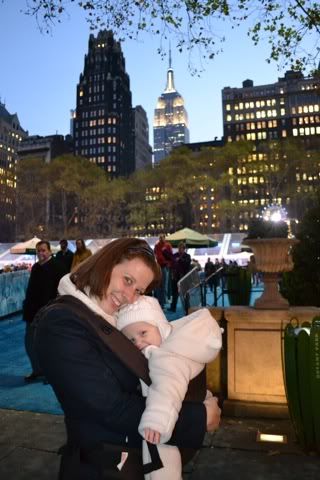 Hanging out at the Pond with my girl
A little bit of a scrunchy face!
We then spent some time doing some shopping at the holiday shops. Most notably, we were in the market for some New York artwork. Earlier in the week we went to the holiday market at Union Square, where we bought Ellie some stunning artwork featuring New York landmarks for her nursery (pictures to come!). But we also wanted a piece more suitable for our living room. There was a booth at Bryant Park that had caught our eye in years past, and ultimately, we purchased a painting we love from that local artist. After the holidays we plan to hang it in our new digs, so I'll share pictures then!
Quick shopping break at the fountain
With our large painting in hand, we figured it was best to call it a night and made our way westward to the ferry terminal to catch a ride back to Hoboken. It was a great afternoon, and a very nice way to celebrate the end of Eric's time at the firm (well, that afternoon paired with the bottle of champagne we consumed later that night, of course). I just love Bryant Park all year round, but especially at Christmas. I already miss that place!