A couple of weeks ago, Eric went out to Bethpage to catch some professional golf action. He had an awesome time and got some really good shots of the golf greats, so I asked him to write up a little recap of his time at The Barclays for me to share with you. So, without further ado, I give you Eric's write-up:
After playing it for the first time, I have had the good fortune to play the Black Course at Bethpage State Park several times. It is probably my favorite course and I have most of it committed to memory. When I heard the first round of the FedEx Cup (The Barclays) was being played at Bethpage, I was excited to check it out and see, e.g., where the grandstands get set up for tournaments. I thought it would be fun to go on one of the practice round days because I heard you are allowed to bring a camera and the players are far more approachable. But I couldn't pull the trigger and didn't buy a ticket.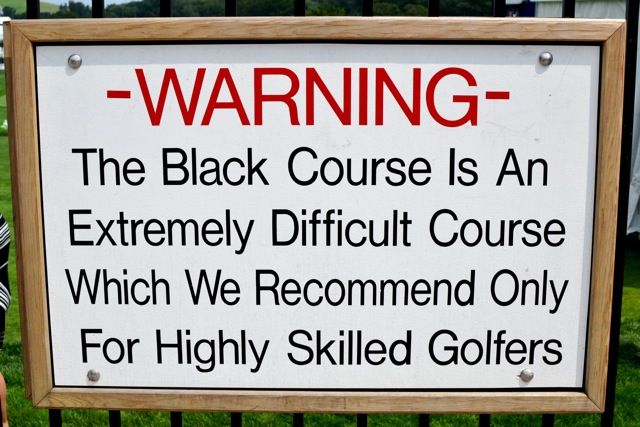 The famous sign in front of the first tee at the Black Course
On Wednesday, I woke up to perfect weather and saw that great pictures had been posted on Twitter of some of the players I follow. I didn't have much to do at work, so when Meghan encouraged me, I decided to go. After leaving the house around 9:30, I walked on to a LIRR train as the doors were closing and was able to scalp a ticket at the Farmingdale station for half price. It appeared that I had made the right decision.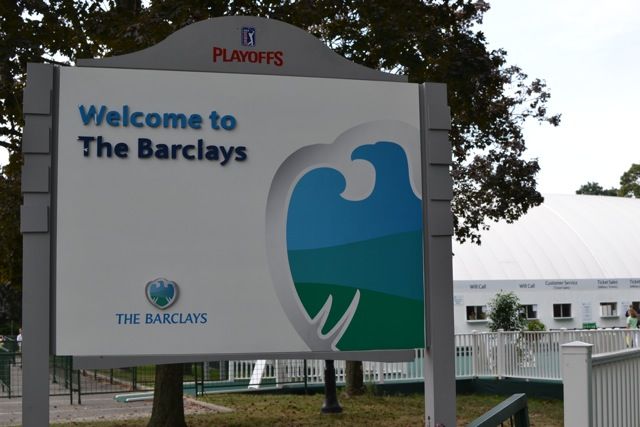 When I first got there, I checked the pairings for the pro-am and saw that the day was divided into two shotgun starts and that most of the big stars went off at 7:30 a.m. The morning groups still had a few holes left and I was able to figure out a good spot to catch some great players. I made it to the 17th tee and saw Bubba Watson, Lee Westwood, Phil Mickelson (playing with Jeb Bush) and Tiger Woods tee off on the par 3.
Pretty good seats to watch Tiger Woods tee off on 17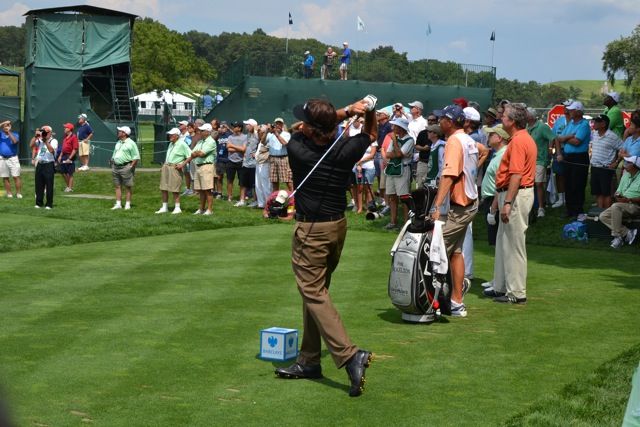 Phil Mickelson (with Governor Jeb Bush watching in the orange shirt)
I learned that during practice rounds (typically Tuesday) and the pro am (Wednesday), most of the golfers spend a lot of time interacting with the fans (especially the young ones) and most will sign autographs between holes. However, some will only sign after they are done playing. Tiger and Phil are two of the later and it is worth mentioning that Tiger spent about 15 minutes while Phil spent 45 minutes smiling and signing and even agreed to spend more time after he fulfilled his pro am obligations. It is easy to see why he is so popular.
Signing in the golf course. Clockwise from top left: Deron Williams (point guard for the Nets), Bubba Watson,
Ernie Els,
Sergio Garcia,
Graeme McDowell and Lee Westwood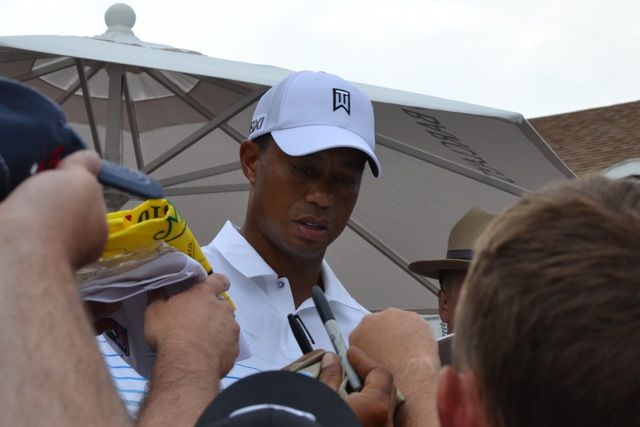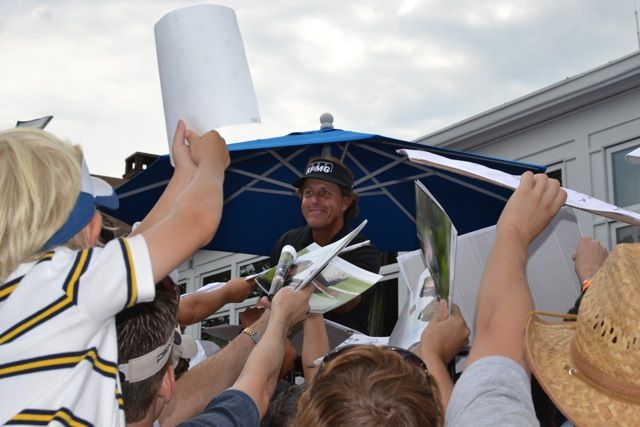 In between the morning and afternoon tee times, I watched some guys warm up, including Ernie Els, Dustin Johnson and Ryo Ishikawa.
When the second group teed off at 1:30, I decided to follow Graeme McDowell on the front nine (he started on number 3) in the hopes of learning something from the 2010 U.S. Open champion. I walked with his group for a while and then made my way through the final nine holes before getting back on a shuttle bus and making it home in time for dinner.
Adam Scott teeing off on the uphill, 478-yard par 4 15th
Sergio Garcia on the 501 yard par 4 12th.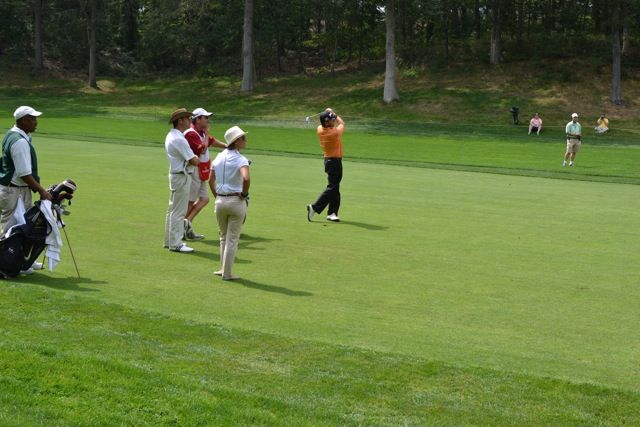 Graeme McDowell hits his approach from the middle of the fairway on 5.
What a fun day for my golf-loving husband!