A couple of weeks ago, Eric had a very successful round of celebrity sightings. The whole thing essentially got underway when I learned that Leonardo DiCaprio is filming a new movie (
The Wolf of Wall Street
) here in the city. I was an obsessed Leo fan back in my youth, so I'm dying to catch sight of him and I've been in disbelief that I have yet to see him after four years of living in New York. (The closest I've ever gotten is
having a picture taken with Bar Refaeli
, his ex. One degree of separation between Leo and me, yeah buddy!) So, when I heard about this new movie filming I knew stalking must commence.
Unfortunately, Leo still remains unsighted as of now. But, while trying to track him down on my behalf, Eric did see a few other interesting people.
One afternoon, while he was out looking for
Wolf of Wall Street
filming, he stopped by to check out
30 Rock
filming on the Plaza.
30 Rock
filming is kind of old hat anymore, as we've seen almost the entire regular cast already (and Tina Fey countless times). However, one we haven't seen while filming is Alec Baldwin. I saw him at the Comedy Awards in 2011, but we've been wanting to catch him in some sort of
30 Rock
capacity. Given that Eric works merely a block from 30 Rock, you wouldn't think this would be difficult, but Alec has managed to elude us for four years now. That is, until a couple of weeks ago, when Eric finally caught him, filming a scene with Tina Fey on the Plaza! Success!
He knows he's busted. We finally found you, Alec!
Tina and Alec, filming a scene
He also saw a few other
30 Rock
folks, including John Lutz, Judah Friedlander and Tracy Morgan, who he said spent much of his time sitting with his shirt unbuttoned (it was quite hot outside) and (jokingly) yelling at his entourage about the unfairness of them being able to eat while he can't.
Judah Friedlander (and Tracy Morgan and Tina Fey)
Tracy Morgan yelling at his crew
If you are a
30 Rock
fan, in this scene the car driving Jack (Alec Baldwin) hits a stroller and somehow Tracy ends up holding the baby, who he carries over to Frank (Judah Friedlander). So, keep an eye out for that scene this fall!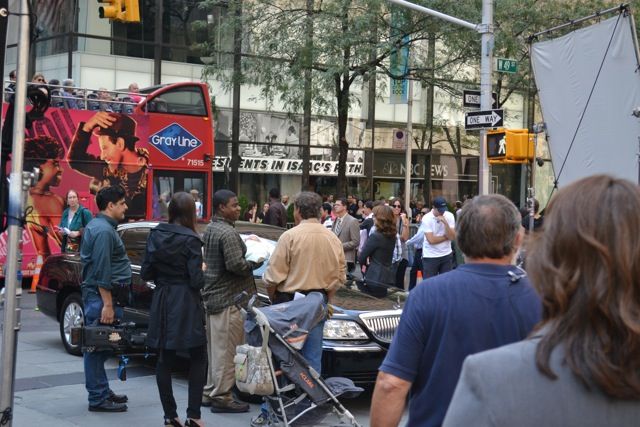 Aside from these
30 Rock
sightings, Eric also caught First Lady Michelle Obama leaving NBC Studios! She moved quickly so there wasn't really a good photo to be taken, but he saw her and did his best.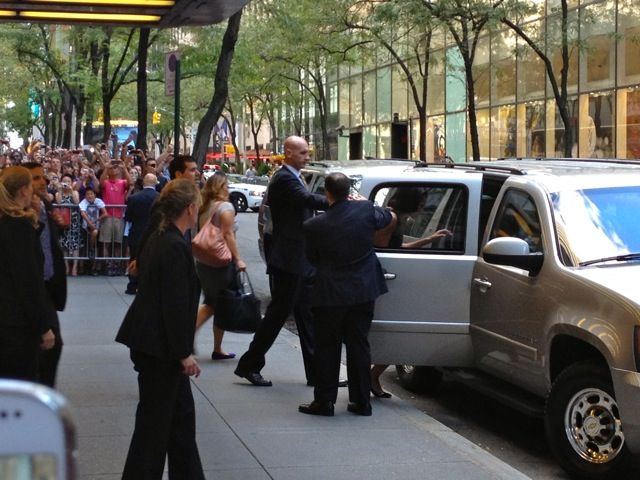 That's Mrs. Obama getting into the car - you can see her through the window!
As for the original filming that started this celeb sighting spree, Leonardo DiCaprio may yet remain at large, but Eric did catch director Martin Scorsese and Matthew McConaughey.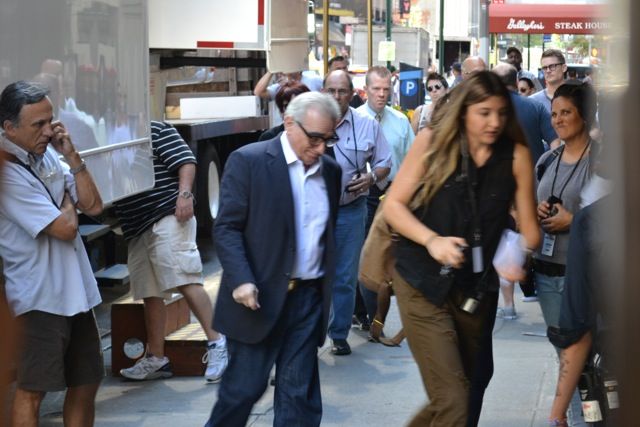 Hey there, Mr. McConaughey.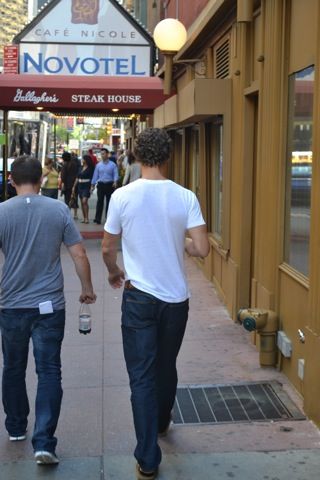 Back view of Matthew, if you like that sort of thing. Eric said he's surprisingly short.
Not bad, right? And the
Celebrity Sightings
list keeps growing! I must say, Eric pretty much has it down to an art form by this point!