A couple of weekends ago, Eric, Ellie and I went to a baseball game played in authentic 19th-century fashion at Dobbelaar Field on the Stevens Institute of Technology Campus. As you may recall, I went to something similar
last year
, but Eric was out of town and couldn't join me. As I mentioned back then, Hoboken is credited with hosting the first officially recorded organized baseball game in 1846. Now Hoboken is home to the Hoboken Nine Vintage Base Ball Club, who plays baseball using 19th century rules and equipment. A couple of Saturdays ago, they were playing at home on the Stevens campus versus the Jersey City Skeeters, so we decided to check it out.
We spread our blanket on the sidelines and settled in for some baseball. I loved the vintage uniforms in particular (I really think we should bring suspenders back, don't you?), but it was also fun watching them play by old-time rules, including letting balls bounce in the outfield before catching them, and not using baseball gloves.
Crowds gathered to watch some vintage baseball
Ellie and I had a great time hanging out on our blanket as all this went on, and she got in some sitting practice. And of course, she was dressed for the occasion in her "Take Me Out to the Ballgame" onesie and baseball shoes. The girl is stylish, what can I say?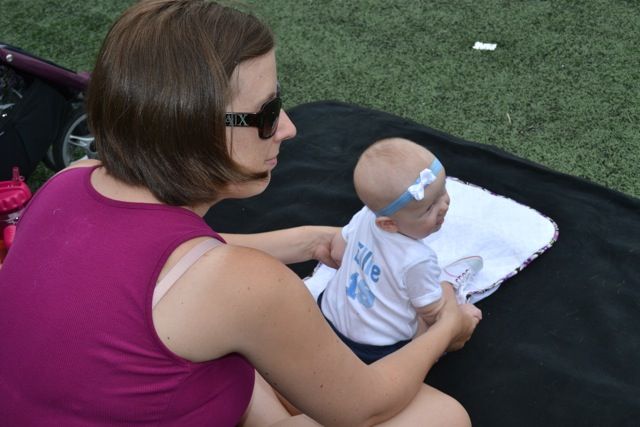 Left: Look! She sits!
Right: Showing off her very appropriate outfit. Also, deliciously chubby baby thighs.
When Ellie got fidgety on the blanket, she hung out with her Daddy for a while.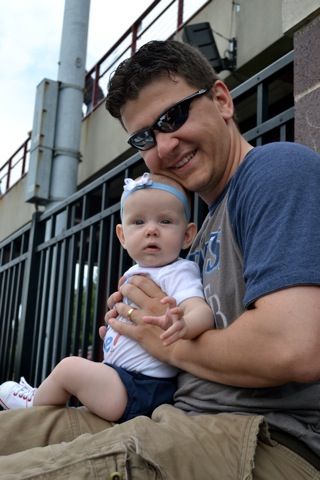 Her Daddy explaining to her the ins and outs of the game
Unfortunately, the Hoboken Nine lost the game, but I'd say we all had a delightful time!