A couple of weeks ago, Ellie had her very first experience at the cinema. She and I went into the city and Eric took a long lunch break to join us at a
Bring Your Baby Matinee
, sponsored by TheBump.com. This is a way for moms to see movies in a baby-friendly environment, with brighter lights and lower volume. Participating theaters run this program once a month, and this month's movie was
The Odd Life of Timothy Green
, which we thought looked interesting. So, we were off to the show!
I have to say, Ellie really, really impressed us. She napped until about 11:00 and then she and I got dressed, took the train into 33rd Street (where Eric met us) and made our way to Kips Bay for the movie. Ellie really just hung out the whole time, with hardly a peep out of her. She watched a little bit of the movie, she inspected our drink cup, she played with her toys. Eric and I were actually able to watch the movie, which we found to be quite cute. Sure, it was a little hard to hear at times, as you might expect with lower movie volume and increased baby volume. But it was still really fun.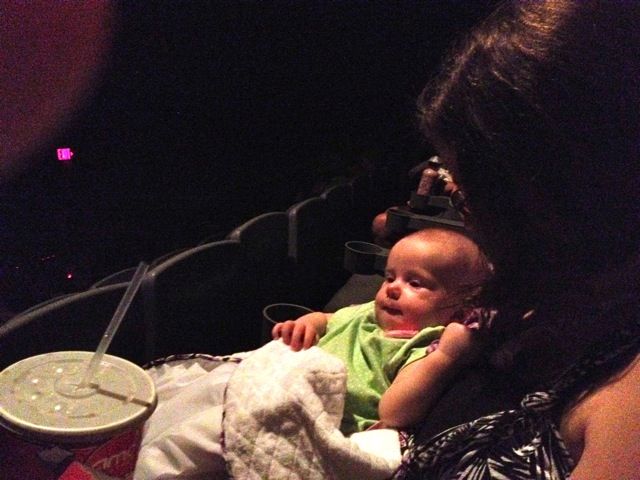 Watching The Odd Life of Timothy Green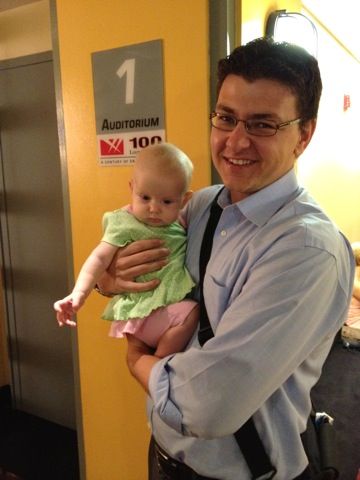 First movie was a success!
From what my parents have told me, Ellie's first trip to the theater went significantly better than mine did. They took me to see
E.T.
when I was a very little baby, and I cried as soon as the lights went down! See? You need a baby-friendly theater! Interestingly enough, Kips Bay had the
E.T.
poster in one of their hallways, so we had to pose!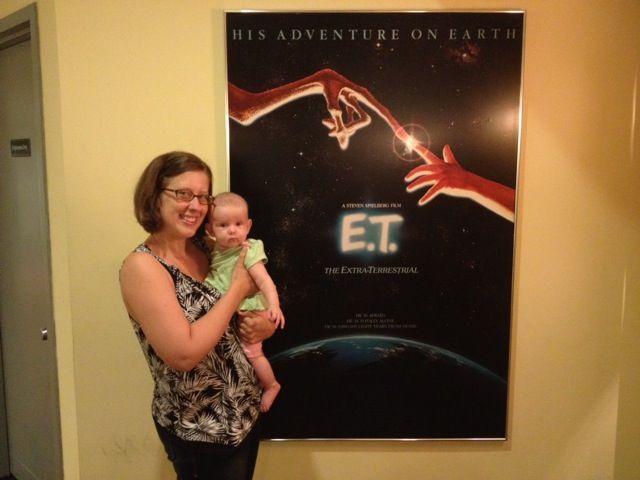 Posing with Ellie after her first movie, next to a poster for my first movie!
There is also a movie theater in Edgewater, NJ that hosts baby-friendly movies every Thursday at noon, and this past Thursday Ellie and I joined friends Jess and Ada to see
The Words
. Once again, Ellie was a delight! She played for about the first half of the movie, then had a snack and slept through the rest. I could get used to this! Maybe she's a film buff in the making?